The sphere of information technologies has been rapidly developing recently. Mainly because of this, the demand for personnel has increased. Recently, the vacancy of Jira developer has become quite popular and opened many career development opportunities.
This profession is somewhat different from the usual engineer-programmer. In our article, we will discuss these differences as well as the specifics of this profession.
What exactly does a Jira developer do?

The Jira developer is engaged in working out and supporting working processes of automation in Atlassian Jira and other Atlassian products, depending on the duties. Primary work tasks may include:
developing and incorporating servers and applications;
the creation of plugins to enhance Jira;
developing customized dashboards;
assigning parameters to customizable fields;
supporting the optimal configuration of Jira, this can include all client requirements;
developing pre-set customizable filters;
testing of finished products and detection of problems.
In addition, the represented professional is involved in updating and expanding Jira projects, defining, documenting, maintaining, and performing SDLC tasks. Depending on the position and employer, basic and additional responsibilities may vary.
How do I become a Jira developer?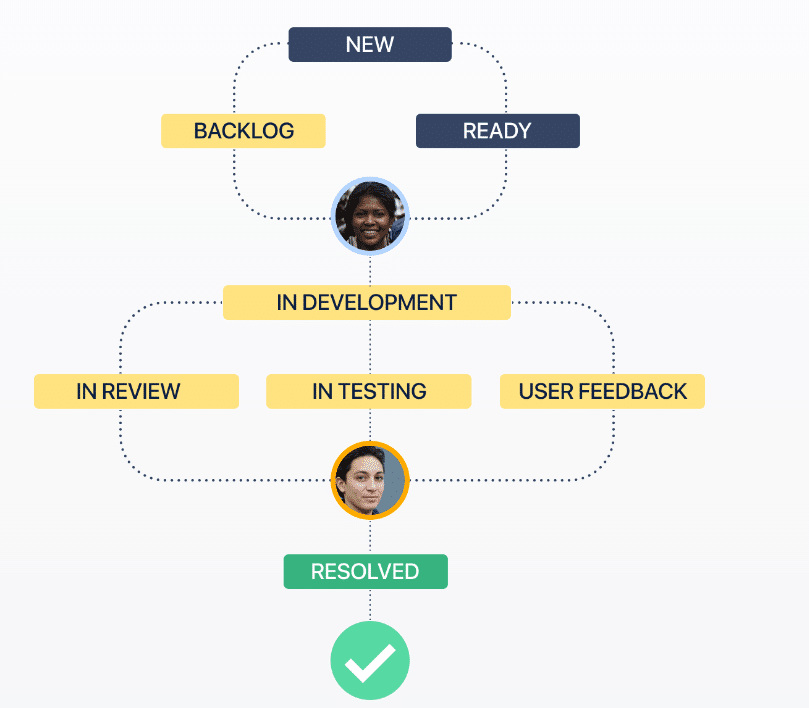 If you are interested in the Jira developer profession and want to try your hand in this field, you need to know exactly where to start. Our guide, compiled with specialists from the Jooble job aggregator, will help you in this situation. It will help you navigate building a professional career.
To become a Jira developer, you should have the appropriate qualification – a bachelor's degree and sufficient work experience in IT or computer science. Many jobs require a minimum of two years of experience with Atlassian Jira, including the ability to administer and configure the tools. Also, many employers prefer that the candidate for the position should have a Jira certificate.
In addition, the professional needs to have sufficient experience in creating templates, attributes, and custom forms. Most employers require the applicant to have a working knowledge of different programming languages:
JavaScript;
JSP;
SQL;
Python and others.
A Jira developer deals with a relatively wide range of responsibilities, so you should have sufficient qualifications.
If you are interested in becoming a Jira developer, the career path involves the following steps:
Become an undergraduate. A college graduate with a bachelor's degree in computer science, software development, mathematics, or any other related discipline can apply to become a Jira developer. It is an essential requirement for this profession.
Do an internship while in college. It is an excellent option for students to learn precisely the primary job duties and to gain practical experience. Internships can help you get a job after college, as you'll be able to make valuable connections with Jira professionals while you're still a student.
Get a master's degree. Some employers specify this requirement in job openings. This degree will give you a better understanding of your chosen specialty.
Obtain Jira certifications. A variety of professional certifications are available to computer technology professionals. Some companies may even set specific requirements. In any case, at this expense, it will be possible to show the aspiration of the specialist for further training and improvement of professional skills.
Regularly attend conferences. Annually the world, there are a lot of different meetings on Jira. They help you not only to keep abreast of the latest developments in the field but also make valuable acquaintances with other professionals.
How much does a Jira developer earn on average?
A Jira developer can earn different salaries depending on their job responsibilities. A variety of factors influence the number of wages: the nature of the business, the location of the company, the particular employer, work experience, and many more.
A represented professional often works on a full-time or contract basis. Also, some developers may take part-time jobs.
The average salary for a Jira developer is $122,948 annually. Salary amounts range from $76,373 to $197,926 per year.
What skills does a Jira developer need?
A professional Jira developer must combine high-quality technical skills with personal qualities. Practical professional skills include:
Programming
Jira developers should know various programming languages Python, Java, C++, C#/.Net, Ruby, and others. Studying in college and earning a bachelor's degree in computer science involves familiarity with one or more programming languages at once.
It is necessary to have a general understanding of most languages and a more profound knowledge of at least two of them. One will be appropriately prepared for coding and potential job challenges through programming skills.
Scrutiny
It does not matter what you do: development, debugging, or testing – in any case, you should have enough patience and be attentive to details. It is not uncommon for a specialist to have to sit for hours on the code to solve a problem. Being meticulous will prevent a lot of problems.
Ability to work in a team
Team members form a whole system, interacting as one. The developer must have the ability to work with other professionals. Mainly they must listen to other people and have excellent communication skills. Also, it is necessary to learn from colleagues constantly.
Adaptability
This skill refers to flexibility, willingness to learn new professional skills, and the ability to adapt to new working conditions. Technology doesn't stand. Still, a Jira developer has to face new challenges from time to time. Learning and adapting to new things allows one to succeed in a particular project.
What environment does a Jira developer work in?
The Jira developer works in a computer technology environment. Often, they work with other developers and engineers to form a team. Many professionals have full-time schedules and a standard number of hours per week.
Developers also need to stay in touch to be consulted for any problems. Professionals have to stay late or work overtime every now and then.
This job means being in the office all the time. A specialist must be prepared because they will have to sit in front of a computer for quite a long time. Constant interaction with a PC also means that Jira developers can perform their job duties remotely.