Unlocking your potential and unleashing your inner greatness is within reach with Mindvalley -The top platform for online learning for personal development. Mindvalley provides a life-changing learning experience that will enable you to realize your full potential and lead the life you've always desired.
It does this by partnering with a robust roster of courses and eminent instructors. Become a member of Mindvalley today to begin your path to becoming the best version of yourself!
After taking multiple courses on this platform, I can proudly say that Mindvalley has changed my life, both personally and professionally. In this Mindvalley review, I'll share my personal experience with the courses I've taken. So, let's dive in and explore the world of Mindvalley together!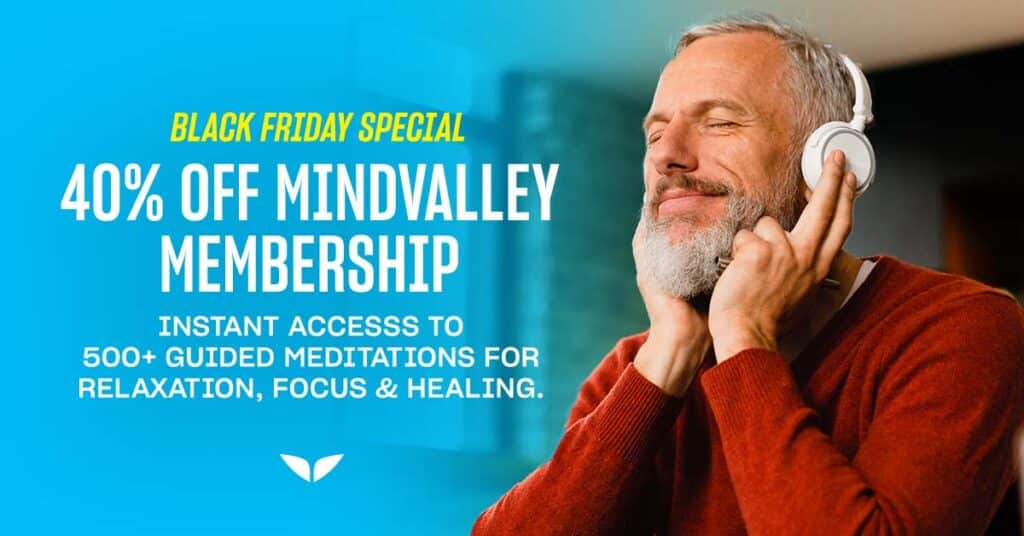 Mindvalley Membership (40% OFF Limited Time) Offer 😃
Hooray!! Mindvalley Membership worth $15000 is now available at just $24.90/month.
Get access to all Mindvalley courses with this one-time fee.
sign up now ❤️
What is MindValley?
Mindvalley is an online learning platform that offers courses and programs focused on holistic education, self-improvement, and personal development. The online learning environment provides a huge selection of courses on subjects including mindfulness, meditation, productivity, relationships, spirituality, and more.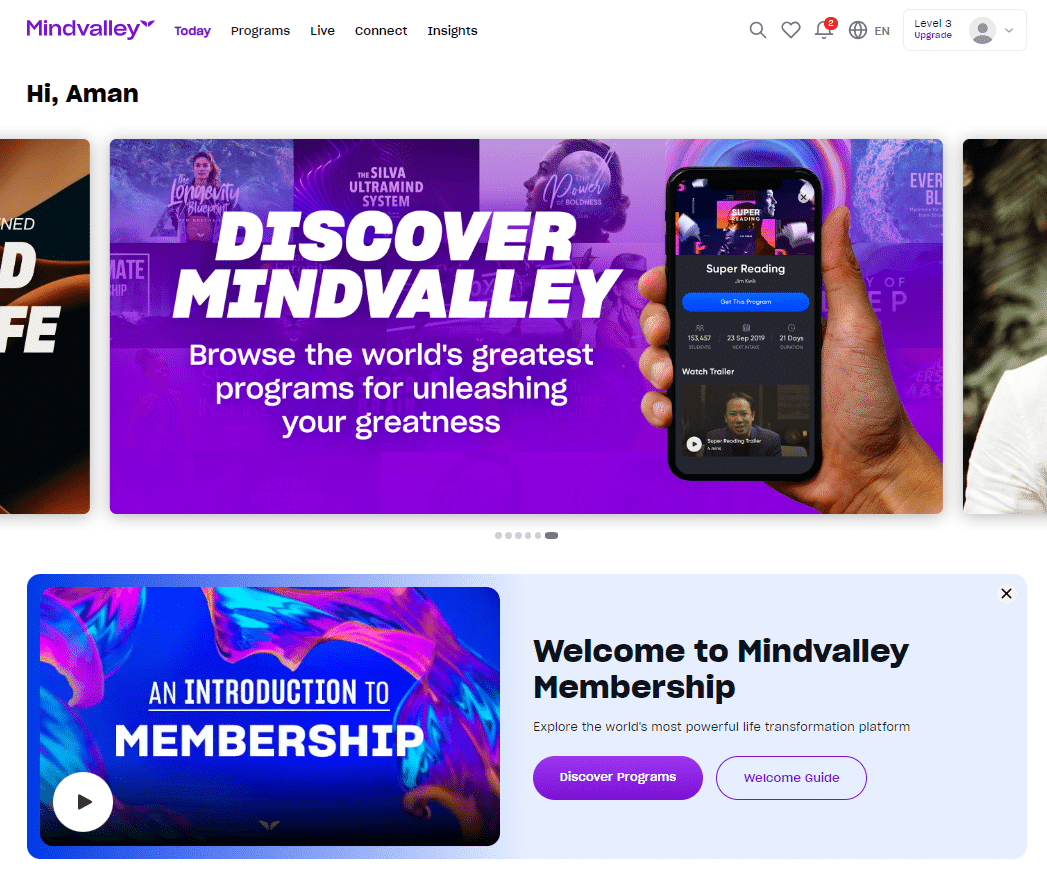 By giving people all across the world an interesting and powerful learning experience, Mindvalley aims to improve education. To assist individuals in realizing their full potential and leading more rewarding lives, the courses were created by eminent specialists and educators.
Who Are the Mindvalley Instructors?
Mindvalley has a diverse and impressive lineup of instructors, including some of the world's leading experts in personal growth and development. Here are some examples of the instructors who offer courses on Mindvalley:
| Name | Profession | Notable Works/Contributions |
| --- | --- | --- |
| Vishen Lakhiani | Founder of Mindvalley, entrepreneur, and author | "The Code of the Extraordinary Mind" |
| Jim Kwik | Brain coach and memory expert | "Limitless: Upgrade Your Brain, Learn Anything Fast" |
| Emily Fletcher | Meditation teacher and founder of Ziva Meditation | "Stress Less, Accomplish More" |
| Lisa Nichols | Author, speaker, and personal development coach | "Abundance Now: Amplify Your Life & Achieve Prosperity" |
| Marisa Peer | Hypnotherapist, speaker, and bestselling author | "I Am Enough" |
| Eric Edmeades | Serial entrepreneur and founder of WildFit | WildFit 90: The Evolution of Health & Fitness |
| Jeffrey Allen | Energy healer, teacher, and author | "Duality Energy Training" |
| Neale Donald Walsch | Spiritual teacher and bestselling author | "Conversations with God" |
| Christie Marie Sheldon | Intuitive healer, author, and speaker | "Unlimited Abundance" |
| Donna Eden | Energy medicine pioneer and author of "Energy Medicine" | "The Energy Medicine Kit" |
These are just a few examples of the many instructors who teach at Mindvalley. Each instructor brings a unique perspective and expertise to their courses, providing learners with a diverse and engaging learning experience.
My Experience with Mindvalley Courses:
I had a fantastic time using Mindvalley. The mix of video lessons, activities, and conversations throughout the course made it well-structured. The variety of viewpoints was excellent, and the material was really beneficial when used practically. The Mindvalley courses are excellent for developing oneself personally.
One aspect of the course that I liked was the variety of viewpoints offered. In addition to the competent and interesting lecturer, there were guest speakers and other students from different countries who contributed their personal stories and ideas. A fully dynamic learning environment resulted from this.
Mindvalley programs I've taken and what I really thought of them.
I've participated in a few Mindvalley programs over the years, and I've had great results with each of them. Here are some of the courses I've taken and my opinions of them:
All things considered, I heartily endorse Mindvalley programs to anyone who is interested in personal development. The format is interesting and participatory, the education is of the highest caliber, and the learning community is encouraging and motivating.
SuperBrain
It was fantastic to take the Superbrain course in Mindvalley. Jim Kwik, the instructor, was enthusiastic and enthralling about the subject.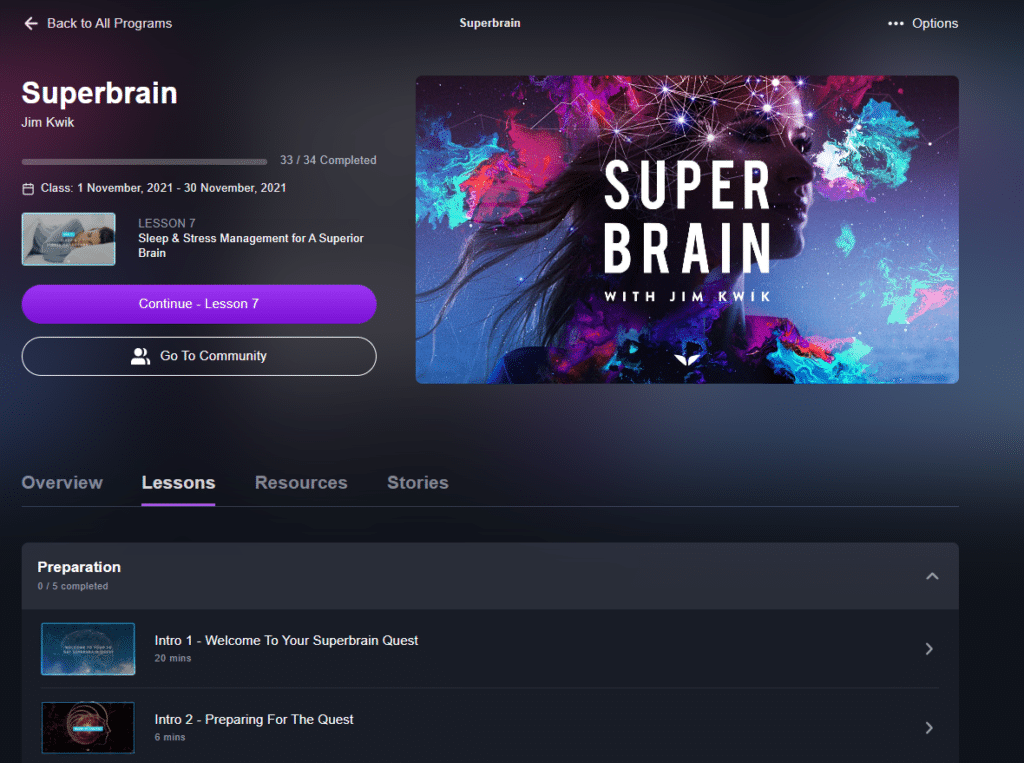 In addition to interactive activities and quizzes, the course placed a strong emphasis on personalized learning. Participants felt a strong sense of belonging. For anyone interested in enhancing their cognitive function, I heartily suggest this course.
My Result After SuperBrain Course
The Superbrain course has improved my memory and recall, increased attention and concentration, expanded my creative and problem-solving skills, and raised my productivity and efficiency, to name a few advantages.
I advise reflecting on your experience and assessing the outcomes in light of your own objectives and expectations once you have finished the Superbrain course. Sharing your opinions and ideas with others who are considering taking the course is another option.
Lifebook Online
The Lifebook Online course by Mindvalley is a comprehensive self-development program that is intended to assist participants in identifying their life's objectives, developing a personal action plan for reaching those objectives, and other related tasks.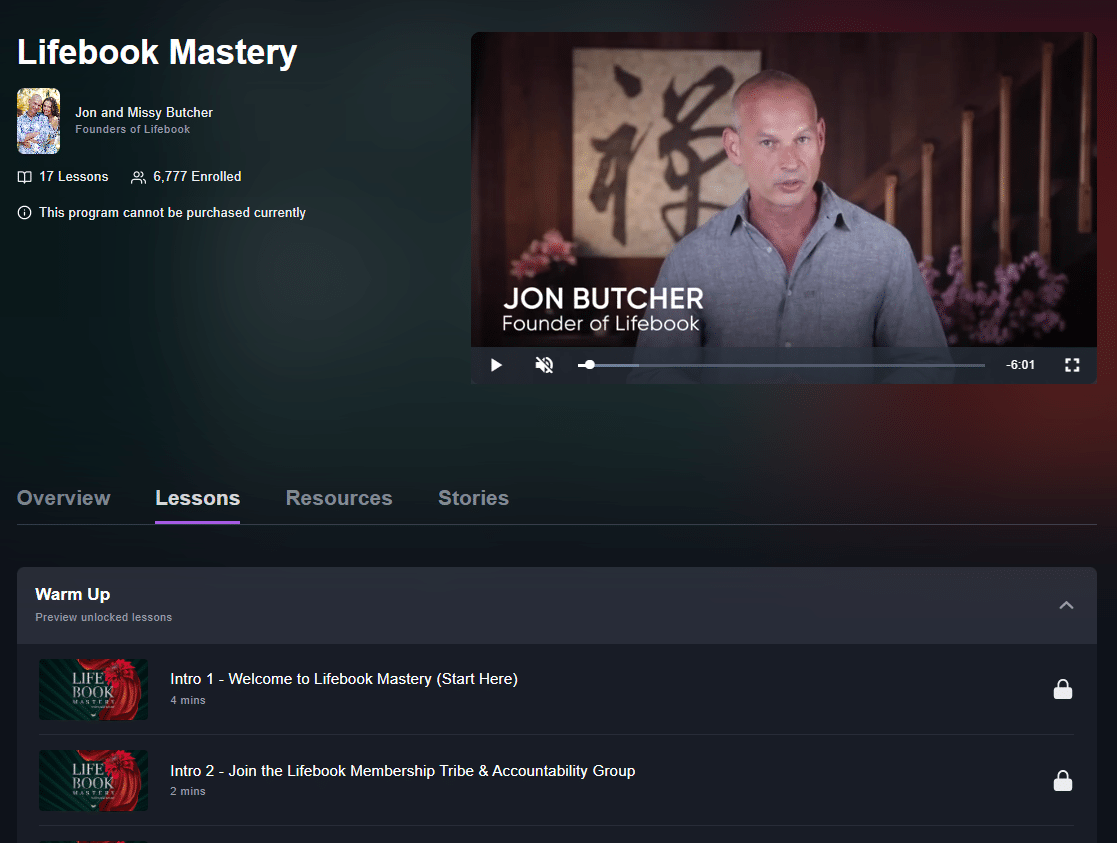 The inventor of Lifebook and well-known personal development authority Jon Butcher is the instructor for the Lifebook Online course. There are 12 modules in the course, and they cover a range of topics, including relationships, finances, career, relationships, spirituality, and career.
Participants will learn how to recognize their values, beliefs, and priorities and match them with their objectives and life vision through a combination of video sessions, workbooks, and interactive exercises.
A plan for achieving success and fulfillment in all facets of life can be made using the program's tools and tactics for overcoming barriers and problems.
My result on Taking Lifebook online
A comprehensive vision for one's life and a strategy for reaching objectives and aspirations are the goals of Mindvalley's Lifebook Online course, which is available to people.
In order to clarify their values, beliefs, and priorities and match them with their life's vision, participants in the course are given a structured framework and a variety of tools.
I gained more clarity and focus, strengthened my ability to make decisions, increased my productivity and efficiency, developed my self-awareness and self-confidence, and felt more fulfilled and had a stronger sense of purpose in life as a result of doing the Lifebook Online course.
WildFit
With a holistic approach to diet and lifestyle, Mindvalley's online WildFit course for health and wellness aims to support people in achieving their highest levels of health and well-being.
By recognizing their natural appetites and learning to make better decisions that are in line with their bodies' demands, participants of the course, which is founded on the concepts of evolutionary biology, can create a healthy relationship with food.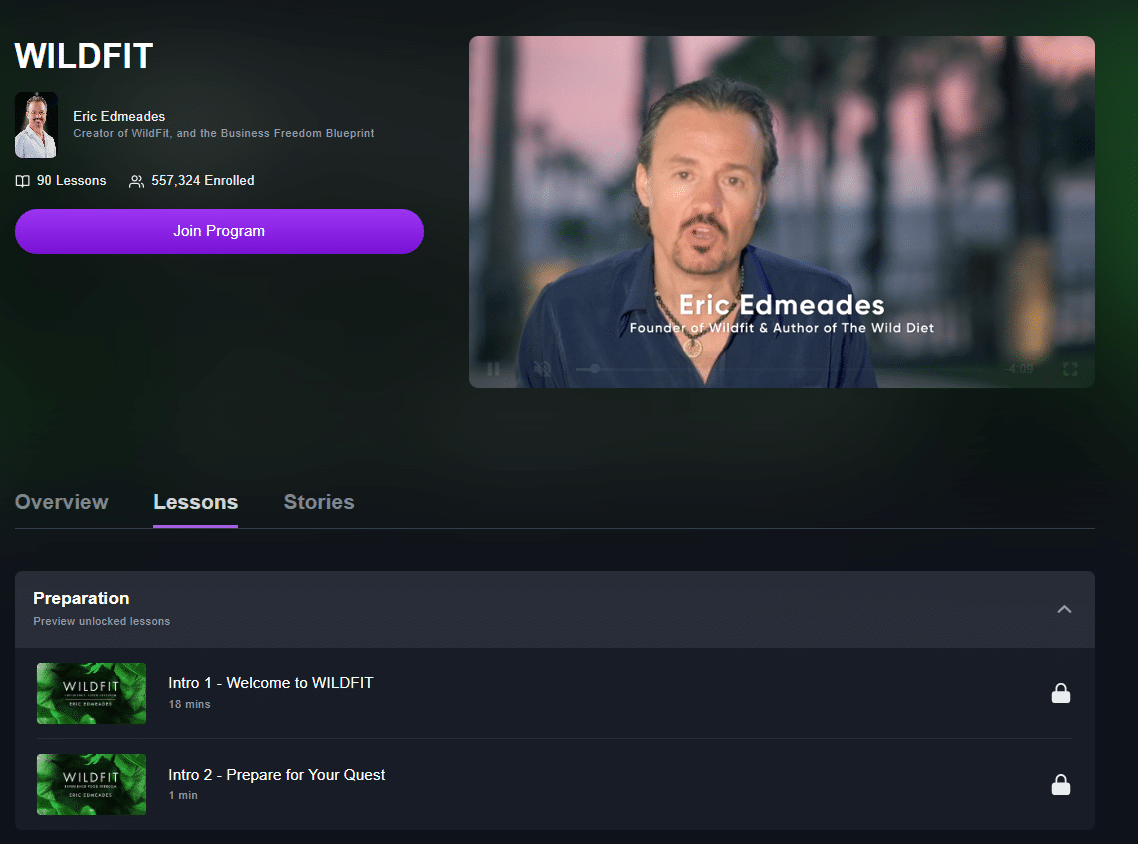 The 90-day WildFit program includes video courses, group coaching, and social support. The program is broken down into multiple phases, each of which focuses on a different area of nutrition, like comprehending how various meals affect the body, learning to pay attention to the body's natural cues, and establishing wholesome routines and habits.
Improved energy and vigor, better digestion, weight loss or maintenance, clearer skin, and increased mental clarity and focus are just a few advantages people may encounter after taking the WildFit course.
Individual motivation, commitment, and program adherence are a few examples of characteristics that may affect an individual's results and the efficacy of the course.
You may find out more about the WildFit program and register there on the Mindvalley website if you're interested in enrolling. Considering whether the course fits your objectives and priorities before enrolling is crucial because it requires a major time and resource commitment.
My Result After Taking Wildfit Course
The WildFit program in Mindvalley attempts to enhance dietary and lifestyle choices, which may result in better health, weight loss or maintenance, increased mental acuity and attention, better digestion, and an improvement in quality of life overall. The outcomes, however, can differ based on personal traits and outside-of-class lifestyle choices.
How Much Does MindValley Cost?
According to the particular program and whether it is a one-time purchase or a subscription-based plan, the price of Mindvalley courses varies. While some courses can have a one-time cost of between $300 and $500, others might have a monthly or yearly membership fee of between $20 and $50 each month.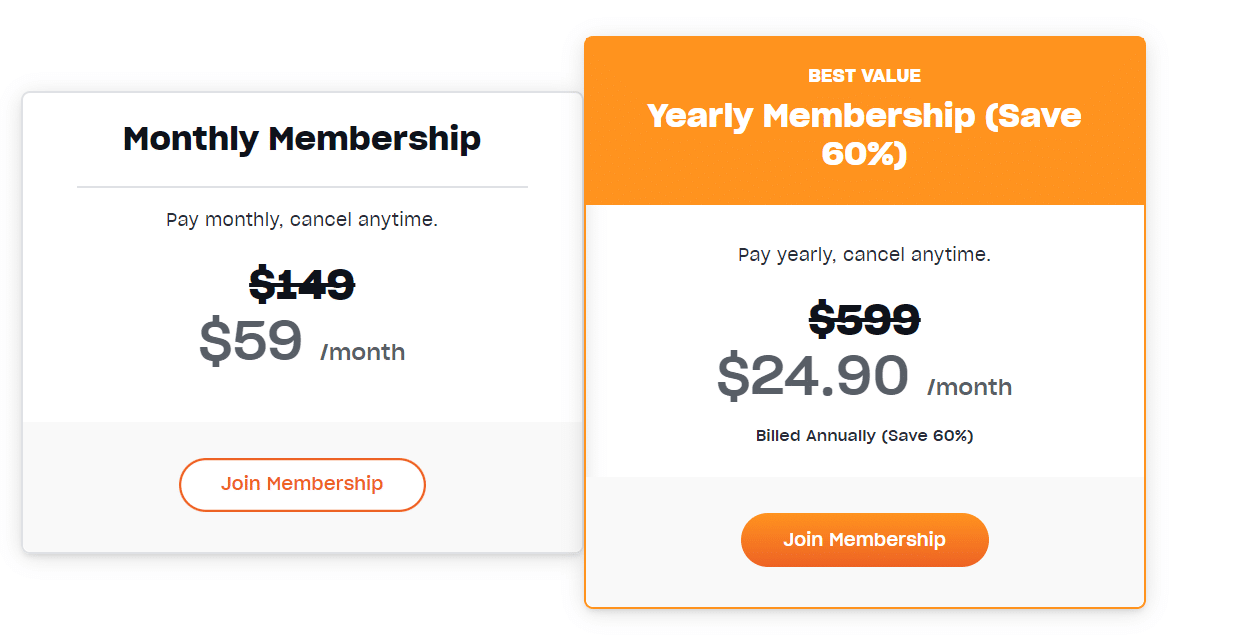 In addition, Mindvalley provides a membership option called Mindvalley Quest All Access, which costs $599 annually and grants access to all courses and programs. But if you purchase an annual plan it costs just $24.90 per month which is a 60% Discount.
In general, depending on the program and payment method, Mindvalley courses can cost anywhere from a few hundred to several thousand dollars.
MindValley Digital Access
It is possible to access a variety of Mindvalley courses and programs through the subscription-based service known as Mindvalley Digital Access.
Access to more than 50 courses on subjects like personal development, health and fitness, spirituality, and more is available to subscribers for a monthly subscription of $14.99 or an annual fee of $149.
Features like these can be found in Mindvalley Digital Access:
All Mindvalley programs and courses are available at all times.
Downloadable materials, including workbooks, cheat sheets, and audio files.
Programs for education that are tailored to each student's goals and interests.
Access to a supportive network of others with similar interests.
Programs and courses are frequently added.
What is it like Taking Midvalley Course?
A Mindvalley course is a flexible, self-paced learning environment with video courses, guided meditations, and useful tasks to assist students in developing new abilities and realizing their full potential.
In addition to offering a supportive network of like-minded people, Mindvalley courses can be a transforming means of achieving both personal and professional objectives.
Before The Course
Prior to enrolling in a Mindvalley course, I had little expertise in a given field, unfavorable attitude beliefs, and a lack of confidence in a number of aspects of my life.
After The Course
I have increased my knowledge and abilities in a certain area after completing a Mindvalley course. I have also established a growth mindset and a positive attitude toward life. I have also grown more confident in specific areas of my life and have increased my motivation to reach my goals.
The Mindvalley courses have also assisted me in forging meaningful connections and building a strong support system of like-minded people.
What Course Categories Are Available On Midvalley:
A variety of workshops and courses on topics like business, wellness, spirituality, and personal development are available at MindValley. On Mindvalley, some of the most well-liked lessons are:
Mind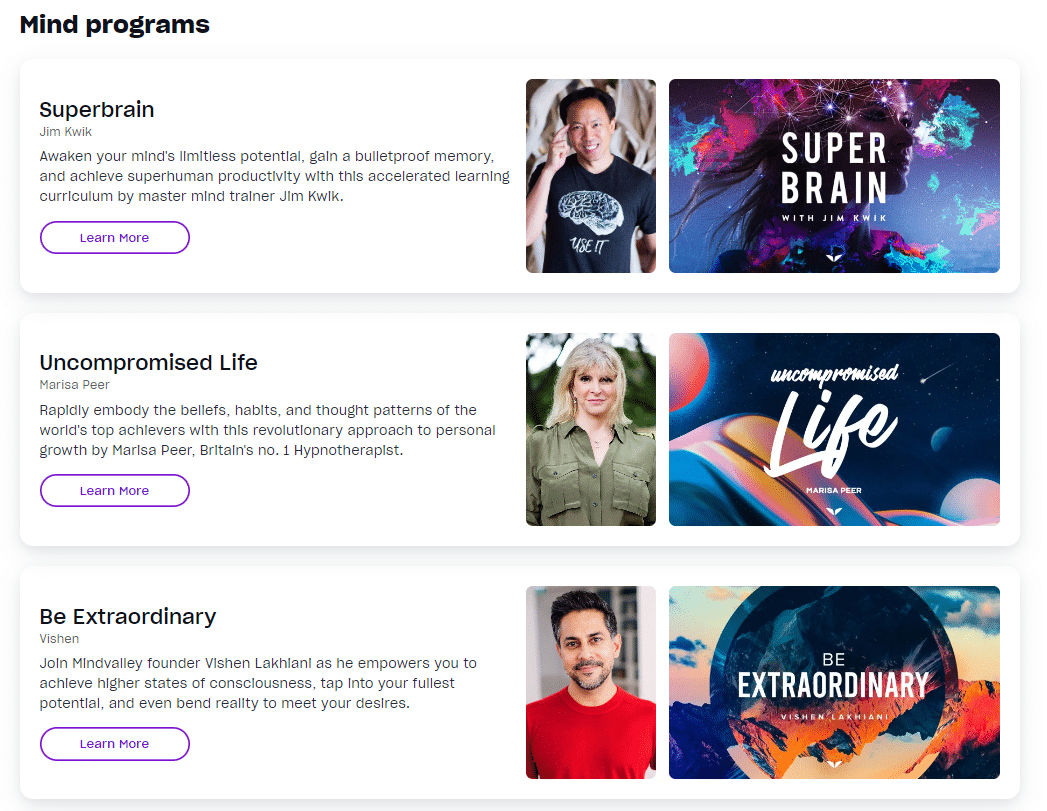 Mindvalley offers classes on a range of mental topics, such as mindfulness, meditation, and mental performance, with the goal of enhancing people's clarity, attention, and mental fortitude.
These courses, which include a range of methods and practices for mental well-being, are instructed by top authorities in their domains.
Performance
For people who want to reach their goals and realize their full potential, Mindvalley offers courses on performance in a variety of spheres of life, such as work, productivity, and creativity. These programs offer useful tactics and techniques for both personal and professional development and are taught by well-known authorities.
Body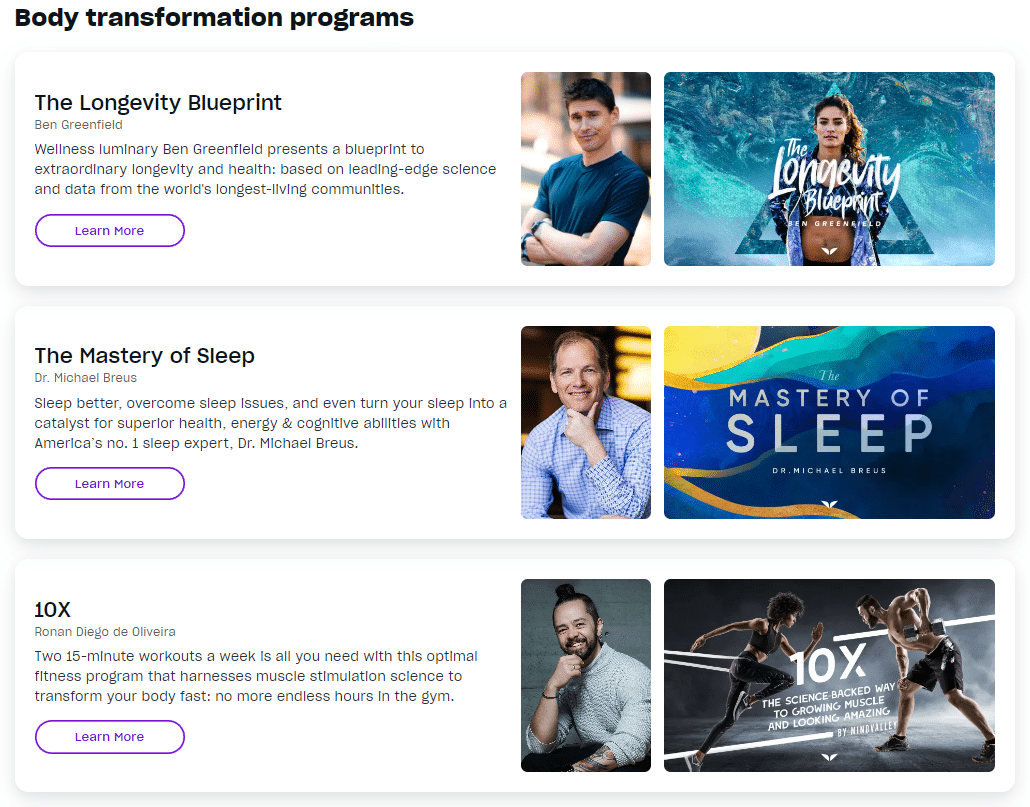 With the goal of assisting people in achieving their utmost health and well-being, Mindvalley offers courses on a variety of bodily topics, such as energy management, nutrition, and fitness. These courses, which concentrate on all-encompassing approaches to physical fitness, are taught by authorities in respective disciplines.
Soul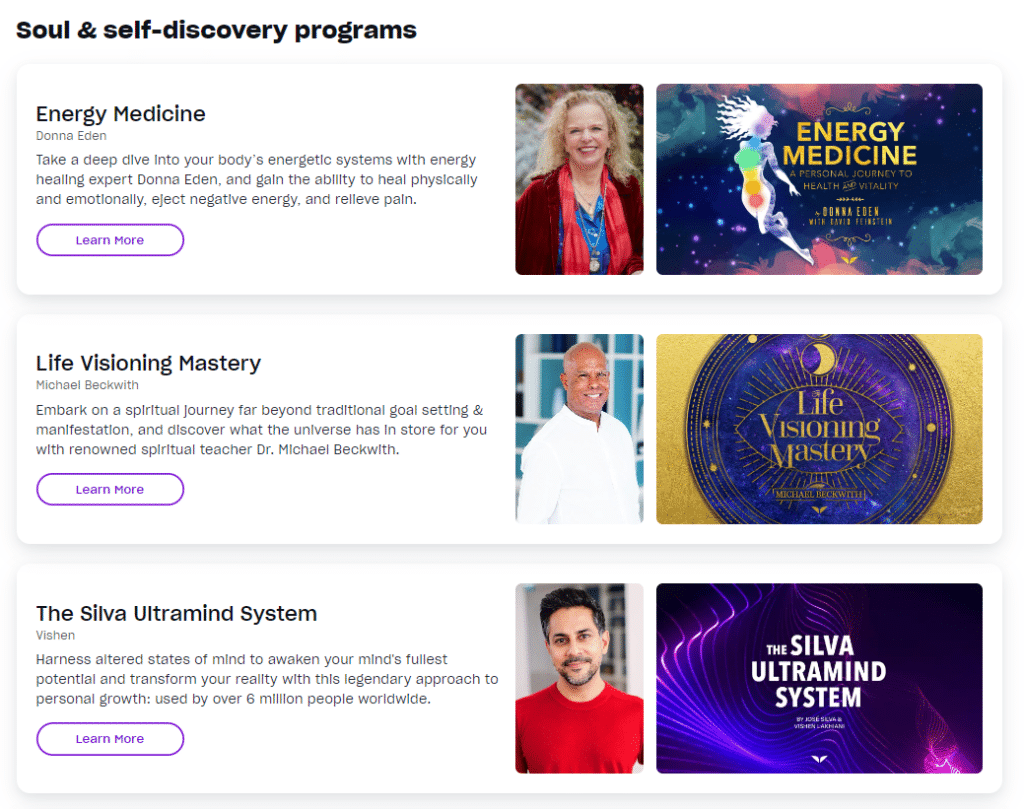 The courses offered by Mindvalley on the soul, spirituality, and personal development are intended to help people connect with their inner selves and find more meaning and purpose in life. Leading spiritual instructors instruct these courses, which offer a variety of methods and exercises for personal improvement.
Work
Mindvalley offers courses on work and career, designed to help individuals find their passion, create a fulfilling career, and achieve success on their own terms. These courses are taught by successful entrepreneurs and career experts and provide practical strategies and tools for career development and growth.
Entrepreneurship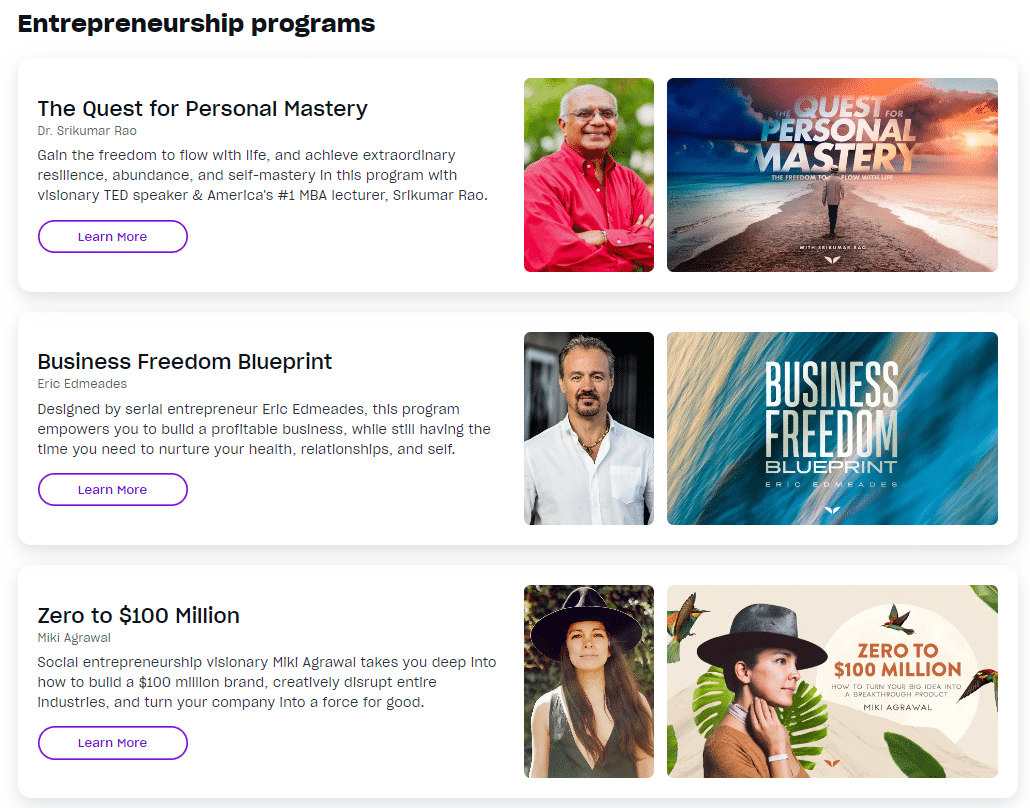 In order to assist people in starting and growing successful enterprises, Mindvalley offers courses in entrepreneurship and business.
These programs include a variety of topics, including marketing, finance, leadership, and innovation, and are taught by accomplished entrepreneurs and business executives. They also offer practical techniques and tools for entrepreneurship success.
Relationship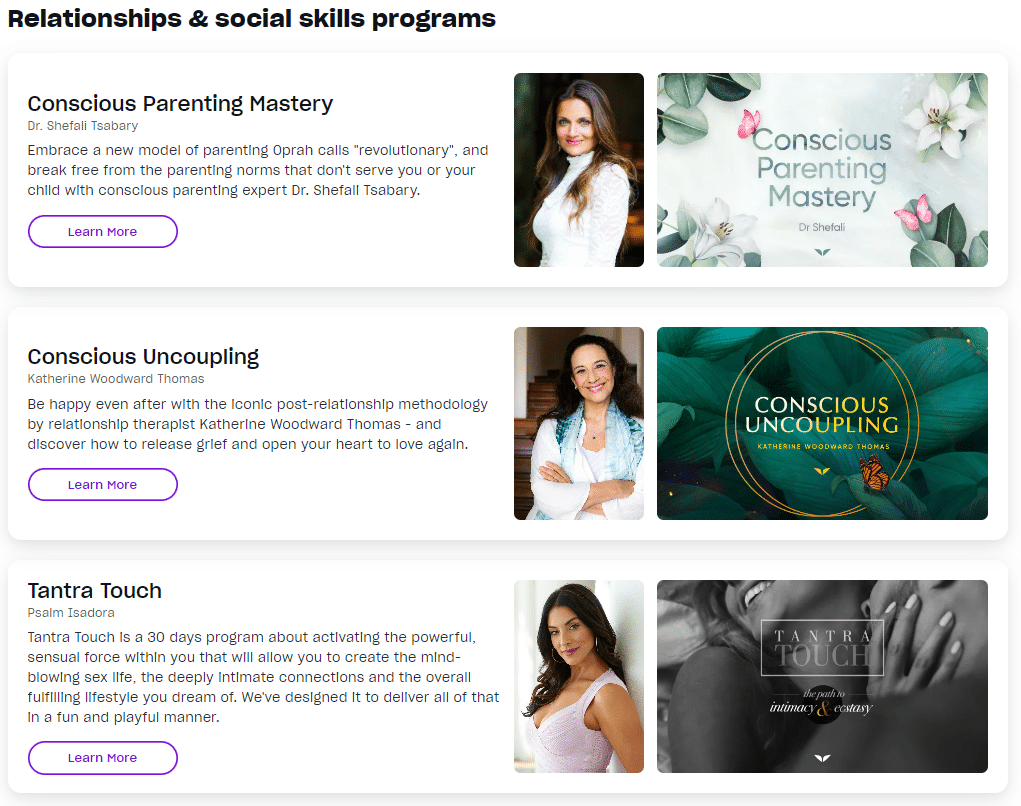 In order to support people in creating and sustaining satisfying relationships with others, Mindvalley offers courses on relationships, including romantic, familial, and social interactions.
Relationship professionals instruct these courses, which offer useful techniques and resources for enhancing communication, increasing intimacy, and fostering enduring relationships.
Kids, Teens, and Parenting
To assist parents and other carers in raising joyful, healthy, and well-adjusted children, Mindvalley offers courses on children, teenagers, and parenting.
Experts in child development teach these courses, which cover a variety of subjects like positive parenting, early childhood education, and adolescent psychology and offer useful techniques and resources for good parenting.
How Is Mindvalley Programme Structured?
Programs from Mindvalley have different organizational structures based on the course; however, they all generally have a similar framework. An outline of Mindvalley's programs' usual structure is shown below:
Pre-Program Work
You could be required to perform some pre-work before the program starts, such as readings, exercises, or exams. This is intended to aid in your program preparation and help you make the most of the course material.
Program Content
A mix of online resources, live webinars, and video lessons are used to provide the program's content. With a blend of theory and practical tasks to help you apply what you've learned, the sessions are made to be interesting and entertaining.
Community and Support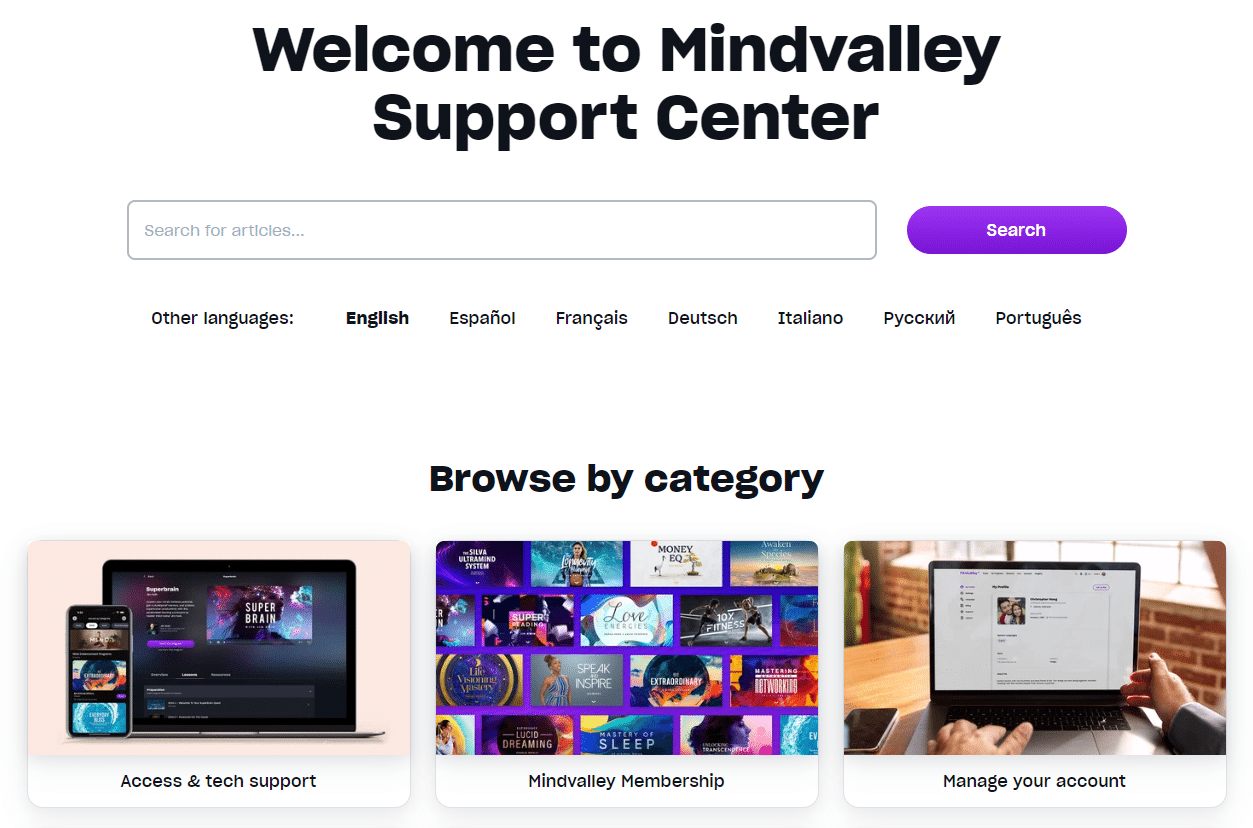 A major theme in Mindvalley courses is community and support. In addition to assistance from your program instructor and Mindvalley's customer care staff, you'll have access to a virtual community of like-minded people.
Implementation and Integration
As Mindvalley courses are meant to assist you in making significant changes in your life, implementation, and integration are important components of the curriculum. You'll receive resources and methods to help you put what you've learned into practice and monitor your development.
Post-Program Support
Even after the program is over, you'll still have access to the community and its resources, as well as continuing assistance from Mindvalley's customer care staff. Even when the program is over, this might help you maintain accountability and continue to advance.
Who is Mindvalley For?
Anybody interested in lifelong learning, personal development, and self-improvement should visit Mindvalley. Regardless of age, background, or educational level, the platform is made to be usable by a wide spectrum of people. These are a few people who could profit from Mindvalley:
Who is MindValley Not For?
Mindvalley may not be for everyone. Here are some examples of those who might not benefit from Mindvalley:
Mindvalley Pros:
There are many pros to Mindvalley, here are some of them:
Overall, Mindvalley is an excellent platform for anyone looking to learn and grow in a supportive and interactive environment. The high-quality content, diverse course offerings, and supportive community make it a great choice for anyone interested in personal growth and development.
Mindvalley Cons:
While Mindvalley has many benefits, there are also some potential downsides to consider. Here are some cons of Mindvalley:
Overall, while Mindvalley has many benefits, it may not be the best fit for everyone. The high cost, information overload, lack of personalization, and potential for distractions are factors to consider when deciding whether Mindvalley is the right choice for you.
What is an Alternative for Mindvalley?
There are many alternative platforms to Mindvalley that offer courses and resources for personal growth, self-improvement, and lifelong learning. Here are some examples:
Udemy: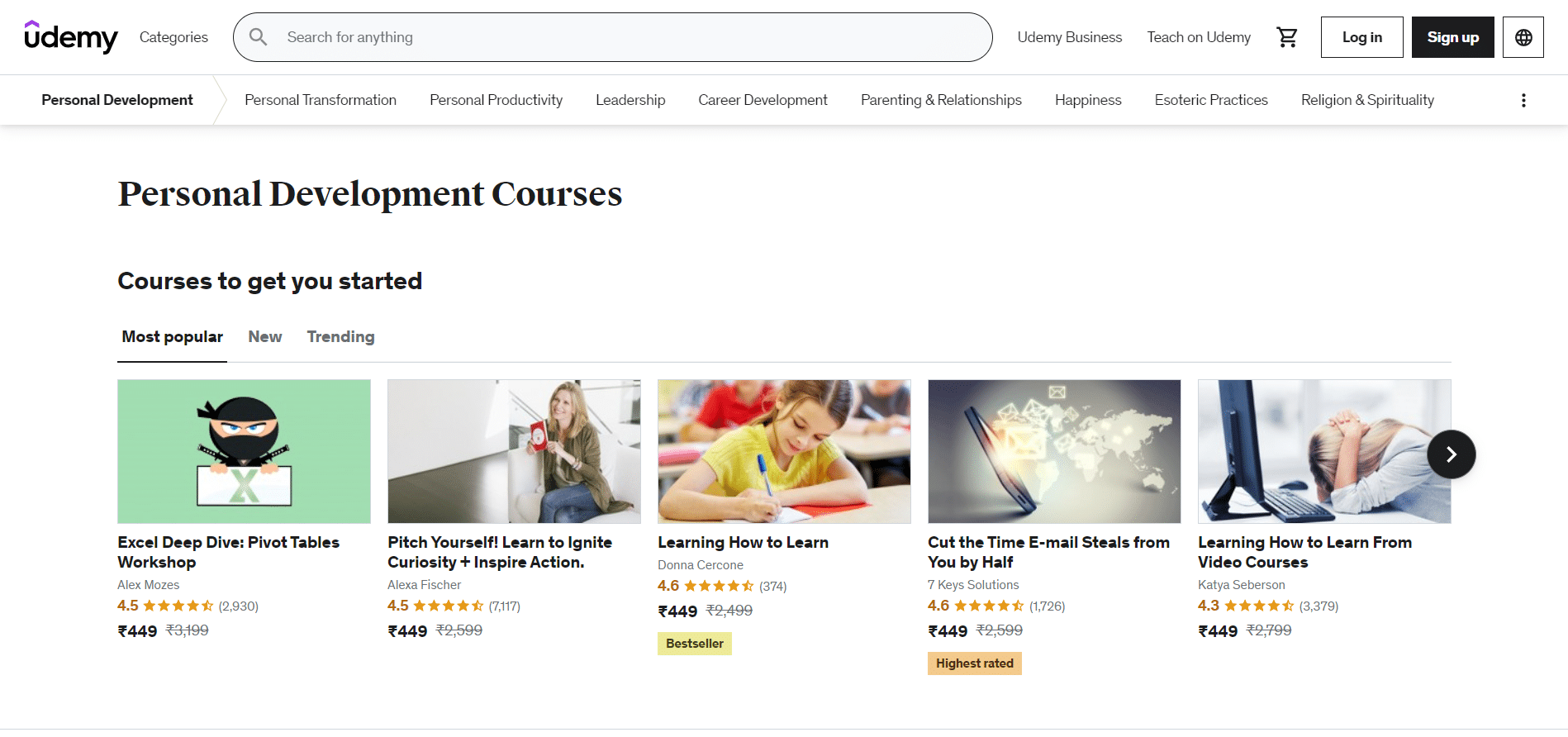 Udemy is an online learning platform that offers a wide variety of courses on topics ranging from personal development to programming to photography. Udemy courses are often more affordable than Mindvalley's courses and can be a good option for those on a budget.
Coursera: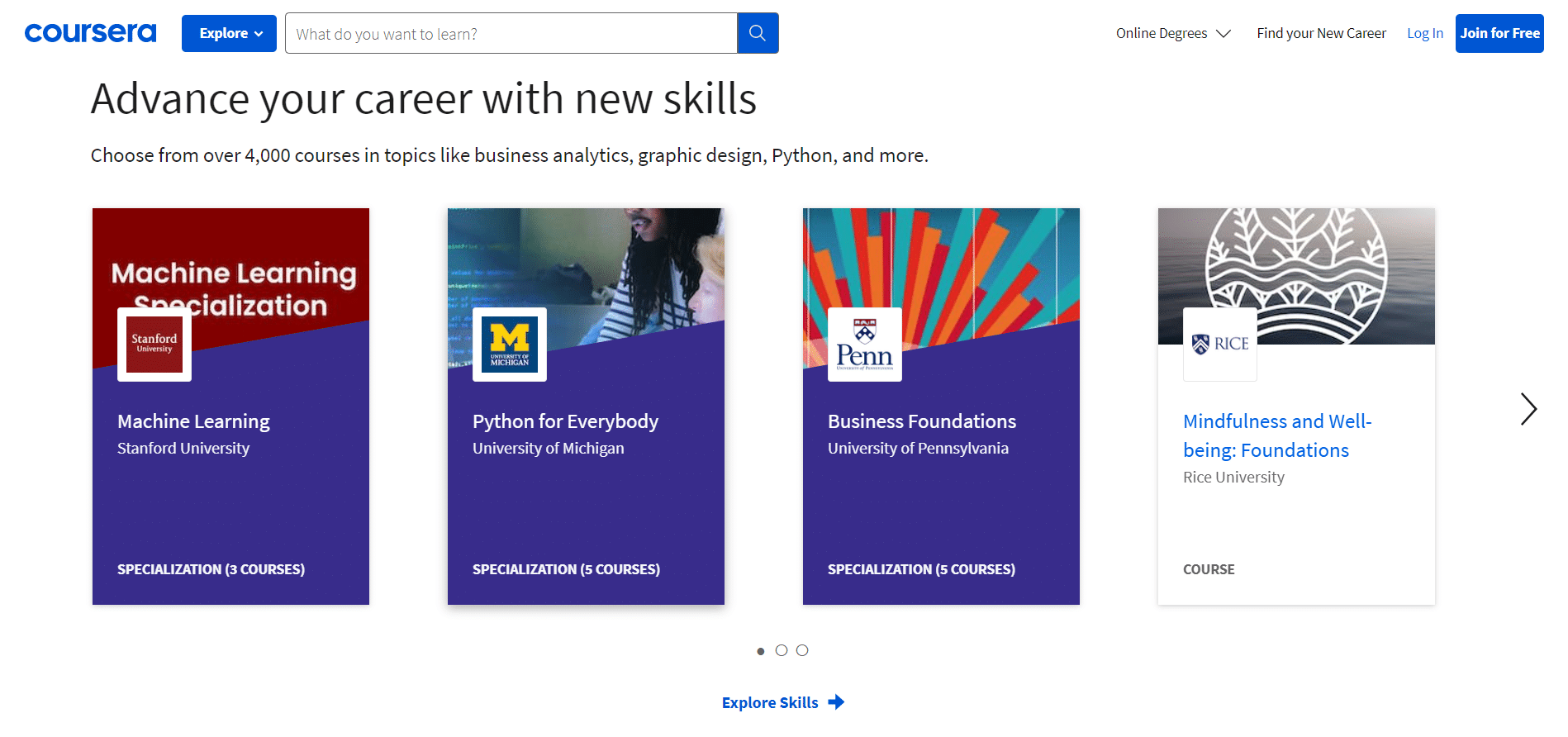 Coursera is another online learning platform that offers courses from top universities and organizations around the world. Coursera courses are often more structured and formal than Mindvalley's courses, which may appeal to some learners.
Masterclass: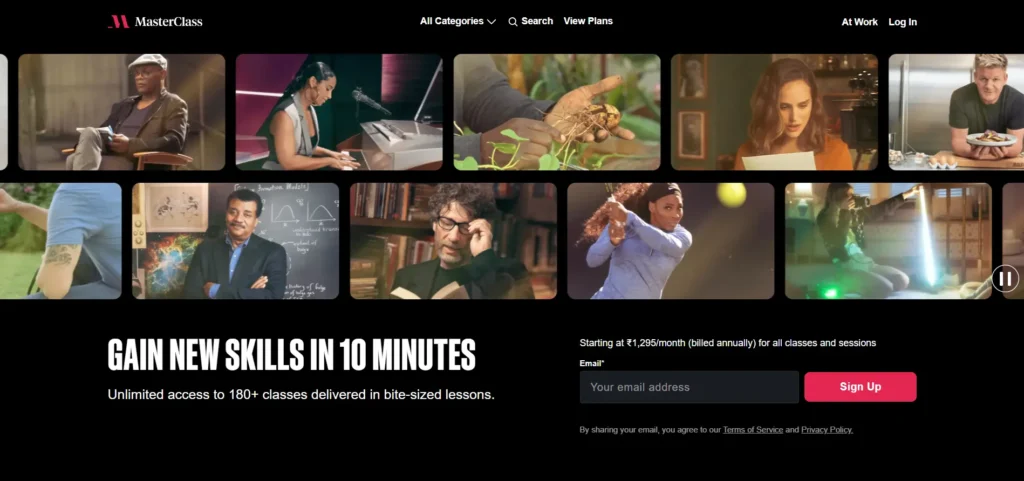 Masterclass offers online courses taught by experts in various fields, including writing, music, filmmaking, and more. The courses are designed to be immersive and engaging, with a focus on hands-on learning.
The Great Courses: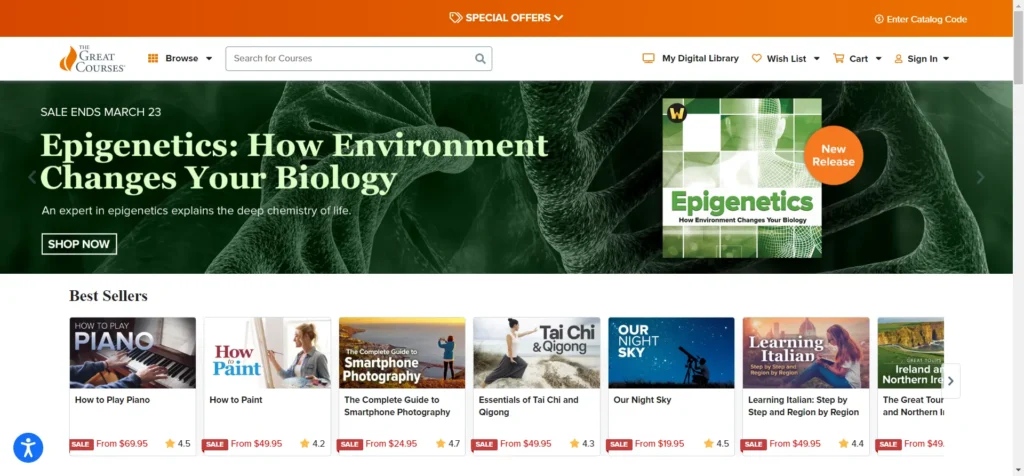 The Great Courses offers video and audio courses on a wide range of topics, including history, science, and personal development. The courses are taught by professors and experts and are designed to be informative and engaging.
LinkedIn Learning: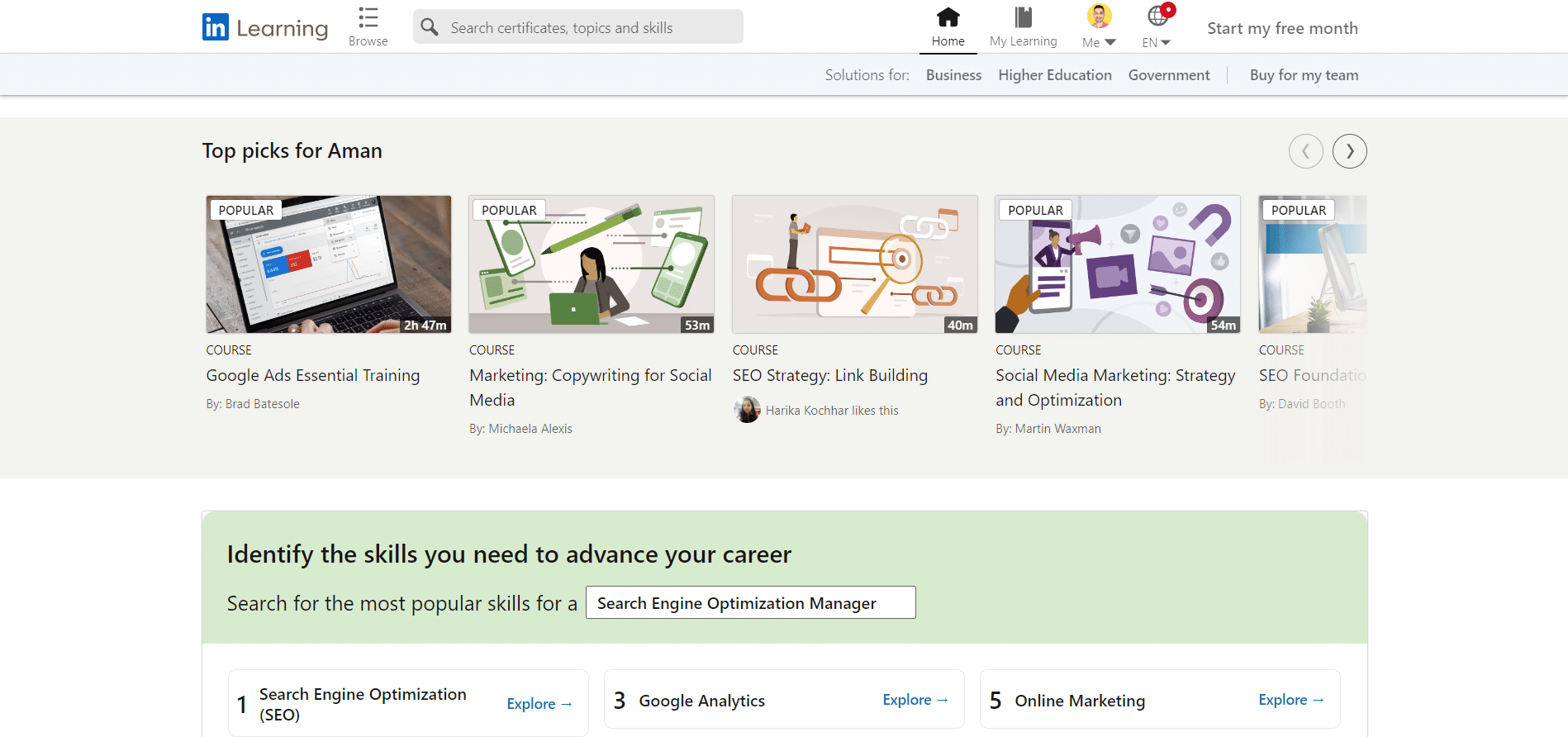 LinkedIn Learning offers courses and tutorials on a wide range of topics, including business, technology, and personal development. The platform also offers certification programs that can be a good option for professionals looking to improve their skills.
Overall, there are many alternatives to Mindvalley that offer high-quality courses and resources for personal growth and self-improvement. It's important to choose a platform that meets your specific needs and preferences, whether that's affordability, structure, or the expertise of the instructors.
My Verdict – Is Mindvalley Worth It?
Mindvalley offers a wide range of courses and resources for personal growth, self-improvement, and lifelong learning. The courses are designed to be interactive and experiential, with a mix of theory and practical exercises. Mindvalley's supportive online community can also be a great source of motivation and accountability.
However, the high cost of Mindvalley's courses may be a barrier for some people, and the information overload and lack of personalization may not be a good fit for everyone. Additionally, some individuals may prefer more structured or formal learning environments, which Mindvalley does not provide.
Overall, if you are looking for an online platform that offers high-quality courses in personal growth and development, Mindvalley may be worth considering. It's important to weigh the pros and cons and consider your own individual needs and preferences before making a decision.
Mindvalley Frequently Asked Questions:
How do I sign up for a Mindvalley course?
 To sign up for a Mindvalley course, go to the Mindvalley website, choose the course you want to enroll in, and follow the instructions to register and pay for the course.
What types of courses are offered on Mindvalley?
Mindvalley offers a variety of courses on various topics, including personal growth, health and fitness, spirituality, relationships, entrepreneurship, and more.
How long are Mindvalley courses?
The length of Mindvalley courses varies depending on the course. Some courses are several weeks long, while others are shorter and can be completed in just a few days.
Can I access Mindvalley courses on my mobile device?
Yes, Mindvalley courses can be accessed on mobile devices using the Mindvalley app, which is available for both iOS and Android.
Is there a community or support system for Mindvalley course students?
Mindvalley offers a community and support system for course students, including access to private Facebook groups, online forums, and live Q&A sessions with instructors.