Selling your books online is marketing, and keyword research makes up a significant amount of selling books online. According to Ahrefs, 90.63% of pages on Google go unnoticed without any traffic.
To earn a handsome profit from your online book publishing business, you need to find the right keywords to get your books noticed by bringing organic traffic. KDSPY is a powerful tool that helps you maximize your profit by optimizing your book marketing efforts on Kindle.
If you're a beginner or an experienced author just stepping into the world of online book publishing on Kindle, this article is for you!
Read my detailed review of KDSPY and check out our exclusive KDSPY coupon to get the most out of this powerful tool with a discount on lifetime access.
Our Exclusive KDSPY Coupon Code
[Get a Lifetime KDSpy Subscription for Just $69, the regular price is $197)
Don't miss out on making your book a bestseller with our exclusive KDSPY promo coupon code
Publishing books online has become a highly competitive profession. About 20% of self-published authors make no profit from their books. Authors are constantly fighting to attract the readers' attention to their books. The importance of keyword research and market analysis becomes even more crucial with such competitive statistics prevailing.
What better way to gauge your book niche's competition than analyzing how other books perform? KDSPY does precisely that for you.
KDSPY currently offers a whopping $128 off its unlimited KDSPY Pro account. You can now access their free updates and bonus cheatsheets, spreadsheets, and courses worth $759 at $69.
On top of that, you can save an additional $50 using our exclusive KDSPY coupon code and have a safe time deciding how to market your self-published book online.
How to use the KDSPY Coupon?
Now that you know the benefits of our KDSPY promo coupon code, let's see how you can claim the KDSPY coupon code.
Step 1:
Use our special link to create your KDSPY account. You'll be redirected to their homepage.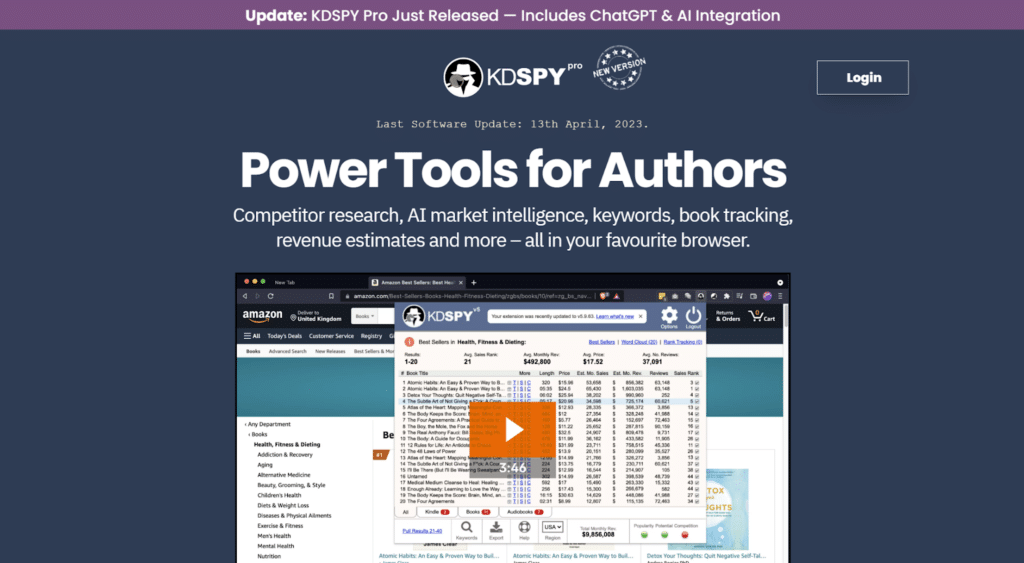 Step 2:
Click on the button "Click Here To Start Spying" and you'll be redirected to their checkout page.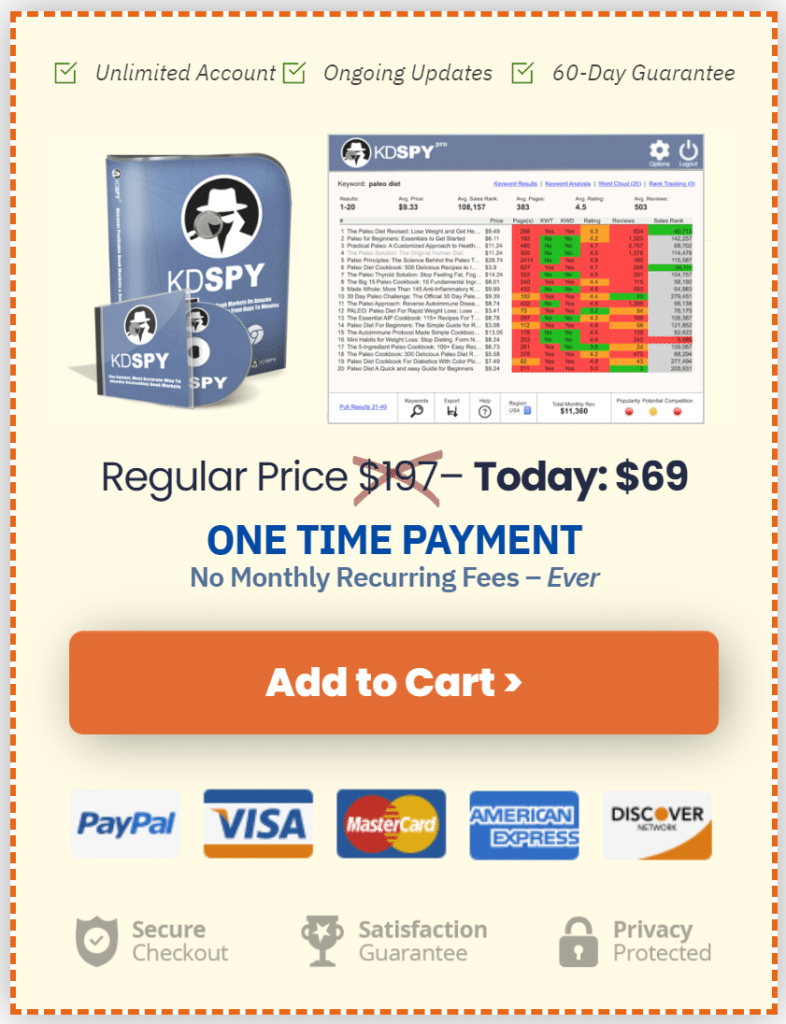 Step 3:
Enter your name, email address, address, and credit card or PayPal information. You're not required to use the code at the checkout.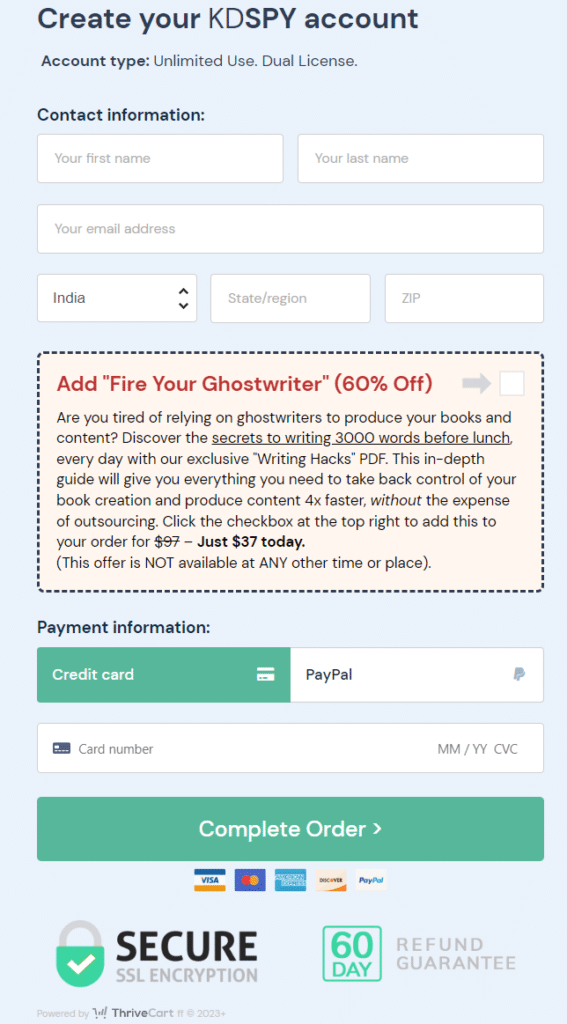 Step 4:
Click "Complete Order" and enjoy your lifetime access to KDSPY without monthly recurring fees.
Congrats! You can now start publishing your next bestseller.
What is KDSPY?
With digitization, the definition of book publishing and authors has changed. You can be a self-published author thriving without a big budget.
However, with self-publishing comes self-marketing. Not all writers can find marketing easy. Especially today, when it has become challenging to get your book noticed by the correct audience.
Understanding what audience would enjoy reading your book and figuring out their demographics help you sell your books without hard-selling (which never works, anyway).
That's what KDSPY does for you. If you were to manually check out all authors writing books in your niche and reverse engineer the keywords they target, it'd take you an eternity. But without this intel, you might run a chance of letting your book stay hidden from the readers' eyes in a crowd of over 30 million books.
KDSPY analyzes the bestsellers and scrapes the data of the average pages, sales, profits earned, and targeted keywords within seconds. It helps you make smart and sound marketing decisions.
With KDSPY, you can gauge which category is worth investing in.
Benefits of using KDSPY:
Here are the benefits of KDSPY that make it a game-changer in the online publishing world:
Reverse engineering the bestseller categories:
You can get a competitive analysis of all the best-performing books in any niche or category you choose. KDSPY presents the length, price, monthly sales, monthly revenue, reviews, and ranks of all the books in your selected category.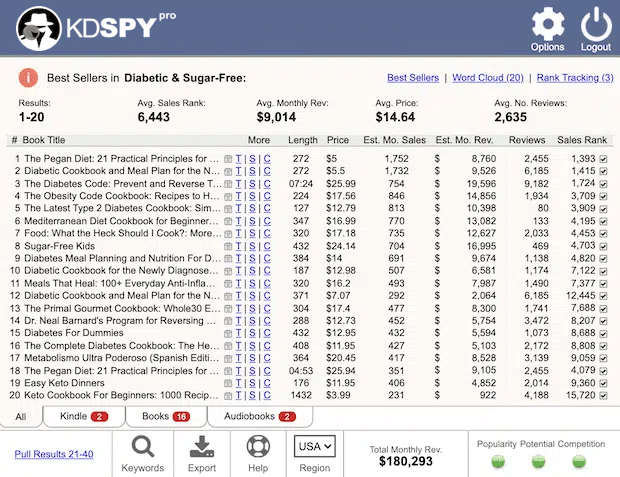 Find out the sales required to get ranked from 1 through 20:
You need to sell a certain amount of copies to get ranked in your book category. The red information icon on the KDSPY window helps you identify how many copies you might need to sell to get ranked in the category from positions 1 through 20.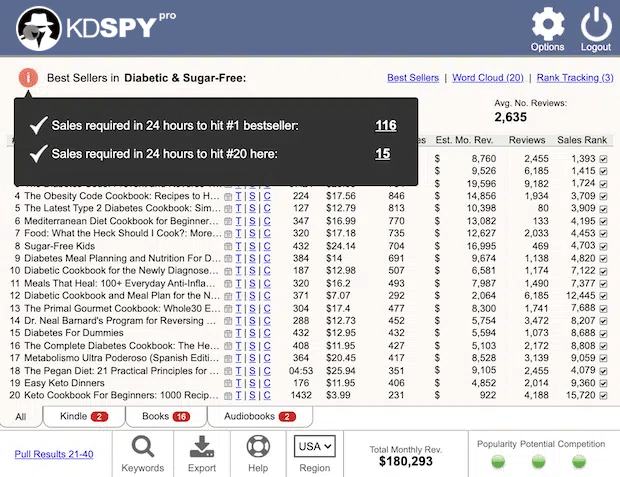 Find out the popular keywords that trend and bring traffic:
What do you think can help you land in the bestseller category? It's the keywords that you use in the book descriptions. KDSPY shows the trending keywords in any category, which you can use to make your book stand in the line of bestsellers.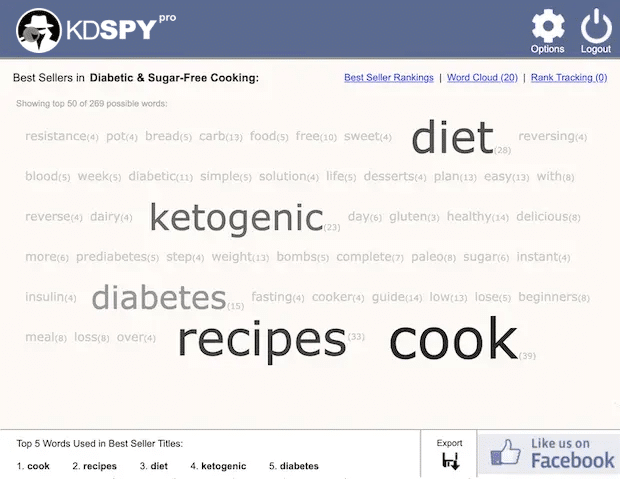 Analysis of keywords to find profit and ranking potential:
KDSPY also shows you the popularity, potential, and competition using color codes. Using this feature, you can measure which keywords are more popular.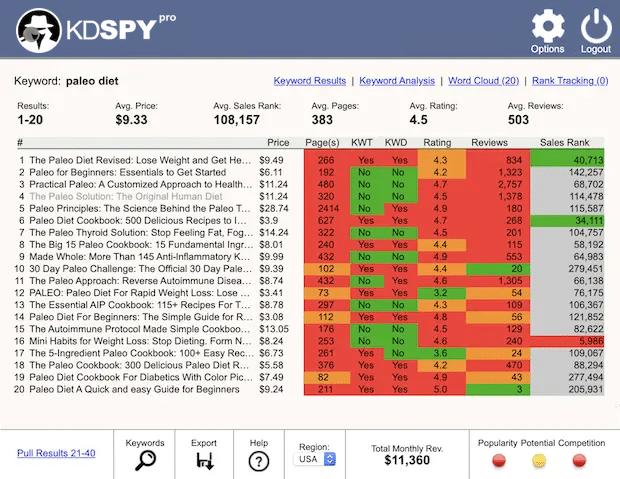 Author page analysis:
You don't have to go to every author's page to analyze their books and sales. KDSPY gets information from all author pages for a specific category in one simple click.
And the analysis is not restricted to one format. You can see the sales rank, estimated profit and sales, and total revenue of all Kindle, hardcover, paperback, and audiobooks.
Track sales and revenue of books:
You can track the sales and revenue of any particular book under all formats for 30 days. KDSPY collects the data and presents it in the form of charts.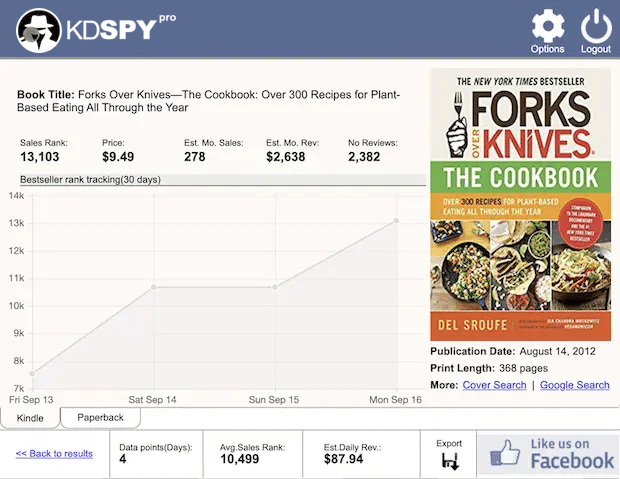 Newest updates with the latest version of KDPSPY
ChatGPT integration:
With the ChatGPT integration, you get 6 GPT prompts that tell you about the infographics, niche market problems, reports, demands, and key success factors for both fiction and non-fiction in one click.
"It's The Only Software Tool We Use And Recommend For Niche & Keyword Research"
KDSPY Chrome Extension
Though KDSPY doesn't offer a free trial, they've created a free Chrome extension. All you need to do is install the extension and make every search on Amazon an opportunity to grow your online self-publishing business.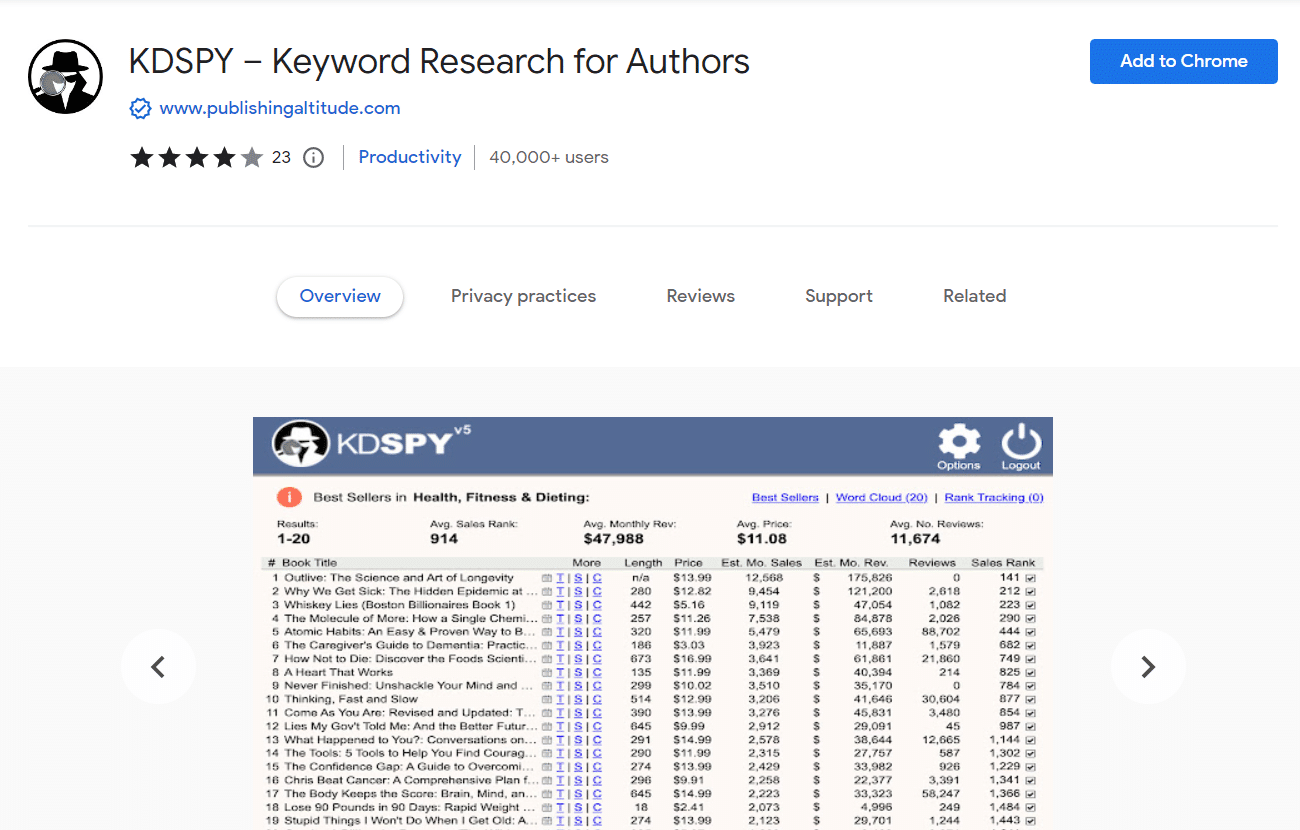 With the KDSPY Chrome extension, you can discover books for all niches, keywords, and categories. It helps you find out the books that are selling profitably and conduct research in categories for keywords.
You can access this extension using your KDP account (Amazon Kindle Direct Publishing).
However, the latest version, KDSPY v5, is not free. You need a paid account to use this version incorporating ChatGPT to enhance your search.
KDSPY Web Application
Unlike the KDSPY Chrome extension, the KDSPY Web application comes with a subscription fee of $197, now available for $69 for a limited time. But with this one-time investment, you get access to all the Chrome extension features plus the benefits of the KDSPY pro account.
The web application also offers bonus spreadsheets and books at no cost with its subscription.
KDSPY Pros and Cons
KDSpy Pros:
This excellent search and reverse engineering tool has plenty of benefits:
✅ Highly affordable price: At $69, this one-time investment sure sets high standards about pricing. KDSPY is unbeatable when offering tons of features for a minimum price.
Our KDSPY coupon code reduces the price by an additional $50.
✅ Free Chrome extension: Even when you choose not to opt for the web application, the free Chrome extension saves you much time. You can kick-start your online publishing business with the extension for no cost.
✅ Integrated with ChatGPT: The latest version, KDSPY v5, takes your research one step ahead with the advanced technology of GPT3.
✅ It offers a range of features for niche research and competition analysis.
✅ 30-day money-back guarantee is available.
KDSpy Cons:
Let's also look at KDSPY's cons to help you make an informed decision:
❌ It doesn't work on browsers like Safari.
❌ Automated updates don't roll out as quickly on Firefox as on Chrome.
❌ No free trials are available.
KDSPY Vs KDSpy Alternatives:
| Features | KDSPY | Jungle Scout | Helium 10 | AMZScout | MerchantWords |
| --- | --- | --- | --- | --- | --- |
| Pricing | $69 for lifetime access | $29/month – basic$49/month – Suite$84/month – professional | $29/month – starter$79/month – platinum$229/month – diamond | $49/month | $35/month – silver$79/month – gold$149/month – platinum$749/month – enterprise |
| Free trial | Not available | Not available | For 7 days | For 7 days | Not available |
| Money-back guarantee | 30 days | 7 days | 30 days | 7-10 days | Not available |
| Keyword research beyond Amazon | No | Yes | Yes | No | Yes |
| Multiple markets available | Yes | Yes | Yes | Yes | Yes |
Final thoughts
The book-selling market is swiftly inclining toward self-publishing. Hence, it becomes crucial that every author utilizes market research tools to land their books in the bestseller section.
KDSPY is affordable and offers every feature needed to research book niches and markets before you sell your book online.
With our special KDSPY coupon code, you can easily navigate the world of online book publishing.
If you plan to publish your book, end your hunt for the best search tool at KDSPY.
KDSpy Coupon Frequently Asked Questions:
Is there a KDSPY promo coupon code available?
The coupon we have shared above is the best KDSPY promo coupon code available at present. You can claim $50 off your KDSPY pro subscription using this coupon.
Are there limitations on the number of books or categories that can be analyzed?
There are no specific restrictions on how many books or categories can be looked for with KDSpy.
How does the AI integration with ChatGPT improve KDSpy's research capabilities?
Using ChatGPT, KDSPY can provide more accurate and up-to-date information about profitable book niches, keywords, and genres, helping authors make informed decisions about their book's marketability. 
Is KDSPY running a discount on their prices? 
Yes, KDSPY is currently offering a $128 discount on the KDSPY Pro web application. You can get the tool for just $69 with our KDSPY promo discount code.
How can I get notified about KDSPY discounts?
You can regularly check our website to see if KDSPY's running any discounts.