SERPs (Search Engine Results Pages), also called search results, are a list of websites that are deemed relevant to a specific query. Businesses often decide which keywords to target based on the ones that give them the most traffic.
But it never occurs to them that there may be some obstacles to ranking high for certain keywords — like being outranked by competitors.
Outranking the competition with SEO isn't enough these days. Your competitors are also working to outrank you — because of this, it's crucial to be one step ahead.
You should analyze the competition and come up with a plan to beat them. Even if your content creation is on the highest level, and you're optimizing the internal site structure, there is yet another vital task — wise SERP analytics. 
What is it? We'll answer this question and show you how wise search engine result analysis is the foundation of a successful marketing campaign.
What Is SERP Analysis?
If you run a Google search, you will see the results on the left-hand side of the SERP. These pages have been run through crawlers that have scoured the web's content and picked out what they think is most relevant to your search query.
On the search engine's results page, the results typically consist of a combination of purely organic listings with paid placements above them. Paid placements give businesses an additional way to market their website to potential customers by purchasing ad space on the SERPs.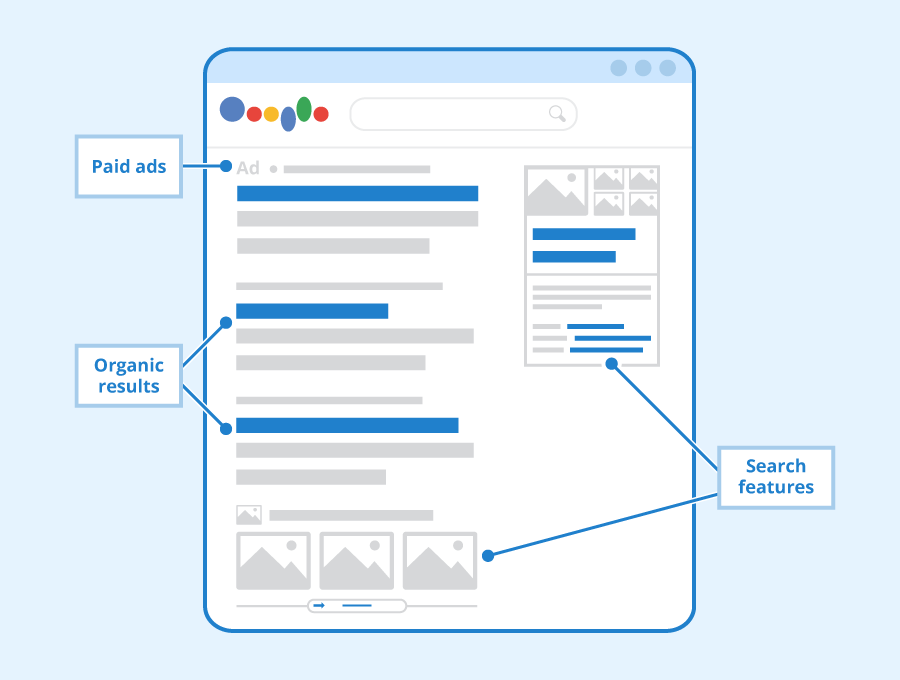 Source: Seobility
Now we know what the SERP is and what it looks like, let's take a look at what SERP analysis is.
SERP analysis refers to the process of analyzing the results that show up on the search engine results page for a certain keyword. It includes gathering and analyzing information about competitors' websites (such as content quality, word count, meta tags, number of external links, etc.) to get an idea of what you can do to be better than the competitors.
This can be done either by using SERP analysis tools made specifically for this purpose or by using information available in the search results.
How to Perform a Wise SERP Analysis?
Keyword Research
Keyword research is the process of finding the most profitable and high-demand keywords to increase your rankings and conversions.
It allows you to examine which keywords are most relevant based on their search volume, difficulty, and level of competition. Based on these parameters, you can decide which keywords to include in your SEO strategy.
Search intent is the reason why users look for content on the Internet. Understanding search intent can help you better compete in terms of keyword usage and page content. Let's have a short look at each:
Users are looking for a particular website or brand to meet their needs. This is called navigational intent.
A minority of users look for information on a topic that they know little or nothing about, and they are in an informational state when they use search engines. Information seekers look for websites with relevant content that can satisfy their information needs. This is called informational intent.
Then some are interested in buying a specific product or making a transaction. This is called transactional intent.
Commercial intent queries are often motivated by users who have a less urgent need for your product and wish to do some preliminary research into the best possible solution.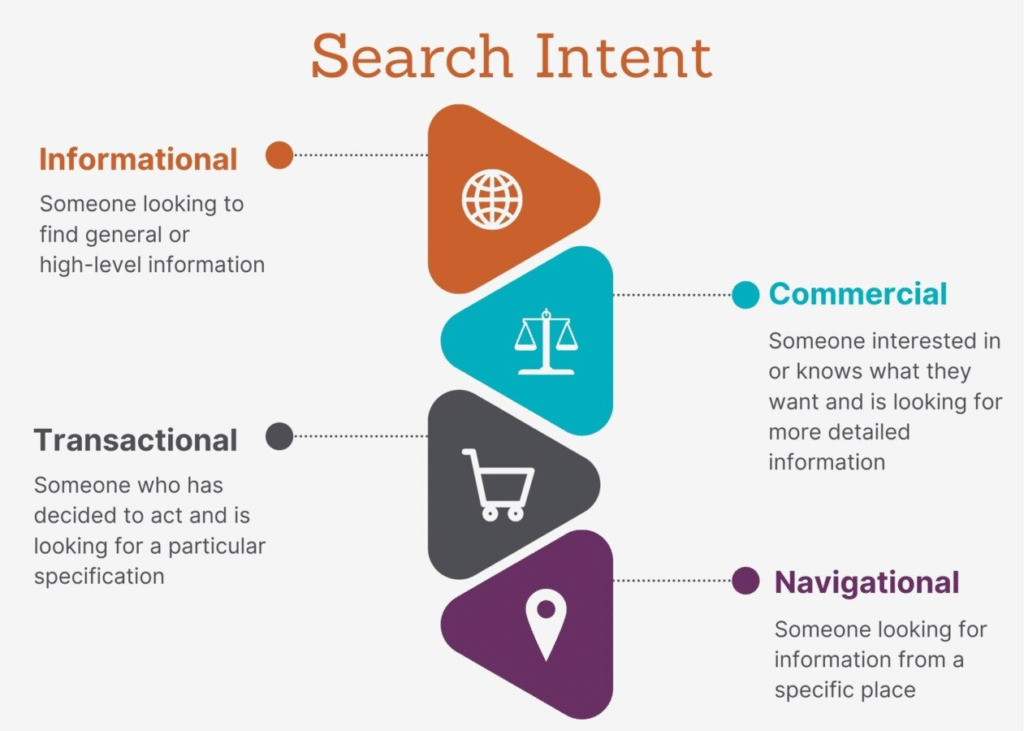 Source: Seer
To choose the right keywords, you need to understand the intent behind the search query.
Analyze Your Competitors for Relevant Keywords
In the previous step of Google SERP analysis, you determined which keywords were most relevant to your business. At this point, you have a list of keywords being searched and the top search results for them. Now it's time to analyze your competitors and uncover what you need to do to be more competitive.
In order to do that, you need to use a SERP tracker like the one by SE Ranking to define your main competitors for a particular query, deeply analyze their pages for various SEO metrics, and find out what kind of content the top players offer, including how their pages are structured and how well they are optimized.
Then you will get an accurate idea of how much work is required to move up one or more places in the SERPs.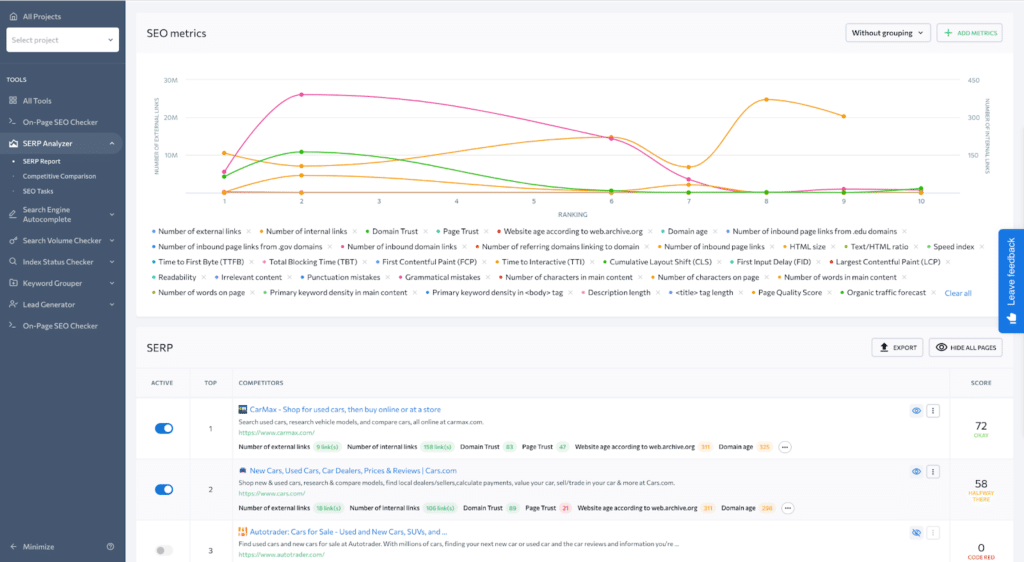 Source: SE Ranking
With this SERP analyzer, you can find valuable insights into:
The competitors' SERP position analytics for a particular keyword
All necessary data, such as organic traffic, the number of referring domains linking to a page, domain and page authority, etc
How their page is structured: its title, description, and headings
On-page score that shows the page quality based on keywords, content parameters, and technical metrics
The following are some of the most important metrics you can use to analyze your competitor's performance on the search engine results pages, which will help you determine what it will take to reach the top of the SERP.
Analyze SERP Features: Featured Snippets, People Also Ask Boxes, Related Searches, etc.
Apart from standard organic results, the search engine may display various SERP features above, below, or on the right side of the standard ten blue links.
These include paid ads, People Also Ask boxes, featured snippets, related searches, carousels, local packs, knowledge panels, and so on. They are of no less importance. Being able to understand these features and how they work is increasingly important for SEOs to rank high.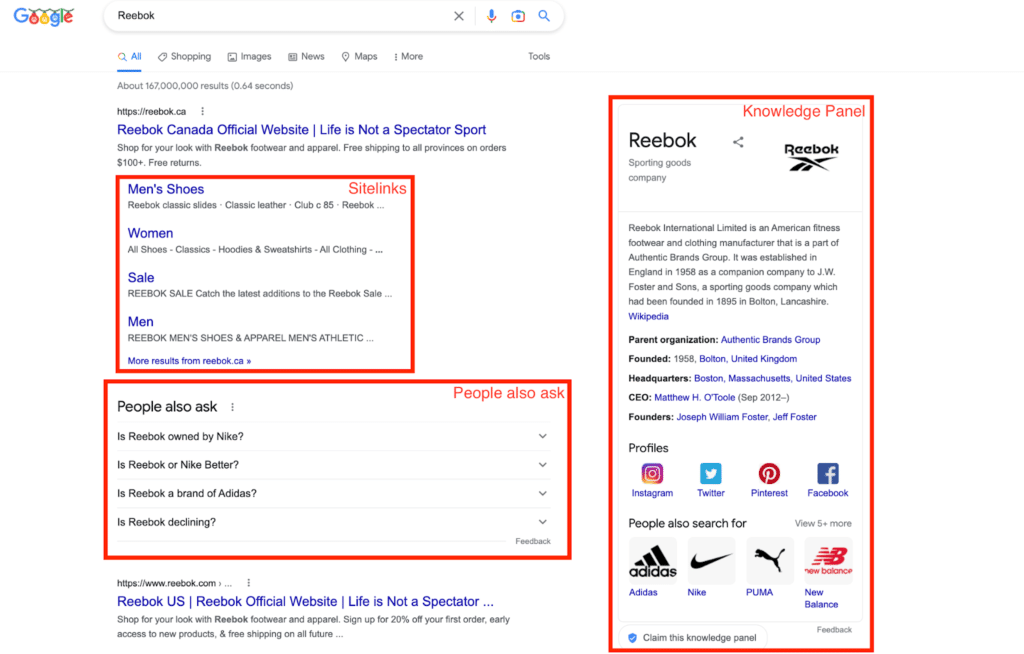 Source: Google
Analyzing those features can give you insight into what people search for and help you to make your content more helpful to readers, giving you an edge over your competitors. Thus, if you're trying to decide whether to boost your search, you should analyze all the features included in the SERP.
A good way to be easily found is to understand the characteristics of top-ranking sites for the queries you want to rank for, and then enhance those features to surpass them.
Optimization Based on Analysis
As we already know, a SERP analysis can help you determine which keywords should be targeted, which headlines are most successful, and what content will attain a high relevance score.
After you have obtained enough information about your competition, you can use that information to help you decide whether to improve the content or expand on a particular topic to surpass your competitors.
There are many ways to use the data from the SERP analytics in your SEO strategy:
You can study your competitors, determine what they do well, and then duplicate their success by putting it into action on your own website.
It is necessary to focus on keywords you can rank for.
Identify the factors that contribute to better content and apply them.
Once you understand competitors' optimization techniques and site structures, use these suggestions to create an even more effective website.
The structured data implemented on a site will be featured in the knowledge graph for surrounding related queries, so it's worth considering.
After analyzing the SERPs for a particular keyword phrase, you'll get a much better idea of the difficulty of optimizing for a specific search query in different categories and can optimize your content to surpass your competitors.
Keep track of the SERPs
The SEO process is never static – it is continuous, so you need always to be prepared for things to change. This means that you need to always be tracking the search results if you want to stay competitive.
Note that monitoring the SERPs is not just about finding your position – while this certainly helps, it is also a way of identifying things like changes in search intent or any new features like a Knowledge Panel, ads, etc.
All of this means that SERP analysis is an ongoing process that needs to be done regularly, even daily, in some cases. When done regularly, it can help you understand how Google views your website and where it stands in relation to the other websites it provides in the search results.
Why Should SERP Analysis Be Run?
The SERP analysis helps you to determine if you're targeting a relevant keyword. Review search results for a chosen keyword to understand whether you should target it. To appear in search results for a particular query and compete with your rivals, your page should correspond to competitors' ones by intent.
Understand the level of competition and if you have the potential to beat them. The main aim of a SERP analysis is to inform you about the level of competition and help you decide if you can outrank your competitors if you try your best or if it would be better to skip the keyword altogether.
Inspect location-specific search results. Analyzing SERPs for a given location helps to evaluate how local search works and how well the most relevant results are displayed and ranked.
Look for unique opportunities, SERP features, and other rich results. You will be able to notice several valuable opportunities that can help you achieve your goals and increase the CTR by applying certain optimization strategies to get to the top of Google's search results.
Conclusion
As we've discussed, a search engine results page, or SERP, is a collection of results returned by a search engine in response to a query from a website visitor.
A thorough SERP analysis will let you analyze your competitors' web pages and show you the gaps in your own SEO strategy so that you can modify it to get to the top of the result pages.
The analysis also monitors SERP features in the form of featured snippets, knowledge panels, the number of organic results, etc., to find unique opportunities for optimization. This brief guide will be handy for you now and in the future!