Any business selling pancakes down the street or building a marketplace for exotic jewelry is about experiences. Whether to develop a SaaS platform for an e-commerce store or an open-sourced one depends on what type of experience you want to cater to your audience. However, user experience is not the only factor!
Factors like costs, flexibility, and ability to scale on demand are also crucial. As a businessperson, setting aside all the technicalities the decision will be driven through ROI. An open-source e-commerce platform is like building a house from the ground up. Everything from planning, design, development, deployment, testing and maintenance rests on your shoulders.
A SaaS-based eCommerce platform is where you have ready all the elements required for building it. But then, you just need to assemble everything! So, what's better, to build from the ground or use a platform and create a custom e-commerce shop?
Well! It depends on what's your priority! According to the 34th president of the United States, Dwight Eisenhower, "What is important is seldom urgent, and what is urgent is seldom important."
Here, we will use the famous Eisenhower matrix to decide which is a better open-source or SaaS platform for e-commerce business.
Open Source vs. SaaS eCommerce: The Key Differences That Sets Them Apart
First things first! Let's first get the basics correct.
What is an open-source eCommerce platform?
An open-source eCommerce solution allows you to modify source codes and create a platform as per specific requirements. In other words, you can use source code per your requirement. However, there are charges for hosting, extension, and plugins.
Especially if you are looking to build an online store from scratch, an open-source platform is an ideal choice. It provides higher customization, flexibility, and scalability for your eCommerce store.
Pros
● Ability to develop from scratch
● Easy access to source code
● Flexibility of adding additional features
● Ease of customizations
Cons
● Higher site maintenance and update costs
● Outdated plugins can cause security issues
● Downtime and availability issues
What is SaaS eCommerce?
Software as a Service(SaaS) eCommerce is a subscription-based platform where you can subscribe to a ready-made solution without the hassle of developing one from scratch. SaaS providers license software and offer solutions that eCommerce businesses can use for their online stores. The SaaS providers manage everything from hosting, extensions, security, and other aspects.
When you compare both SaaS and open-source platforms, both allow you to create an online store. However, the difference lies deeper, where you need to compare them based on costs, features, customizations, and scalability.
Pros
● Ease of development and deployment
● Higher stability and security
● Lower maintenance required
● Higher availability
Cons
● Scaling operations are cumbersome
● Requires additional costs for advanced features
● Limitations of order handling large order volumes
As a non-technical merchant, the SaaS platform looks promising, but you may need complete access to the source code for customizations. At the same time, open-source choosing platforms require technical knowledge. So, choosing between the two becomes tricky. We will use the famous Eisenhower box to make an efficient choice for your business.
Open Source V/S SaaS ECommerce: What's urgent & important?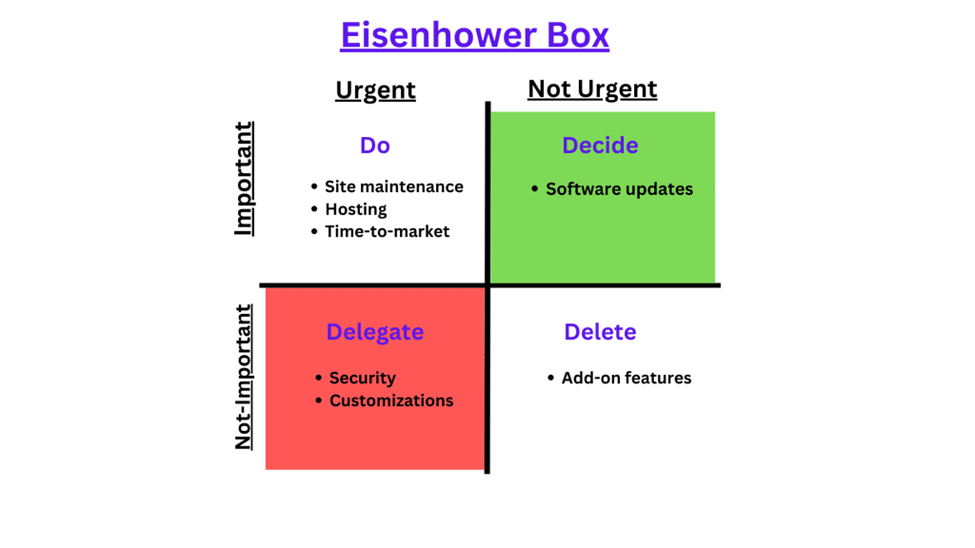 Enterprises invest in platforms that offer maximum ROI, and deciding which platform will provide value depends on your priorities!
A simple example is time-to-market. If you are an entrepreneur to launch an eCommerce app urgently, a SaaS-based platform becomes an ideal choice.
On the other hand, if it's essential to add niche-based customizations to your eCommerce app, an open-source platform is the best choice. Let's put what's urgent and necessary for your eCommerce app in the Eisenhower box to decide which is the best- open source or SaaS platform for an eCommerce store.
Cost & expenses- important but not urgent
As an eCommerce business owner, it becomes key to understanding which platform offers a better cost-to-return ratio. Here is how open source and SaaS eCommerce platforms differ in terms of costs.
| | | |
| --- | --- | --- |
| Types of expenses | Open Source | SaaS eCommerce |
| Hosting | Yes | No |
| Site maintenance | Yes | No |
| Security | Yes | No |
| Software updates | Yes | No |
| Customizations(Plugins) | Yes(Monthly plugin fees, installation, and maintenance) | No(A monthly subscription fee covers all). |
Let's understand each type of cost in detail!
Hosting fee
If you choose an open-source eCommerce platform, your site will charge hosting charges. Some hosting service providers also provide pre-installed essential SSL certificates for security. You can also select options like shared hosting, private hosting, or hybrid to adjust the cost according to specific needs.
However, there are no hosting charges on the SaaS platform. In the open-source option, you will have to pay monthly hosting fees, which are,
● $2-$5 for shared hosting
● $20-$100 for private hosting.
Site maintenance cost
Site maintenance costs include the expenses of repairs, downtime, and updates. Mainly site maintenance involves the developer's cost, which is hourly basis. If you consider the Eisenhower matrix site maintenance an urgent and important task, it can lead to downtime for your eCommerce site.
So, if site maintenance is essential and you don't want to spend a fortune on it, the SaaS platform is the best choice. Because open-source platforms will have higher site maintenance costs due to more developers' time and resources being spent.
Security costs
Security is a crucial aspect as e-commerce websites are one of the major targets of cybercrimes. One way to ensure security is to leverage SSL certificates. Installing an SSL certificate allows companies to avoid man-in-the-middle attacks. Many SaaS solutions offer pre-installed SSL certificates.
However, you can easily get a low-cost SSL certificate from a leading certificate authority to secure your site. SSL certificates secure the communications between the user's device and browser to ensure data exchanged remains anonymous to hackers.
On the other hand, if you choose an open-source solution, an e-commerce SSL certification does not come pre-installed. You can either choose a hosting service that provides bundled SSL certificates or get an SSL certificate from a trustworthy CA and install it.
Customizations
E-commerce websites can require customizations based on the target audience, niche, and market demand. SaaS solutions offer limited capabilities for e-commerce customizations, as the source code stays hidden. On the other hand, the open-source platform allows companies to modify the source code and customize the site as per their requirements.
The Final Words
Which platform to choose for creating an eCommerce site is a business decision. So, you must consider the cost-to-return ratio, different costs, security, performance requirements, and customizations. Considering several factors and comparing open-source to SaaS platforms for eCommerce stores can get overwhelming.
You can use the Eisenhower matrix to decide which urgent and important factors. Compare the most suitable choice for your eCommerce store based on these factors.