Content remains the king of any marketing strategy. No matter what is currently on trend, a well-written, and catchy text is a vital prerequisite for successful communication between the company and its target audience. There are dozens of forms content can take. For example, you may focus on good old blog posts or switch to the main Gen Z information channel, podcasts.
Some people prefer texts, and others consume information depicted in infographics. Sometimes customers expect a more personalized approach and eagerly respond to company emails. If your social media campaign managed to stop users from scrolling, the produced content is good enough to stand out and grab people's attention.
Thought-provoking, exciting, and straight-to-the-point texts help companies introduce themselves to the market, explain who they are, and why customers have to care. You raise awareness about your brand and its mission. Catchy and crunchy text can make your product recognizable and memorable.
The tone of voice, the messages you send, and the value companies present matter just as much as product quality and affordability. Talk to me if you want me to notice you.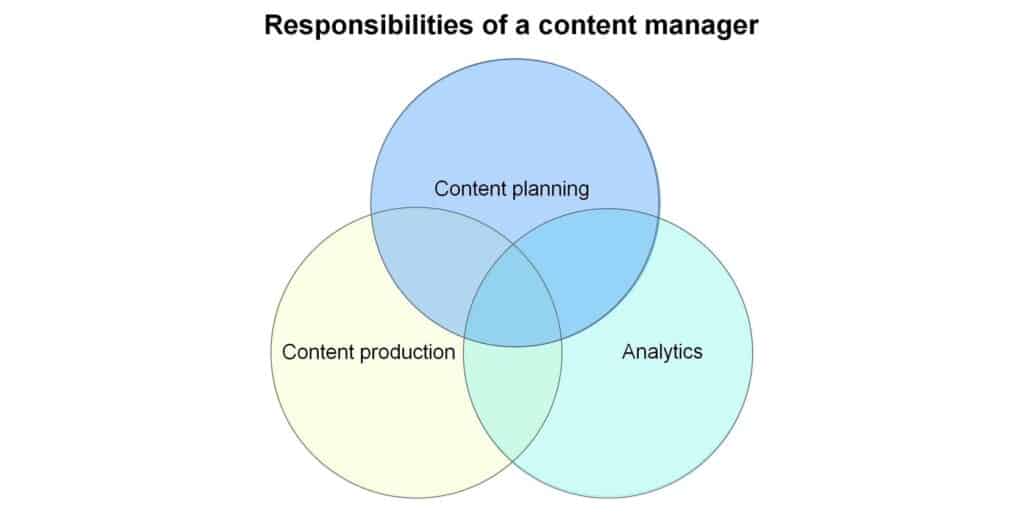 However, the magic of the text has to occur every time, regardless of the channel and the content format. Otherwise, you won't be able to hook people from your target audience. Specialists behind this magic are content marketing writers. They are in charge of creating texts that turn into leads.
These specialists make sure the company sounds like it's aimed and explain to customers why they need to pay attention to the product. Although content is a cornerstone of any marketing strategy, without good management, it won't reach its ultimate goal. Here's when content managers come into play.
What does a content manager typically do?
Okay, now it might be slightly confusing. Why do you need a whole manager to navigate with texts? The thing is that such specialists handle a variety of tasks. The responsibilities include developing a content strategy that reflects long-term marketing goals and helps reach short-term ones. In other words, this specialist creates an ultimate vision of what content.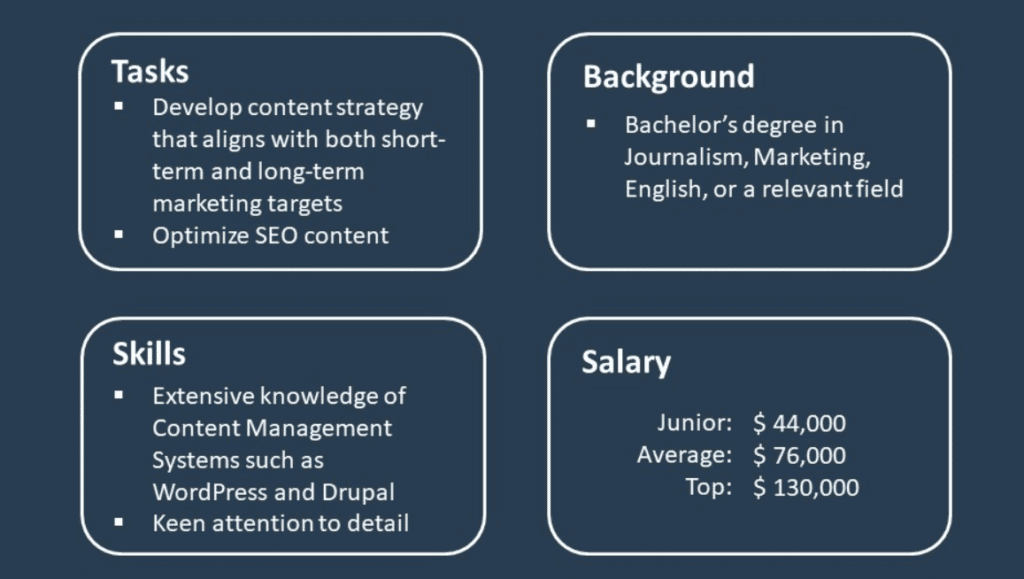 Managers make a central message a company will share and decide when, across what channels, and to what people. Sounds quite serious, doesn't it?
Please, keep in mind that the strategy must be well-designed and flexible. The first feature ensures you stick to the plan and get a unique content style. The second feature helps adjust texts to immediate changes that often occur in business. For example, situational content marketing is as crucial as regular posts or traditional podcasts.
Content managers are constantly in touch with various design, website development, and marketing departments. Content is often a product of multiple teams. Thus, managers dealing with it participate in content creation at different stages. When the company is relatively small, these specialists create texts and publish them. They can even edit content. However, it's better to have several employees for such tasks.
Once the person is deeply involved in creating content, the risk of making and missing a typo is higher. Collaborating with the editing and proofreading team is also a part of content management. These specialists also check if texts are SEO-optimized and whether they increase traffic to a website.
Content managers use various tools and metrics to understand how texts influence the audience they are aimed at. These employees also work on content distribution and manage the platforms where it gets posted. As we see, content managers' tasks don't always include creating content. They are in charge of addressing it to people who will like the product.
Considering content moderator jobs and conducting a comprehensive job search in this field can be a valuable step for those interested in content management.
How to become a content manager?
This role is exciting because it offers diverse tasks. As a result, you won't get bored doing the same thing every day. However, the higher level of multitasking is, the more difficult it can become to stay focused and organized. Apart from doing various tasks, content managers are often leading teams. It means they must drive growth and create a friendly and trusting atmosphere within the department.
Dealing with people is always challenging. You need to align different views and working styles, pay attention to the slightest changes in routine, and manage changes when they are inevitable. Such tasks require solid project management knowledge, good command of communication techniques, and marketing.
Does it mean that even entry-level jobs in this sphere demand ten years of experience? Not exactly.
To start, one can earn a bachelor's degree in either English (or any other language you work with), communication, or digital marketing. English remains one of the most necessary skills since a lot of knowledge and professional experience in distributed vial English-speaking channels. The next step could be becoming a content writer.
These are specialists who create texts for particular purposes. In this case, your sphere of responsibility is relatively narrow. You have a topic and guidelines on how to cover it. Yet, learning how texts work and what makes a good one is valuable knowledge for a content manager.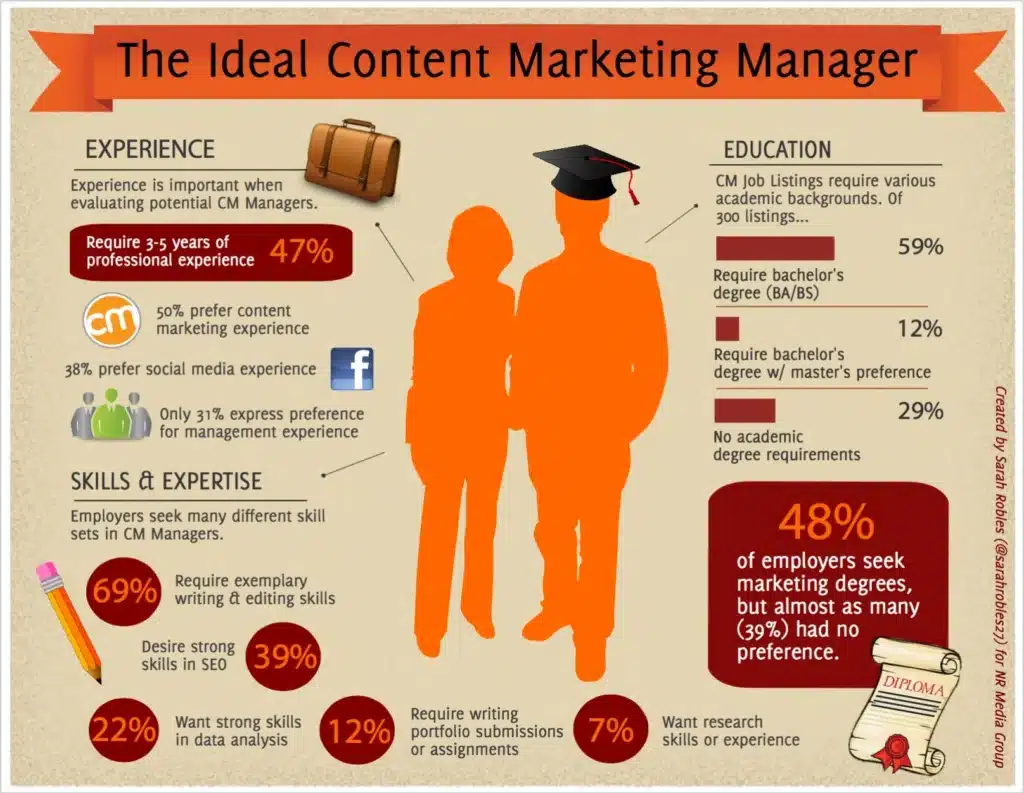 Then you can become a content coordinator. These specialists strategize and fulfill the content plan. They have solutions on how to create catchy, meaningful, and meaningful content. You have more freedom and more responsibility because all texts have to be unique and fresh but also reflect the idea of brand consistency. Striking such a delicate balance is something requiring more experience and knowledge base.
Once you've settled with content marketing as a profession, don't hesitate to do a master's degree. Not only will it help you to nail your digital marketing skills but also grand additional knowledge on leadership, communication, and managing teams.
Although the experience of working with people is always different and can't be simply learned, there were many smart people before us who noticed what works better with teams and what is not a good idea.
Conclusion
Content has been the king of marketing for a long time. Currently, there is no plausible evidence that the situation will change anytime soon. Thus, content managers remain sought-after specialists who have to combine various skills and unique knowledge. It doesn't mean that you need to know everything. The core is making texts alive, breathing, and informative for readers. The next most crucial thing is understanding how to distribute such texts productively.
If you know how to organize people and engage them in text magic, congratulations, this job was made for you! People never get tired of good stories or neat solutions that improve their lives. Thus, get to know how to turn great ideas into leads and make texts that will distinguish your brand among thousands of other companies.