As a writer, you're constantly looking for that one tool that will make your work stand out. That's how I discovered QuillBot!
The great features of QuillBot can make you look like a skilled writer, even if you are a newbie in the writing arena. QuillBot is a go-to tool because it takes a few minutes to turn your monotonous paragraphs into engaging content by paraphrasing them.
You may be wondering whether you can put your faith in QuillBot before buying it. Since I have been using QuillBot for more than two years now, I have come up with detailed feedback on the tool.
In this Quillbot review, I will discuss its amazing interface, highlight its most useful features, and outline its ideal user base.
What is QuillBot?
Quillbot is an AI-powered writing assistant with a number of useful features. Its main use is rephrasing your text in a variety of styles using AI. QuillBot's ability to summarise, as well as its built-in thesaurus and grammar checker, make it a useful writing aid.
Last year, QuillBot catered to more than 150 million individuals. This tool is versatile enough to be used for composing essays, blog posts, emails, social media updates, and more.
Who can use QuillBot?
From writing articles and rephrasing news content to blog entries, and more, you can use QuillBot for pretty much everything. Therefore, QuillBot is perfect for you whether you are a learner, educator, freelancer, or blogger.
Aren't we bored of meaningless content spinners that are available online? So, if your search for an impressive rewriting tool is still on – then QuillBot is a perfect option available.
Being a college student, this helped me to complete my dissertation. QuillBot AI serves as a research and quality check tool.
This tool is useful for digital marketers as well who need to create new versions of existing pieces of content for use in search engine advertising, social media posts, and other contexts.
Trust me! The influence of Quilbot AI extends beyond just writers. Content creators and marketers can use this tool to streamline their processes and increase content output. Whether you're looking to generate engaging marketing content or tailor your customer email replies, Quilbot has you covered.
Despite being more advanced than most article rewriters and content spinners, QuillBot still lacks essential SEO features. Therefore, anybody looking to rewrite content and make it SEO-friendly cannot utilize QuillBot.
QuillBot Pros:
QuillBot comes in 4 different dialects: American English, Canadian English, British English and Australian English.
You can add QuillBot to either Microsoft Word or Google Docs.
The user interface of QuillBot is intuitive.
Depending on the style you choose, your writing will be modified to a new tone (formal, simple, creative and more).
QuillBot takes the safety and privacy of its users seriously.
QuillBot Cons:
A monthly plan can be expensive.
Paraphrased results don't always correspond to the sense of the original text.
My experience with QuillBot's free version 
QuillBot has a free version that's fairly useful. Except plagiarism checker and a few more features, the free edition of QuillBot allows you access to many interesting features.
The free version is sufficient for a student who just wants to quickly check the grammar and rephrase tiny chunks of material.
With QuillBot Free, you have access to Standard and Fluency paraphrasing modes. While QuillBot Premium offers an additional five rewriting modes (Shorten, Expand, Simple, Creative, and Formal).
QuillBot Free's Paraphrase is restricted to 125 words, but QuillBot Premium's is infinite.
Only Premium users can use the infinite freezing words option, whereas QuillBot Free users are restricted to a single.
Quillbot Free's Summarizer is limited to 2500 words, while Quillbot Premium gives you 6000 words.
QuillBot features
Paraphraser
In one click, your text will be rephrased! Yes, it's that simple. You can seriously improve your writing with the help of this AI-powered paraphraser. This is truly one of the strongest features of QuillBot. It rearranges paragraphs and changes individual words without changing the meaning of the text as a whole.
You can shorten or extend your text as per your wish and need. It can also allow you to change the tone of your text more formal.
Given that QuillBot has multiple options for paraphrasing, you can also compare them and then decide which kind of text you want to use.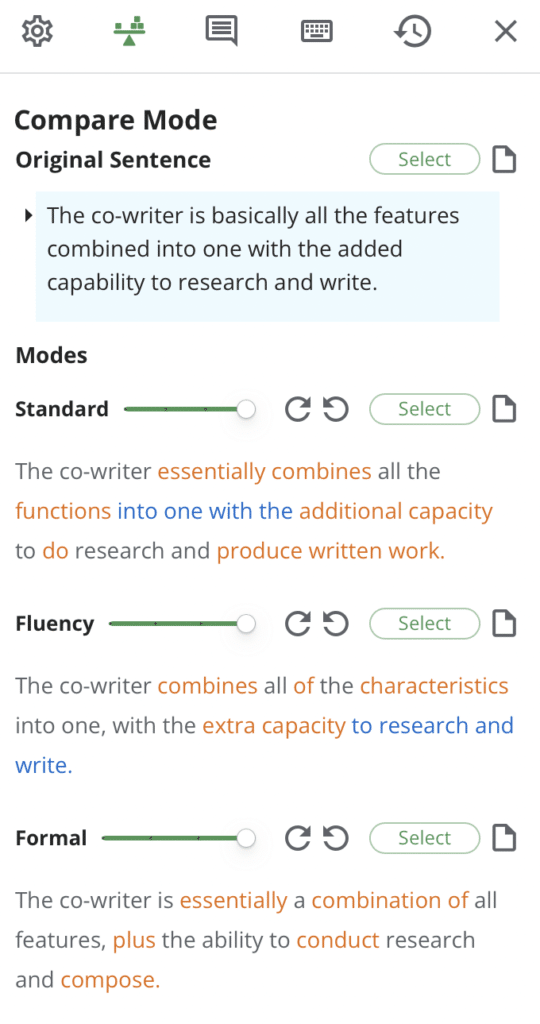 Grammar Checker
Another important feature of QuillBot is its grammar checker. The grammar checker analyzes text for grammatical mistakes and offers correct suggestions. It uses artificial intelligence to identify even minor grammatical errors.
After the tool analyzes your writing, it will show you where you went wrong with your grammar. You can accept the suggested changes by clicking on the highlighted text.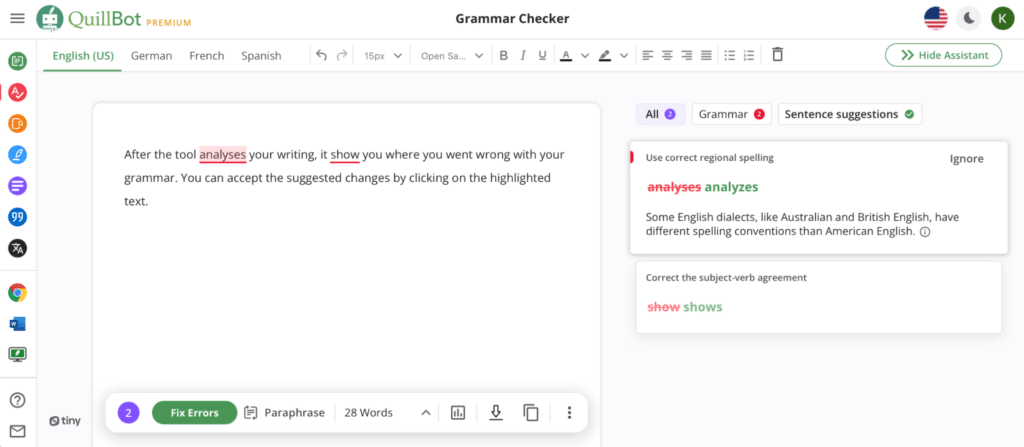 You can also select four languages of English: American, Australian, British, and Canadian to make sure there is no spelling error or tone difference in your text.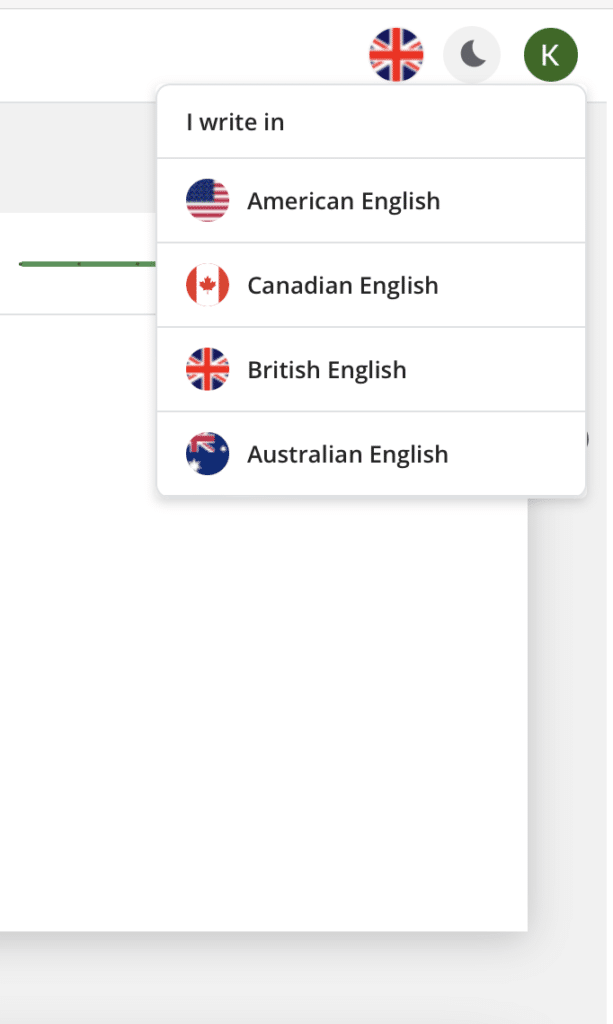 Plagiarism Checker
Earlier when I used to work on QuillBot, I wasn't much impressed by its plagiarism checker. However, in recent times, I have noticed that its plagiarism checker is very accurate.
Being a writer, I always have to ensure that my content is Plagiarism free. With the help of the Plagiarism tool, you can get a detailed report of copied text along with a score for how much of it was copied. The 100+ languages supported by QuillBot's plagiarism checker make it a valuable tool.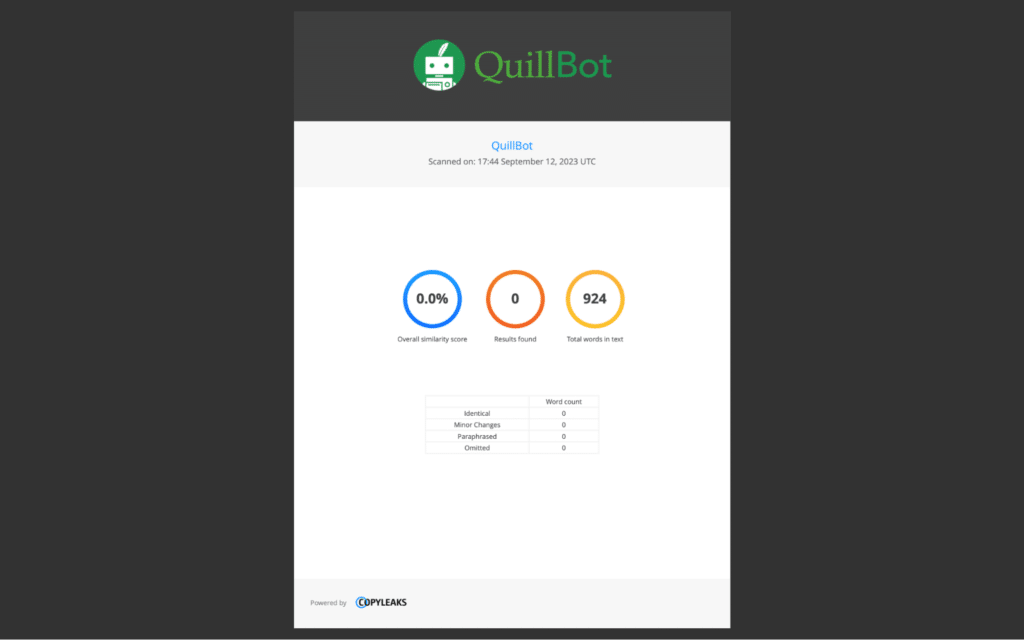 The monthly page limit is 20, however, for both the free and premium editions. You can always buy additional pages if you need them.
Co-Writer
QuillBot's co-writer is an all-inclusive tool, with the extra abilities of research and writing. It also serves as a writing assistant, making recommendations depending on the data you provide.
Summarizer
So often, we get stuck in just summarizing the content. Writing a lengthy piece is simple; summarizing it, however, is another story. With the help of the summarizer, you can reduce lengthy texts to their essential information. 
Note: The premium version allows for up to 6,000 words, whereas the free version only allows for 1200 words.
Citation Generator
I have hardly used Citation Generator since I have not much use for it. But this feature is definitely recommended if you work on research or scholarly articles. QuillBot's citation generator can generate full and in-text citations in a variety of citation formats, including APA, MLA, and Chicago.
You can run an in-app search for the book or webpage and QuillBot will bring you relevant results. QuillBot will even save a record of your citations in case you need to refer back to them.
Translator 
I was amazed to see the translation capacity of QuillBot. It works pretty much like Google Translate. You can totally rely on QuillBot's translation.
Here's a Hindi sentence I tried to translate and the translation was perfect.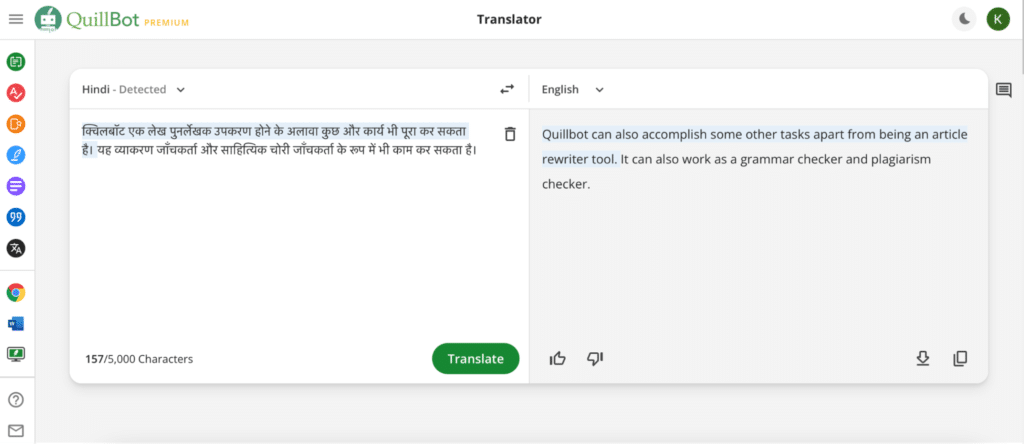 The Feature I Use the Most – Paraphraser
I can safely say that I use QuillBot's Paraphrase feature almost every single day. The fact that it produces such incredible outcomes makes it very addicting.
I simply paste the texts or paragraphs. What you can do is upload an entire document and have it paraphrased.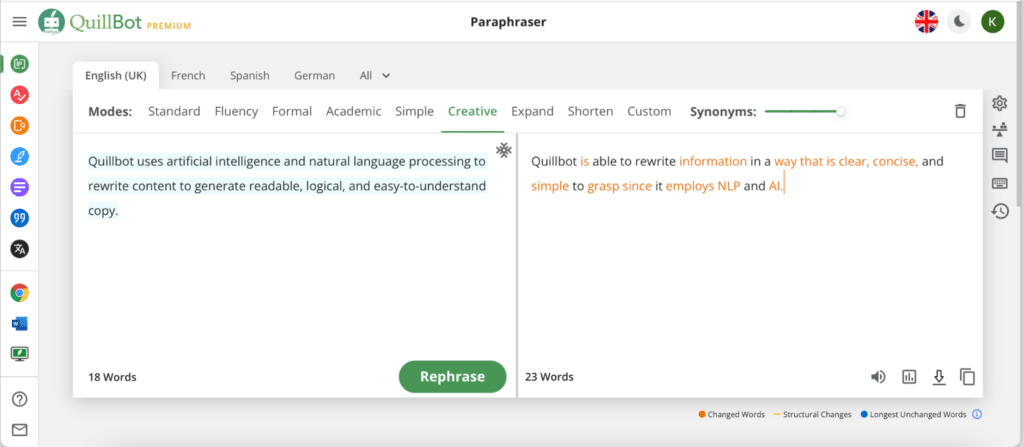 I appreciate that you can find synonyms for words and phrases, so you may choose the ones that best convey your meaning.
Being able to modify sentences for length is also beneficial.
QuillBot Pricing
If you are using QuillBot as a Google Chrome extension, you don't have to pay for anything. It is absolutely free. However, there are additional benefits to using the paid version of QuillBot.
If you really want to make the best use of QuillBot's features, you need to upgrade to the premium version.
Let's talk about the premium QuillBot plan's price: 
Monthly: $8.95
Semi-Annual: $5.66/month
Annual: $3.13/month
If you just need QuillBot for a few months rather than a full year, the semi-annual (6-month) subscription is an ideal option. If you're planning to use QuillBot for a whole year, the best option is the 12-month subscription, which is way cheaper than paying monthly.
However, if you are someone who needs an editing tool for a particular project or a short period of time, you should only buy QuillBot for a single month. If you're looking for a tool, especially for Grammar checker, you can go for Grammarly, and the best part is that you can get a 50% Grammarly discount with our coupon code.
Conclusion 
QuillBot is a great option if you require both a grammar checker and a comprehensive full-blown editing tool. At a reasonable price, QuillBot gives you the excellent quality that can fulfill your writing needs. The cutting-edge paraphrase tool provides a very satisfying experience for people who are struggling to make their write-ups stand out.
To have a summarizer, plagiarism checker, grammar checker, and more QuillBot is a fairly priced and useful writing tool.