Have you noticed that even a minor selling and grammatical error harms the value of your article? Moreover, poor grammar is a disaster when it comes to search engine results. Because of this, there has been a dramatic increase in the need for free resources that can check spelling and grammar.
Every content marketer, student, freelancer, and writing professional is always on the lookout for new and improved grammar checker tools.
We're all a little bit critical when it comes to sloppy writing and errors. That is why using an online grammar check to avoid any kind of slip-ups is also beneficial to the credibility of your content.
There are a plethora of best grammar checker tools out there, but the vast majority of them fall flat. Only a select few are genuinely helpful for users. You've probably heard of Grammarly and Ginger, but there are superior and cheaper options out there as well.
All writers, editors, content teams, and anybody else who writes often should familiarize themselves with the 10 best grammar checker tools we've listed below:
Grammarly
Quillbot
Hemingway App
Ginger
Zoho Writer
ProWritingAid
LanguageTool
Jetpack
WhiteSmoke
Reverso
Grammarly
The list starts with Grammarly! When it comes to correcting grammar, spelling, punctuation, and more, Grammarly is one of the finest free options. As of 2023, Grammarly says that more than 30 million people use it every day to make their writing better.
To have Grammarly review your writing for things like grammar, clarity, interest, and delivery, all you have to do is copy and paste it into the editor. The interface is similar to that of a text editor, making it simple to style text using bold, italics, and header tags.
It's available as a free Chrome or Firefox browser plugin that will underline any mistakes in red should you want to use it straight in your WordPress site or emails.
You can also check for plagiarism and other writing mistakes using Grammarly.
Grammarly Pricing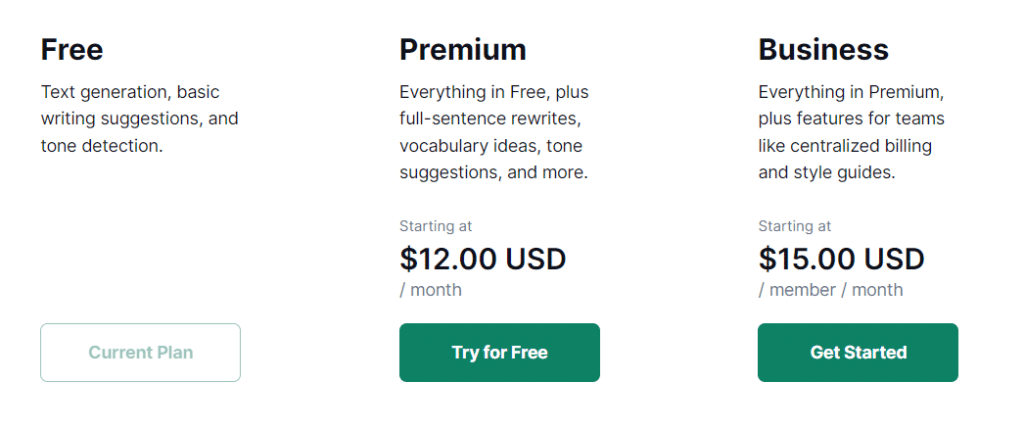 Premium – $9.95/Month
Business – $15.00/Month
If you're a student or teacher, you can grab Grammarly at a 20% discount from our Grammarly student coupon code.
Quillbot
Millions of individuals all over the globe rely on QuillBot, making it one of the most popular free online grammar checker tools. In addition to correcting grammar, it can also be used to paraphrase and summarise text.
QuillBot is a fantastic tool for improving your grammar, spelling, and punctuation. It also has a free Chrome extension you can install to correct your grammatical mistakes on the fly.
The built-in paraphraser is especially useful for authors whose native language is not English. You can simply and rapidly paraphrase current content using this option.
Quillbot Pricing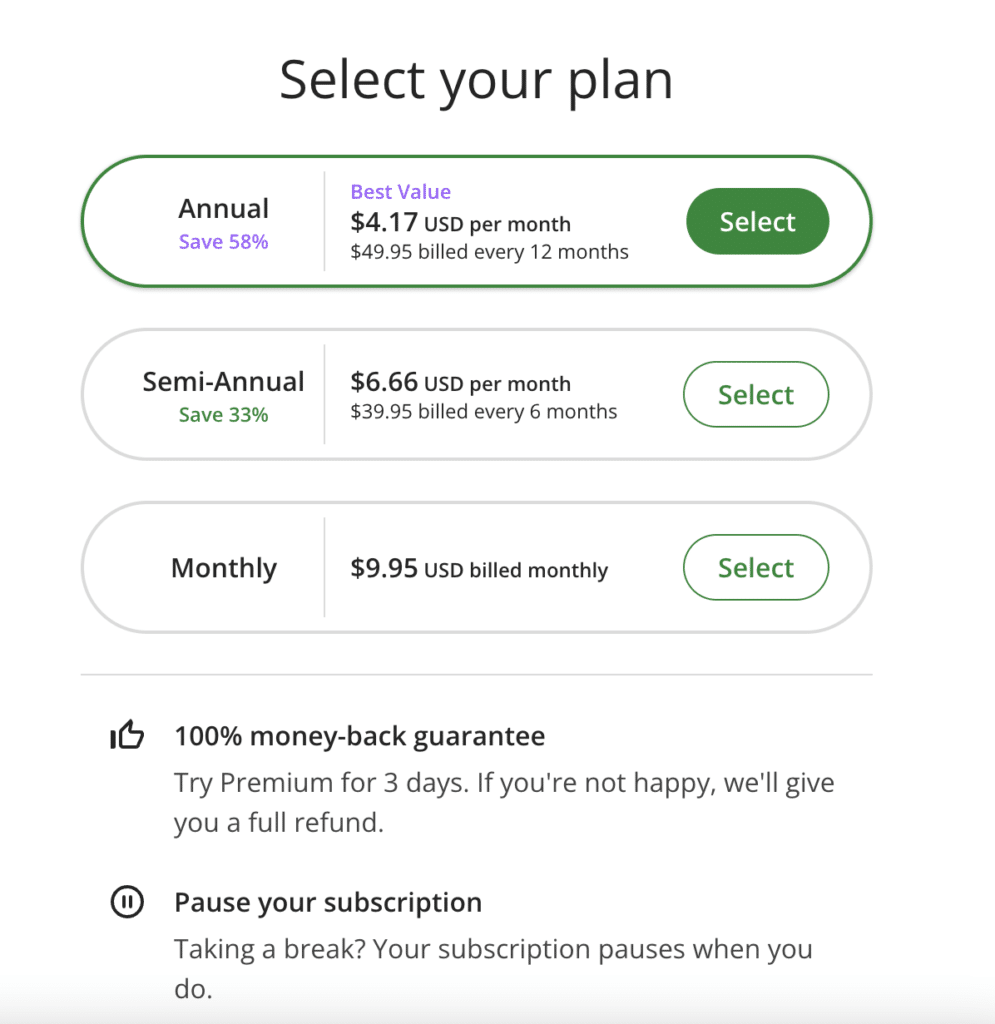 Free to add to Chrome.
Premium – $9.95/Month
Due to the subscription's additional features, such as a summarizer and plagiarism checker, it is an excellent option for students and essayists.
Hemingway App
The Hemingway App is an editor that improves the readability and style of your writing by highlighting grammar errors and wrong sentence structure. The Hemingway app stands out from the others because of its focus on enhancing sentence flow.
It has all the standard capabilities of a grammar checker, but its real magic lies in the fact that it also helps you cut down on unnecessary words and phrases.
In addition to copying and pasting, you can use Hemingway Editor's write mode to create your material from scratch and then edit it as needed.
Hemingway Pricing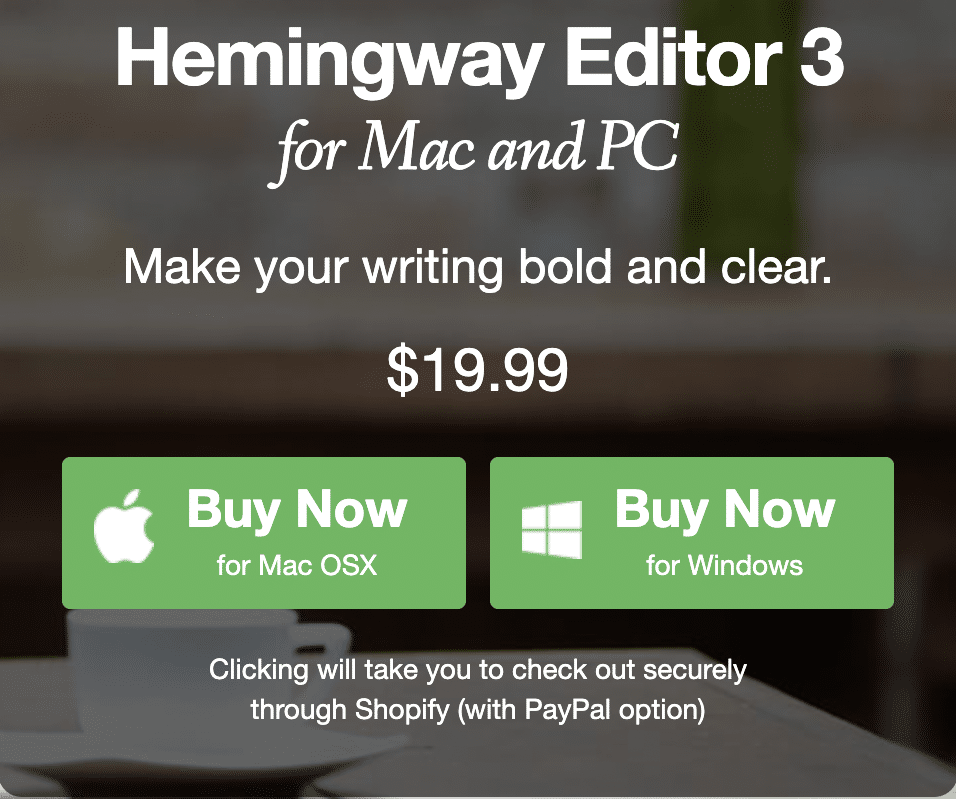 Online version – Free.
Desktop version – $19.99.
Ginger
Ginger is next on our list of the best grammar checker tools you can use right now. This is a great resource for freelance writers who often deal with customers from other countries. When it comes to grammar, punctuation, syntax, and spelling, Ginger supports more than 40 different languages.
The free edition comes with a sophisticated grammar and spell checker that can spot errors in a flash. It is a browser add-on that automatically suggests edits as you type.
But one of Ginger's main benefits is how quickly it can be accessed on different systems. This app can be synced with your iOS or Android device, Microsoft Windows or macOS, and Microsoft Word or Outlook.
Ginger Pricing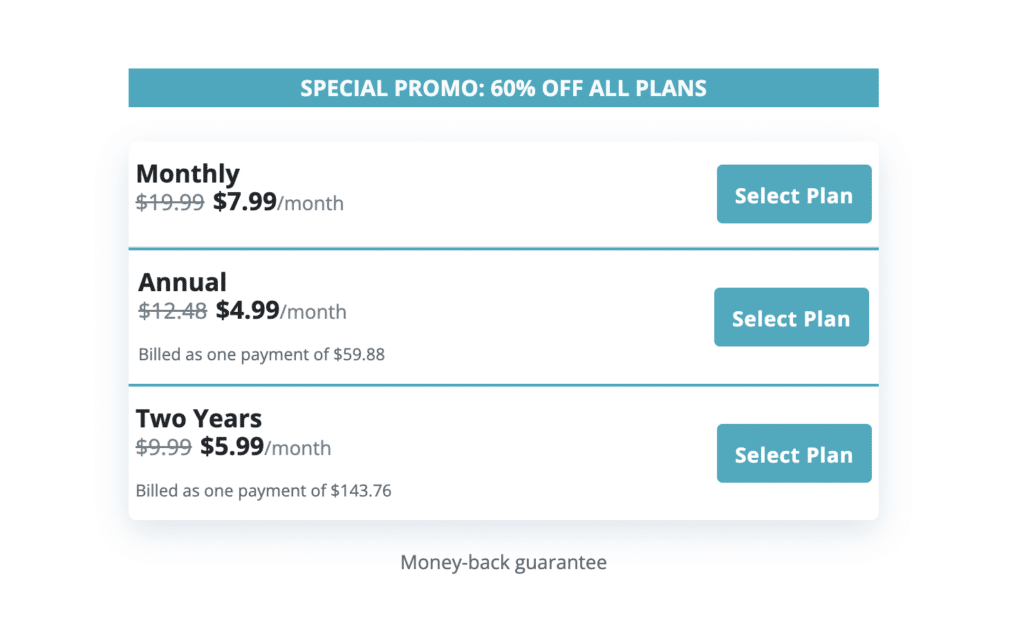 Free version – $0
Premium – $7.99/month
The premium plans include an integration with Microsoft Word.
Zoho Writer
Zoho Writer, like many other excellent online grammar-checking tools, can check for spelling and grammatical errors, but it truly goes beyond by also checking writing style.
This free grammar solution has a tonne of useful tools. Zoho Writer keeps tabs on your usage of clichés, adverbs, and passive voice. You can create flawless business papers with ease with its robust word processor.
Zoho Writer Pricing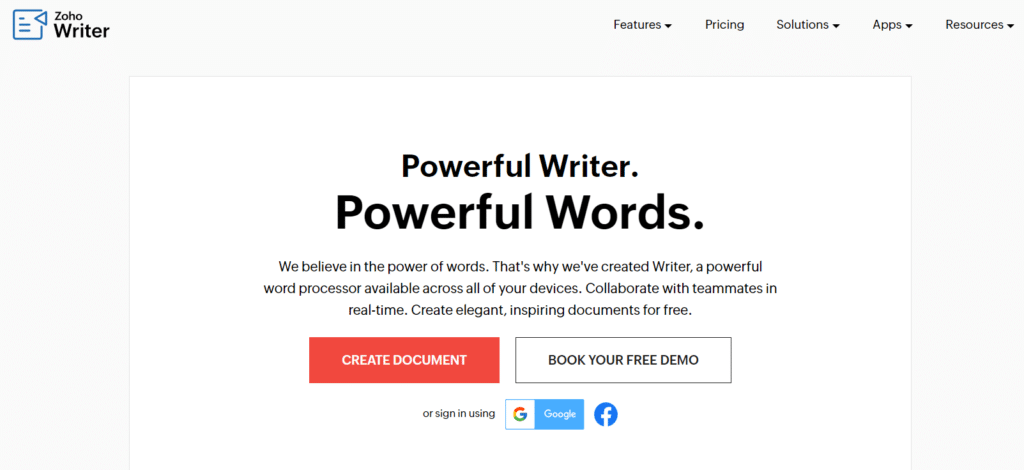 It's completely free
ProWritingAid
ProWritingAid does more than just check for typos and grammatical mistakes. Its goal is to help you become a better writer by improving your use of language in your writing. There are desktop tools available for Mac and Windows, as well as browser extensions and add-ons for Google Docs and Microsoft Word.
ProWritingAid's Rephraser tool provides many rewriting recommendations for each sentence.
Pricing for ProWritingAid includes a free version that provides you with basic writing recommendations but limits you to 500 words and 10 rephrases each day. You'll need the premium, limitless version with all the bells and whistles to professionally edit.
It has three distinct writing modes: creative, business, and academic.
ProWritingAid Pricing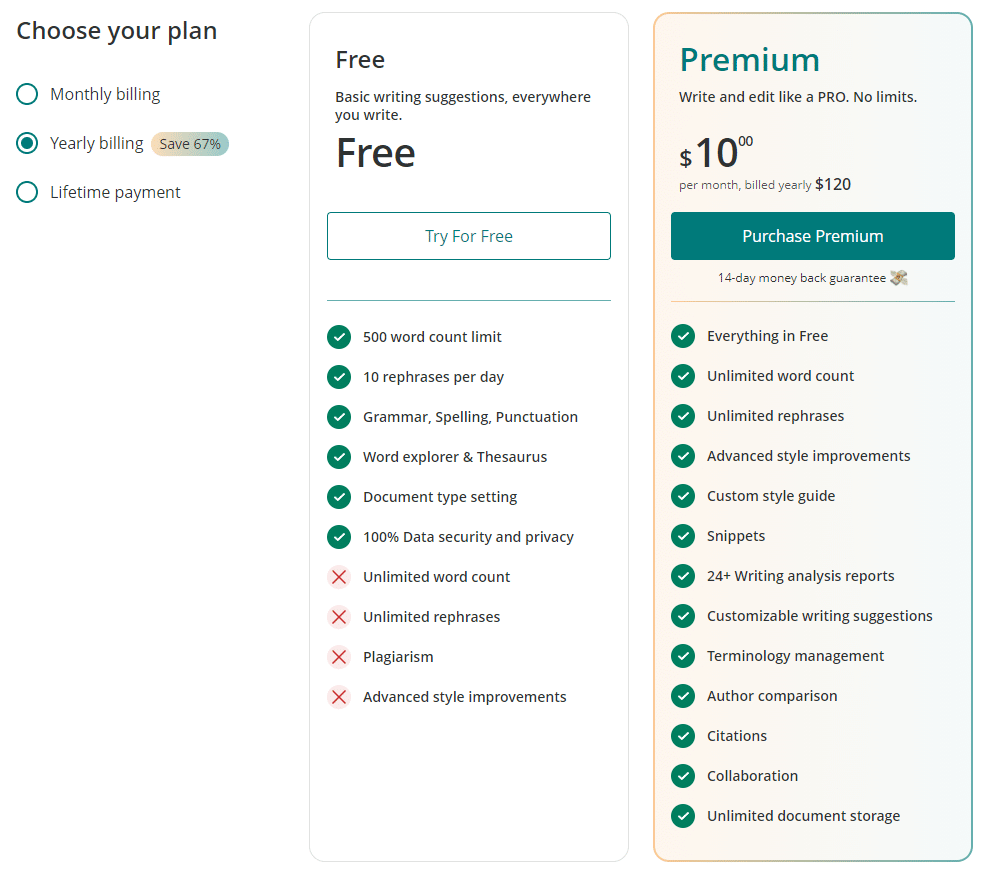 Free version – $0
Monthly – $30/month
Yearly – $120/year (you'll save 67% on the yearly plan)
Lifetime – $399 one-time payment.
When compared to other options on our list, ProWritingAid is also somewhat pricey.
LanguageTool
LanguageTool is another online grammar checker tool that checks for grammatical errors in over 20 different languages. This tool can correct English depending on several varieties of English used throughout the world, such as those spoken in the United States, the United Kingdom, South Africa, and Australia. You may use this to find out the lingo most often used in various nations.
To use LanguageTool's free web-based or browser extension version, just type your text, then click Check Text to have it checked for grammatical and spelling errors as you type.
If you click on a highlighted word, you'll get feedback explaining where you went wrong. While you edit, you edit while you learn. You may also see contextual examples of the suggested words in other phrases.
LanguageTool Pricing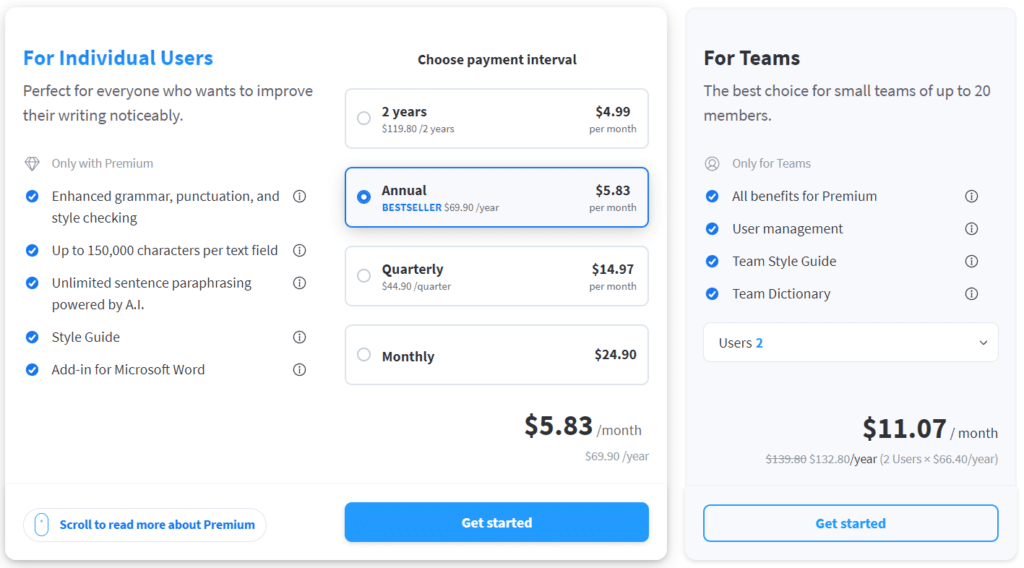 Monthly – $24.90/month
Quarterly – $14.97/month
Annual – $5.83/month (you'll save 67% on the yearly plan)
2 Years – $4.99/month
Jetpack
In the world of WordPress plugins, Jetpack is among the most widely used. While it checks for spelling and grammar in the same manner that many other tools do, this one is rather flexible and can do some of the more complex proofreading.
The Jetpack Proofreading feature can assist you in checking the quality of your content. You can configure what you want Jetpack to look for and the options exist for not just correcting spelling and grammar but also for avoiding cliches, repetition, and the passive voice, among other writing pitfalls.
Jetpack Pricing
There are premium versions of Jetpack, but if all you need is a grammar checker, the free version should suffice.
WhiteSmoke
WhiteSmoke is another well-known and highly recommended option for those in need of an online grammar checker. You can use it to check for typos, incorrect capitalization, and other writing flaws.
WhiteSmoke's user interface has a user-friendly and simple UI. The translator is a standout feature that sets this great tool apart from the competition. Your information may be translated into 55+ languages and used for a wide range of uses.
It is an add-on for Gmail that allows working professionals to easily compose and send professionally written emails.
WhiteSmoke Pricing

Subscription – $5.00/month
Reverso
We have put Reverso in the end but it's a great tool to correct your grammar. The grammar you write will be flawless, thanks to this tool's automated corrections. In addition, the Reverso grammar checker application also allows you to translate your writing into a number of other languages.
To check your spelling or grammar, all you have to do is visit their site, insert or paste your text, and click a button.
With a maximum character count of 600, this online writing instructor is best suited for proofreading or translating small pieces of writing.
Reverso Pricing

Apart from the free version, you can upgrade to Reverso Premium.
Annual plan – $3.89/ month
Monthly plan – $5.99/ month
You can also avail 40% discount at the time of purchasing this tool.
Four Tips That Will Help You Become a Better Writer
Proofread your content
How often have you felt out of place due to badly written content? It's tough sledging, particularly if English isn't your first language.
No one is interested in what you have to say if it is badly written. That's why it's crucial to give your work a second read for errors. Just read it aloud. Make sure there are no typos or grammatical errors in your material.
You can also take the time to get a good editor who can proofread.
Study English Grammar
To be taken seriously as a writer, one must possess a firm grasp of language and style. Put in the effort to study and master the conventions of the English language, punctuation, and style guides. You may polish your writing mechanics by making use of the various online tools and courses accessible.
Try Some Free Online Grammar Tests
Let's say you have learned all the rules in English. What's next? Test yourself by going through online grammar tests. Your grammar grade will be shown instantaneously, letting you know where you are and what you can do to improve.
Be Persistence
It requires practice and persistence to improve as a writer. Simple logic: If you want to improve as a writer, you need to keep writing. Keep in mind that your writing abilities have room to grow and improve. It's a process, and every action you do will help you become a more accomplished writer.
If you use these guidelines and keep working on your writing, you will see your skills grow over time.
FAQs About Best Grammar Checker
Who needs a grammar checker tool?
A grammar checker is a must-have for every writer who is serious about their art. They will speed up the process of locating and fixing mistakes. If you're working on a lengthy piece of writing, don't forget to proofread and run it on an online grammar checker tool to scan errors.
What is the best grammar checker?
Grammarly is one of the best grammar checker tools because of its low pricing, extensive features, and simplicity of use. Apart from this, Quillbot is also the finest tool because of its handy and fast results.
Is it recommended to use an online grammar checker for lengthy proofreading projects?
If you're working on anything lengthier, like a book chapter or an essay, it's best to hire a human proofreader. If you are running an organization where you deal with a massive corporate translation project, I would advise against using automated translation services to convert your foreign-language writing into standard American English like Reverso. 
Is using a grammar checker tool safe?
Yes, using a grammar checker tool is safe unless it contains confidential or proprietary information. In addition, a top-notch grammar checker will not spy on your writing. Look at Grammarly's privacy policies as an example. A grammar checker won't do any harm even if your text contains important legal information.
How trustworthy is Grammarly as a grammar tool?
Grammarly is very trustworthy and reliable since it is constantly improving. Most authors will find some of its features very helpful.
Which free grammar checker tool is good?
Yes, even free grammar check tools are also good. Grammarly and Reverso's free edition is a reliable grammar checker that can be used on any device.
What are the limitations of grammar checker tools?
The Grammar Checker won't rewrite your phrases word by word, but it will fix them contextually, so you'll get better results than with a manual check. It is not possible to use Context-Based Grammar Checker to verify the intended meaning of a statement.
Bottom Line
Your writing can come out as unprofessional if you make frequent blunders with grammar and spelling. That's why it's important to give these issues your full attention. Using a high-quality grammar checker, you can quickly and easily identify spelling and punctuation errors, as well as other grammatical issues.