Have you finished high school? What next? The most common approach of a 12th pass student is to look for an internship or some kind of job which doesn't require much experience. But recruiters always look for someone who is not only willing to work but also has a little experience here and there. Everyone seeks a resume for 12th pass.
Initially, when you start to look for a job, you may have met recruiters who asked you to send them your resume. But if you are just passed out of your 12th grade, how can you write a resume? This blog covers everything you need to know to get your first job based on your resume.
But before we dive into the topic, don't forget to check some simple resume examples and get an insight into what a resume looks like. This way, you'll have an idea of what is expected from you to share with the employers on your resume, and how to structure it.
To master the skill of resume writing one needs time and experience. That's why it's usually harder for people that are fresh out of school if they haven't had much prior work experience. So, if you really want to impress your potential employer when you are job hunting fresh out of school, you can hire a professional to do the resume writing job for you.
Resume For 12th Pass Student (PDF+ WORD Document)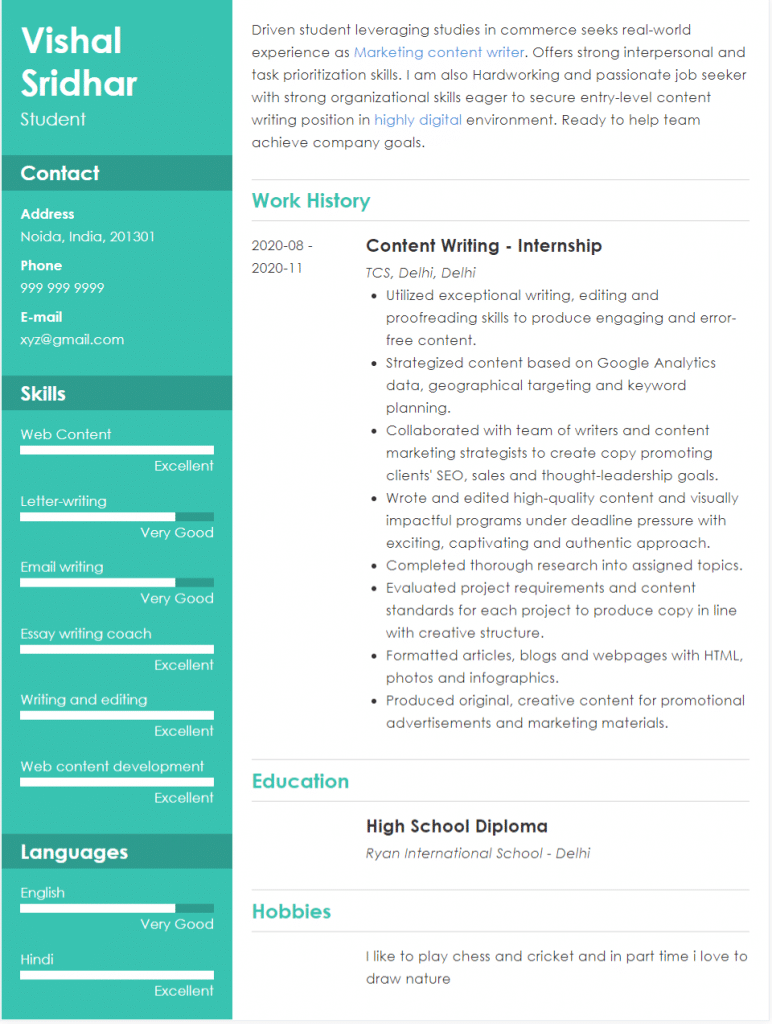 Vishal Sridhar
Address
Phone
E-mail
Skills
Languages
Driven student leveraging studies in commerce seeks real-world experience as a Marketing content writer. Offers strong interpersonal and task prioritization skills. I am also a Hardworking and passionate job seeker with strong organizational skills eager to secure an entry-level content writing position in a highly digital environment. Ready to help the team achieve company goals.
Work History
TCS, Delhi
Education
Hobbies
---
Download Free Resume For 12th Pass In MS Word AND PDF:
You can edit this 12th pass resume easily with MS WORD.
Make a Free Resume For 12th Pass In 1 Minute (No Skills Required)
If you want to have a professional resume that stands out from the crowd, you can use Myperfectresume, it will help you to create a professional resume in no time. You can select from thousands of templates and customize them in 1 click.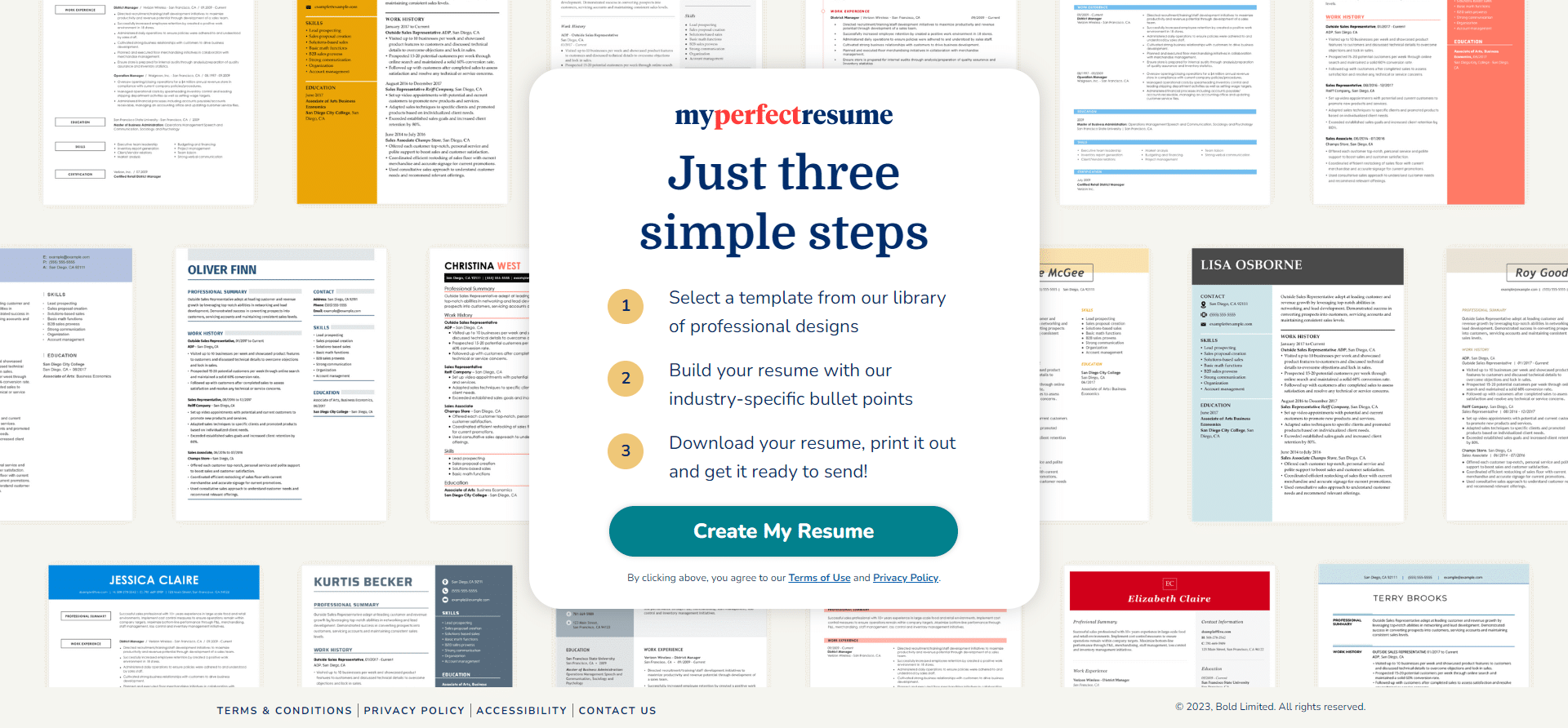 ---
Avoid These Mistakes In Your Resume:
Writing a resume is not just about listing work experience and educational qualifications. Even if you've acquired the necessary skills to do your job, employers will look for reasons to reject you based on the mistakes you make in your resume.
And if that happens, you will be back to square one! So avoid committing these common grammar mistakes at all costs!
Not using proper verb tense
Verbs are an important part of any sentence, and it is important to use the correct tense when describing your experiences and qualifications. For instance, if you are currently a student, your resume should reflect that by using the present tense. If you have already graduated, then use the past tense.
Failing to use apostrophes
Apostrophes are used to indicate possession or to show that a letter has been omitted from a word. For instance, the word "it's" is short for "it is", while "don't" is short for "do not". If you don't use apostrophes correctly, your resume will look sloppy and unprofessional.
It's important to use the correct word when describing your skills and experiences. For instance, if you are a cashier, you should not use the word "waitress" on your resume. The same goes for using the wrong tense of a verb.
Making your resume too long
Your resume should only include the necessary information and no more. There's nothing worse than reading a resume that goes on and on and doesn't get to the point! Information overload will likely make employers lose interest in you very quickly. So stick to using bullet points where possible and keep your resume to one page if you can.
Typos and grammatical errors
Typos and grammatical errors are the biggest pet peeves of employers, so make sure to proofread your resume carefully before submitting it! A single mistake can easily cost you the job.
Omitting important information
Make sure to include all relevant experience on your resume, even the smallest of details. For instance, if you are applying for a sales position and had some volunteer sales experience during high school, make sure that it's included on your resume!
Mismatching what you say with how you say it
Your tone should reflect that of a professional. So avoid using slang words and expressions, and use proper grammar at all times.
By avoiding these common mistakes, you will give yourself a better chance of landing the job of your dreams! Good luck!
Use Grammarly To Make Your Resume Error Free And Correct Above Errors:-


---
Looking For Professional Resume Help?
One of the most daunting tasks an unemployed professional faces is crafting a resume that effectively conveys their qualifications and skills, without delving into unnecessary detail.
It's hard enough to quickly summarize one's skillset in a way that sounds both comically humble and confident, all while incorporating bullets or points formatted with various levels of bullet points.
Maxzob's Resume Writing Service simplifies this process for you by shedding light on your strengths and equipping you with style guidelines from our experienced team.
Maximize the power of your qualifications by opting for our resume writing service. You can be sure that you will land more interviews simply by submitting an eye-catching, attention-grabbing resume. With 10,000 successes under our belt so far, Maxzob resumes are the best way to get hired faster. You can discover Sodapdf the easy-to-use software complete with editing tools for modifying PDF files your way.
---
What is a resume?
Think of your resume as a self-promotion document that summarizes your experience and learning abilities on one page. It will give the supervisor an overview of your qualifications and skills that match the required job profile.
Therefore, the resume is one of the most critical aspects of your application.
Is a one-page resume is enough?
Most students doubt whether they should make a lengthy resume or a short one. But, if you didn't know, there is a generally accepted industry standard for picking up page length.
Ideally, this should be a website for all ten years of experience. However, because you are about to graduate and just starting out, all you need is a one-page summary.
Imagine getting 100 resumes and per resume containing ten pages; it's like browsing or reading a 1000-page book! That's why a one-page resume not only makes it more transparent but also helps employees quickly identify and list their core skills.
How to make a resume if you're just a 12th pass?
You can divide your whole resume into three categories which are as follows:
1) Resume header
The resume header is a significant section that is usually at the beginning of the resume that serves as a business card because it contains your name, title, contact information, and other social media links.
Writing a headline on your resume is more important than you might think. So if you create a resume that meets resume standards, you're in luck, and you will quickly find your dream job.
The purpose of a standard resume header is to make your resume stand out from other resumes. If your resume header looks perfect, recruiters would feel like they want to read your entire resume. This is why you need to get your resume title perfect.
You can use AI tools like Jasper to create your resume faster, just put your information and Jasper will create a customized resume for you in no time. You can get Jasper Coupon Code here.
2) Personal overview
A better version of the personal overview (for a relevant technical role) will link your abilities and goals to your role in detail. When adding your training to your resume, list the important and relevant courses it contains.
Are you newer to the job market? First, list your education. Then, don't forget the internships, extracurricular activities, and volunteer work. Obviously listing them in a way that a recruiter can quickly understand will move your resume to a shortlisted option.
If you are a high school student or a recent 12th passed out with no work experience, or if your highest education is 12th, you should definitely add it to your resume.
Mentioning your high school education will help you overcome your lack of work experience by focusing on your knowledge and interests.
When will you stop including high school in your resume? When you acquire another type of higher education, you will need to remove a high school from your resume.
3) Skills
Most employers want to see how you can make reasonable changes in their organization. But, unfortunately, most students who have just passed 12th class don't think about this when writing a resume or interviewing for a job.
From your volunteer experience to your internship, try to show what you did and what impact you left. Use as accurate numbers as possible. If you have already completed the appropriate courses and received certifications, be aware of the important details.
Vigorously launching your experience is often the most important factor in positively reviewing your resume. On top of that, your resume will definitely benefit from additional sections like languages, hobbies, certificates, and more. Anything you can do in relation to the job you are doing should appear on your resume with no work experience.
Key tips for student's resume for 12th pass:
12th Pass Resume FAQs :
How do you write 12th on a resume?
Your graduation, Class 12th or equivalent qualification, and Class 10th or equivalent qualification will all be mentioned in the bullet points (optional). CBSE 12th grade. 'In the month of March 2021, I received a Bachelor of Commerce from XYZ College, ABC University, New Delhi.'
How do you write 10th and 12th class on your resume?
Please include the year you completed your 10th and 12th-grade boards, as well as the grades you received (in %). In all circumstances, including your CGPA. If you are in the top 5% of the class, you can specify your rank in the class. If you were on the state/national merit list, you may also write.
What is the format of CV?
In a nutshell, here's everything you need to know about CV formatting: Use a professional font, large section headings, and plenty of white space to make your CV elegant and easy to read. Divide your CV into the areas below: Personal Statement, Work Experience, Education, Skills, and Additional Sections.
What makes a good resume 2023?
In 2023, soft skills like crisis management (think COVID 19), flexibility, and versatility will be more important than ever. Many job seekers today make the mistake of writing a resume that is nothing more than a dull summary of their employment experience.
Video Tutorials On Making Resume for 12th Pass:
Keeping the above points in mind, we hope you get your first dream job super soon.