In the digital age, it's easy to forget the importance of face-to-face networking. With social media and online dating, it seems like we can meet new people without ever having to leave our homes.
But is this really the best way to connect with others?
Studies show that meeting people in person is still the best way to make connections, build relationships, and find business opportunities.
In this blog post, we will discuss the various networking statistics, and why you should make an effort to meet people in person!
Why Network?
Have you ever stopped to think about how you got your current job? Chances are, it had something to do with networking. In today's competitive job market, it's not enough to simply submit a resume and hope for the best.
Increasingly, employers are looking for candidates who come recommended by someone they know and trust. That's where networking comes in. By getting connected with people in your field, you can create a network of contacts that may eventually lead to your dream job. In fact, nearly 85% of job positions are filled because of professional networking.
And it's not just jobs that can be found through networking. Business partnerships and client relationships are also often formed through personal connections.
#1. In-Person Networking Statistics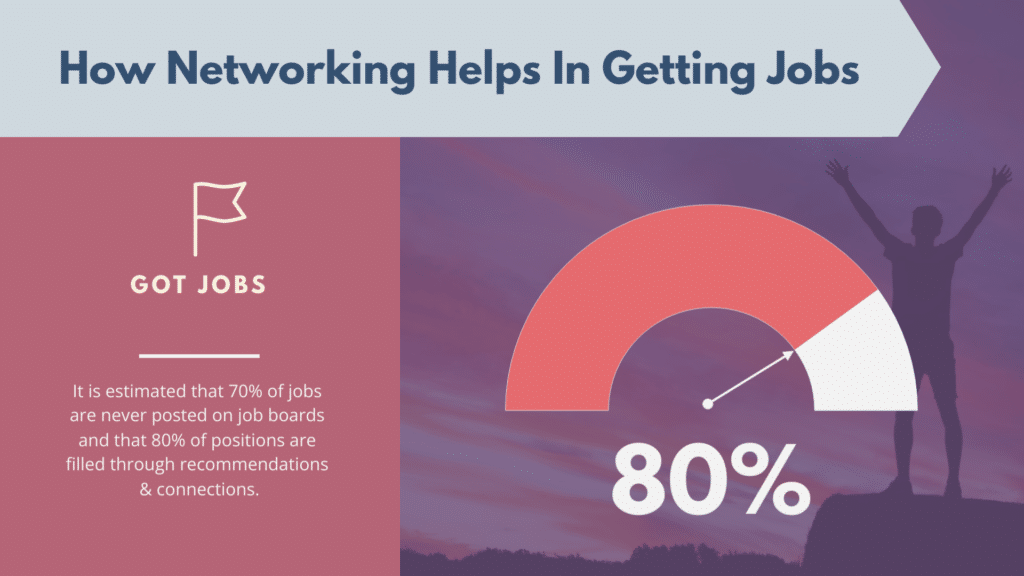 It is estimated that 70% of jobs are never posted on job boards and that 80% of positions are filled through recommendations & connections. Nearly 100% believe that face-to-face contacts lead to stronger long-term relationships, and 41% desire to network more frequently.
COVID has proved difficult for anyone who enjoys face-to-face networking. However, face-to-face interactions were a vital part of networking before the pandemic.
Networking in person has many advantages over networking online. The main advantages were:
Face-to-face networking, according to more than 95% of professionals, are essential for conducting business. This is due to the fact that face-to-face networking provides more accurate initial impressions than virtual meetings.
Be aware of your posture, facial expressions, body language, and other communication cues. For 72% of those who conduct in-person meetings, a handshake even serves as a useful first impression.
Knowing how to communicate with individuals during in-person networking can be vital for building a connection as 70% of communication is nonverbal.
38% of professionals say that Bars, events, job fairs, and locations where individuals who share your interests mingle frequently are the best place for in-person networking. (Source-
Fit Small Business
)
77% of those who prefer in-person networking state that they do it because it allows them to read the facial emotions and body language of other individuals.
85% of people believe that face-to-face networking helps in strengthening and deepening business partnerships.
75% of people believe that face-to-face networking helps in bonding with coworkers and clients and increased social contact.
49% of people think it enables more sophisticated strategic thinking.
44% of people believe that an in-person meeting is a better setting for making critical decisions quickly.
39% of people think it results in better decision-making and 38% think it makes business focus easier.
23% of people think it helps in fewer delays and interruptions.
Source- Forbes
In 2020, over 26,000 co-working spaces existed around the globe.
70% of millennials no longer consider that going into the office is necessary—a remark backed by networking figures from 2021. In fact, up to 83% of employees now work remotely, at least some of the time. This explains why companies like WeWork are producing billions in sales.
#2. Business Networking Statistics
Networking isn't just for people looking for work; it's also a good way for entrepreneurs to build new relationships or attract new customers.
The following are a few of the most intriguing business networking statistics: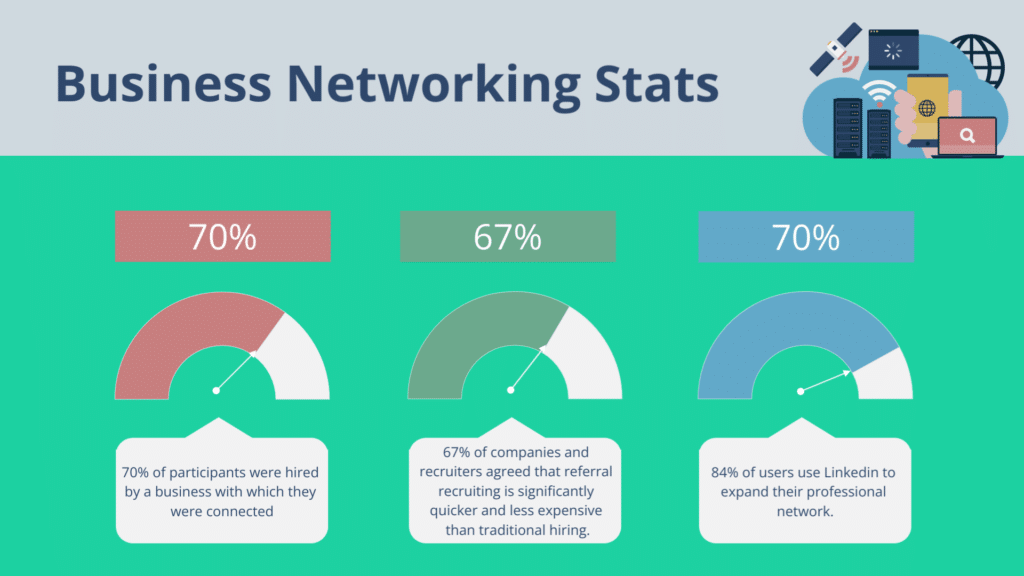 People who were employed through connections or recommendations frequently remain longer and play significant roles in the business. 67% of companies and recruiters agreed that referral recruiting is significantly quicker and less expensive than traditional hiring.
According to a LinkedIn poll, more than
70% of participants
were hired by a business with which they were connected.
84% of users use Linkedin to expand their professional network, according to an
AudienceProject
survey on the app and social media usage.
Getting consumers is one of the main reasons that businesses engage in networking. Over 40% of in-person encounters in B2B sales result in new clients.
80% of B2B clients base their decisions on their interactions with one another. This demonstrates how crucial networking can be for business.
Business executives admitted that if they stopped networking, they would lose 28% of their business.
Meeting in person and maintaining relationships are challenging for businesses because, according to 49% of them, it is difficult or practically impossible to stay in touch with their contacts.
Social media is a popular tool used by businesses to establish and retain contacts. Facebook (82%), Twitter (82%), and LinkedIn (96%) are the three most popular platforms.
66% of event planners use networking events to find their next client.
The source of new consumers during trade exhibits ranges from 5% to 20%.
Even now, business cards remain crucial. A business card will provide 72% of people their first impression of your organization, and 39% will opt not to do business with you if it is tacky or appears cheap.
For every dollar spent by businesses on face-to-face networking events, $12.5 are returned.
70% of the time, networking gives business owners new opportunities.
Source- LinkedIn, AudienceProject
#3. Virtual Networking Statistics
Online networking has grown in popularity in recent years and will remain so in 2022 as one of the primary means of meeting new people.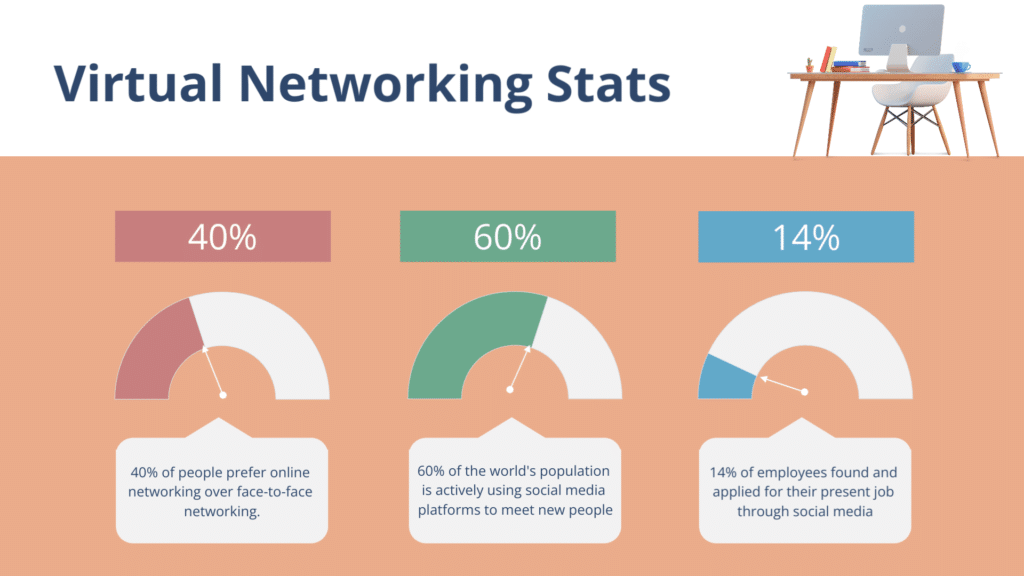 Look at the numbers, shall we? Let's see:
40% of people prefer online networking over face-to-face networking.
A staggering 60% of the world's population is actively using social media platforms to meet new people and connect with possible jobs or clients.
More than a third of participants in the same LinkedIn survey concluded that networking is critical for securing a job finding new chances, making business agreements, and securing positions through casual chatting on the platform.
14% of employees found and applied for their present job through social media networks like Linkedin or Facebook.
Social media is used by 70% of companies to evaluate employee profiles.
#4. Career Networking Statistics
It's no secret that who you know can be just as important as what you know when it comes to finding a job. In today's competitive job market, employers are often inundated with applications from qualified candidates.
So, how do they choose who to interview?
One key factor is whether the candidate has a connection to someone at the company. A referral from a current employee carries a lot of weight and it's one of the most common ways that people find new jobs.
Networking can also be helpful for getting promoted or landing a raise. If your boss knows that you're friendly and well-connected, they're more likely to consider you for new opportunities.
So, even if you're the most qualified person for the job, it pays to network!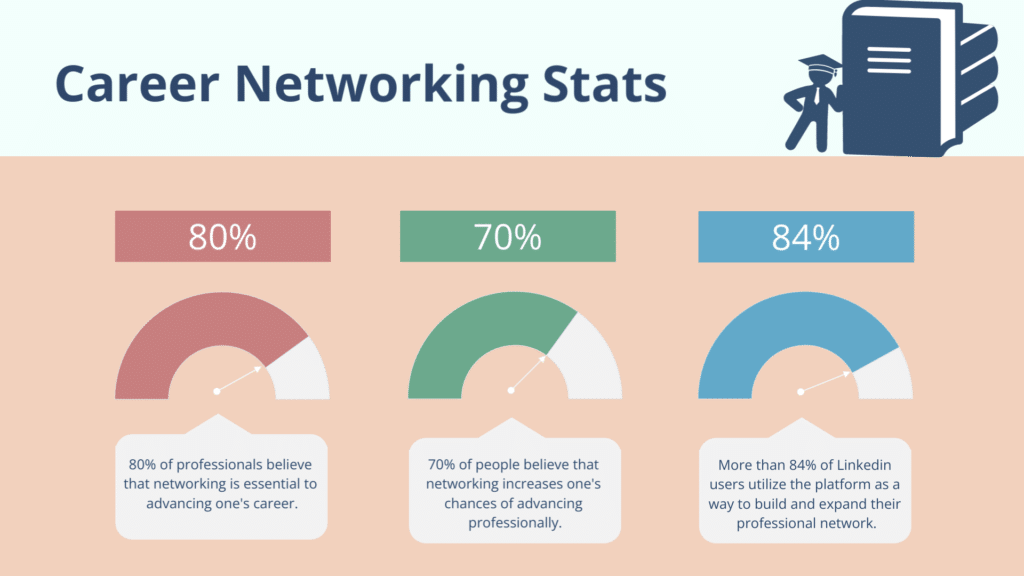 These numbers are self-evident:
Building a network of contacts in your field is critical for both your current job and any future ones you could have. 80% of professionals believe that networking is essential to advancing one's career.
More than 7 out of 10 recruiters use Linkedin to find prospects. You can find a job if you keep in touch with your Linkedin connections.
A whopping 46% of all freelancers get their first employment from a referral from someone they know. As one satisfied client can lead to many more, word-of-mouth is an important factor in securing new business.
70% of jobs aren't even advertised on job listings, thus having good relationships with your co-workers and bosses is important.
Moreover, 1/3rd of those surveyed indicated they were hired because of their professional connections.
Almost a quarter of job seekers find out about new positions through their professional contacts.
More than 84% of Linkedin users utilize the platform as a way to build and expand their professional network.
Finding a job is easier if you have connections in the professional world. Recommendations account for only
7% of applicants
, yet 40% of new employees come from them, with a much higher conversion percentage.
15 of the 63 people who are looking for a job believe that they will be able to get a job through their network of friends and family.
70% of people believe that networking increases one's chances of advancing professionally.
Almost 18% of workers have applied for their current position through a friend or former coworker, according to
a Jobvite study
.
Why Face To Face Networking Important?
Here are some of the main reasons:
1. The personal connection:
In this day and age, networking has become increasingly important, especially for business purposes. With the advent of the internet, it's never been easier to connect with people from all over the world. However, there is something to be said for face-to-face networking.
When you meet someone in person, you have the opportunity to form a personal connection. You can shake their hand, look them in the eye, and get a sense of who they are as a person. This is much harder to do online. In addition, meeting in person allows you to more easily express yourself and your needs.
You can make sure that the other person understands what you're saying, and vice versa. For these reasons, face-to-face networking will always be important, even in an increasingly digital world.
2. Exchanging information:
Business cards and other items exchanged during face-to-face networking play an important role in creating lasting impressions on business contacts. This process allows for the exchange of a great deal of information, which can be very helpful in boosting one's business.
When exchanging information, it is important to be friendly and professional. This will help to create a positive impression and build strong relationships with business contacts.
Face-to-face networking is an important part of building a successful business, and exchanging information is a crucial step in this process.
3. Possibility of building more contacts:
Face-to-face networking meetings are a fantastic way to make new business contacts and expand your professional network. By meeting with people in your field, you have the opportunity to learn about new trends and developments, as well as gain valuable insights into the industry.
In addition, meeting with potential clients and customers in person can help you build trust and rapport, which can lead to more business opportunities down the road.
While there may be some initial awkwardness when meeting new people, the rewards of face-to-face networking far outweigh the risks.
4. Follow-up meetings:
Networking can also be a challenge. If you don't keep in touch with your contacts, it can be difficult to maintain those relationships. Face-to-face networking is a great way to overcome this challenge.
When you meet someone in person, it's easier to make a connection and exchange contact information. You can also follow up with your contact after the meeting to stay in touch.
By keeping your face-to-face networking connections strong, you'll be able to build long-lasting relationships that can benefit both you and your contacts.
Wrap Up
Online networking may seem to be taking the place of face-to-face networking due to the increasing number of people who work from home. There is no substitute for face-to-face communication, and technology isn't displacing it. New clients are most likely to come to you in person, according to networking stats.
However, the future of networking appears to be bright. The rise of co-working facilities around the world, along with Google Translate's advancements, suggests that we may soon be able to communicate almost anywhere.