In this article, we will talk about on-page SEO SEO. So, first, let us understand:
What Is On-Page SEO And How To Do On-Page SEO For A WordPress Website?
On-page, SEO is basically signals sent by the webmasters to the search engines about the relevancy of the page. What we do by sending the signals is that we are communicating quality and relevancy signals to the search engines to help them rank because when you look at search engines, search engines have developed an algorithm.
Using this algorithm, they try to rank websites which are good for their users. If a user is searching for a certain keyword, the search engine wants to bring up a result of high quality and high relevance.
To give you an example of quality and relevancy, let's say you are searching for something like "top 10 bikes" and if you are getting a result for "top 10 cars" what happens is that, even if the article about "the top 10 cars" is of very high quality, you are still not getting the relevant thing you want. What you want is content related to mobile phones.
Image Credit: Dsim.in
So, you want the "top 10 bikes" to be researched, so here the relevancy has to be good – in the sense that search engine should give you the articles which you are searching for and in terms of quality let's say you are searching for "top 10 mobile phones" and there are 50 different websites who have written an article about the top 10 mobile phones.
You definitely want the highest quality result to come up on top because you don't want to waste time reading the low-quality content. Thus, the algorithm shows up the search results based on both quality and relevancy.
Google has an algorithm that decides this because there are millions of pages which are indexed on the search engine results pages. So the search engines cannot spend manual time or manual effort in reviewing this but with each algorithm update, the search engines are getting closer to a human level of Intelligence to rank the websites.
So, to help the algorithm get these signals, they depend on users and Webmasters for quality and relevancy signals. I would say that when webmasters send signals to the Google search engine, they do it by doing on-page SEO.
What Actually Is On-Page SEO?
An on-page SEO is more of relevancy signals and less of quality signals. Because when you think about it, we cannot tell Google that our web pages are of good quality.
That is something that our users have to decide. If you have great content on your website most of your off-page SEO will be done by your users because they will link to the site if it is of good quality and they will share it on social media. As a result, they will do a lot of activities which are more considered under the off-page Optimisation. Here's a video by backlinko which explained all aspects of on-page SEO below:
The signals sent by the users of your website to the search engines is more about the quality of the website and what you are sending is that you are going to give the right title, you are going to put the right content and whatever you are doing on the back-end of your website is more of relevancy signals.
Black-Hat SEO Technique
So many think about Black Hat SEO practices earlier a few years back. Let's say 5-10 years back, what webmasters used to do is that they used to lie to the search engines about the relevancy of their website or quantity of their website. For example, one way that search engines used to rank websites earlier is by looking at the keywords present in the article.
Earlier, webmasters used to put a lot of keywords in their web pages even if the keywords are not relevant and even if the article is put up in such a way that users cannot really read the article. Because it just has a bunch of keywords together, they used to get high rankings on the search engine. Another way they used is that they built links on their own and tried to increase social shares on their own.
Image Credit: searchenginejournal
For example, if you have a content which is not of good quality and good relevancy and if you're doing some tricks to rank these web pages on the search engines. These tricks, which are not in the best interest of the users, is known as Black Hat SEO.
I wouldn't say Black hat SEO practices are no longer possible but I would say it's no longer relevant or no longer useful to do it because these are not long-term strategies. You might try to game the search engines to rank your web pages for a short amount of time.
You might get some traffic but what's the point of getting traffic for a short amount of time. you want to build something long term here and when you are building something long term, that's mean you will get exponential growth in your business.
Various Factors Of On-Page SEO And How To Do On-Page SEO For A WordPress Website
Now, let's discuss various on-page SEO factors and ow To Do On-Page SEO For A WordPress Website. There are basically 9 major factors of on-page SEO which needs to take care of.
You can also download the full-fledged on-page SEO checklist below:
1. Website PageSpeed
First, we will talk about Website PageSpeed. PageSpeed is one of the important on-page SEO factors. Whenever someone searches for a keyword in Google, let's say they have five different websites showed up in the search results, they likely want to visit a website which loads really fast.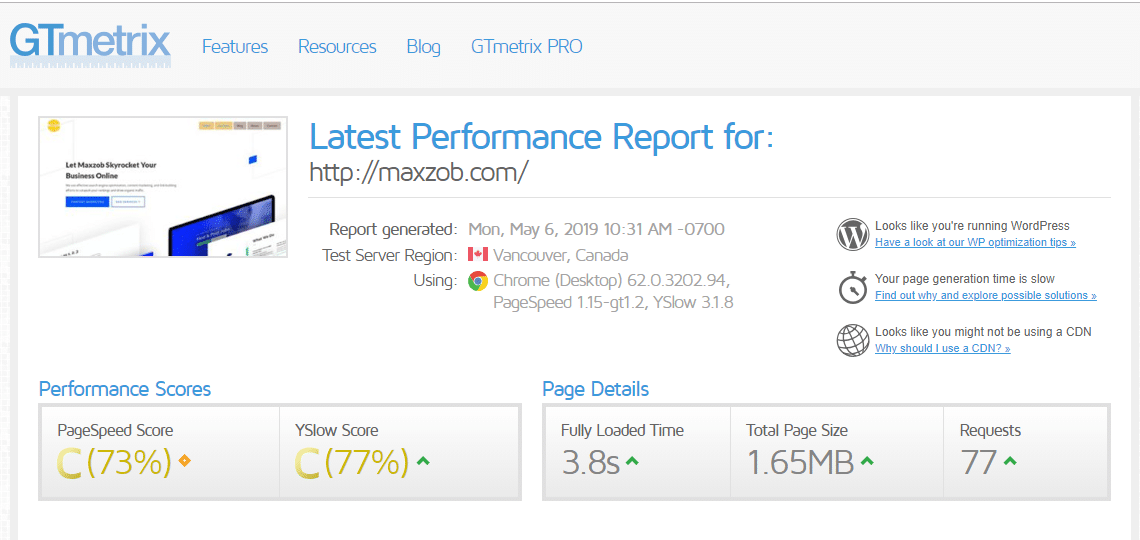 There are several factors affecting page load speed like JavaScript, CSS, or images. There are several tools available such as Gtmatrix, where you check or fix your website loading speed.
2. Title Tag
The second important factor is the Title Tag, which is basically the title of your website or an article that appears on search engine results pages (SERPs) or browser bar as the clickable headline for a given result, and are important for usability, SEO, and social sharing.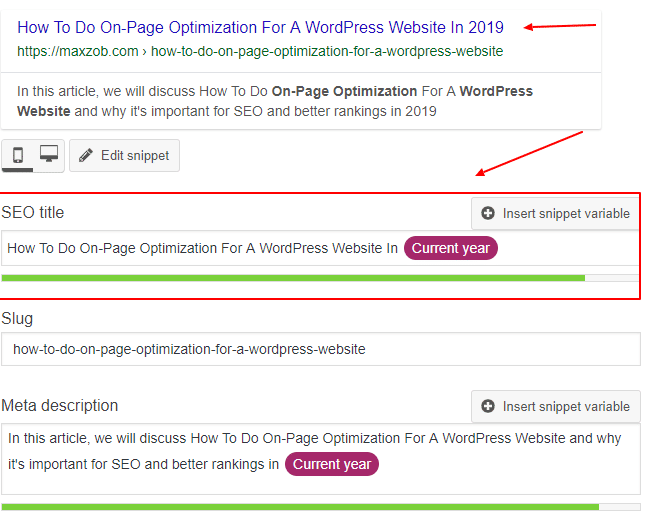 A title tag must not exceed 70 characters, else search engine will display an ellipsis, "…" to imply that a title tag has been cut off.
3. Meta Description
The third one is the Meta description, which is basically the description you see on the search result pages below the keyword URL. In the search engine result pages, the title appears first, then you have the URL and after the URL you have the meta description.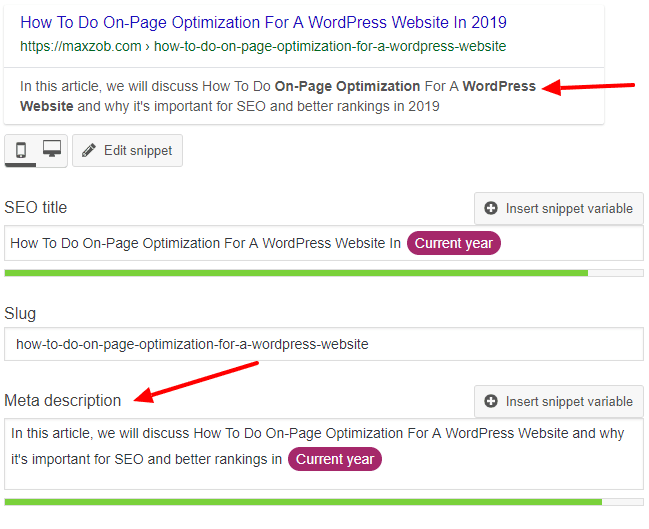 While meta description tags not help you in getting search engine rankings but they are very important in gaining user click-through from search engine result pages (SERPs). These 160 characters are webmaster's opportunity to advertise content to searchers and let them know exactly what the page has to offer regarding what they're looking for.
4. H1 and H2 Tags
After checking the meta description, it's important to check for the H1 and H2 heading tags; these are heading tags within your website. Suppose, if you have a heading based article, then you need to wrap it under the H1 and H2 heading tags.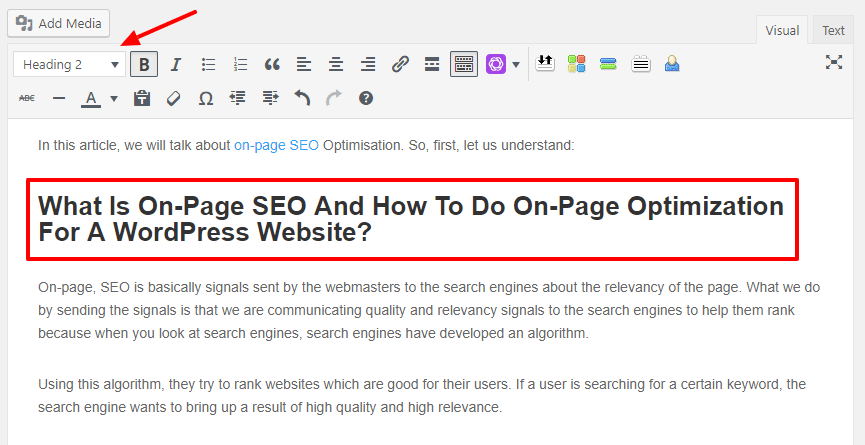 Heading tags plays a major role in structuring the content for both user experience (UX) and SEO. Search engines mostly take keywords from content, heading tags, and titles to develop the context of a web page.
5. Keywords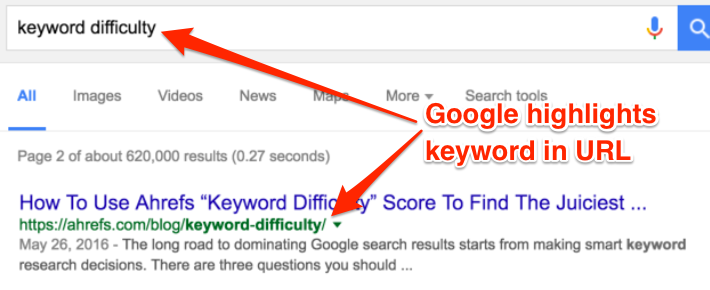 While doing on-page SEO, we need to take care of the keywords in the URL. A well-crafted URL provides both visitors and search engines an easy-to-understand sign of what the web page is all about. If your URL will be keyword rich, Google will highlight those keywords in bold. Using URLs that include keyword improves the site's search visibility and click-through rate.
6. Keyword In Content
Next is, you must place your keywords in the content as well, and what kind of keywords you are adding in the content matters a lot. While writing an article, we also need to look at something called the LSI Keywords, which is basically a latent semantic index.
So, if you have keywords which are relevant to the main keywords, you should include those in your article as well. LSI keywords help your website to rank better.
7. ALT Tags
Another important factor of on-page SEO is Image ALT Tags. As we know Google search crawlers still can't "see" the images on a website page as we can, so it's not wise to put the image without ALT tags.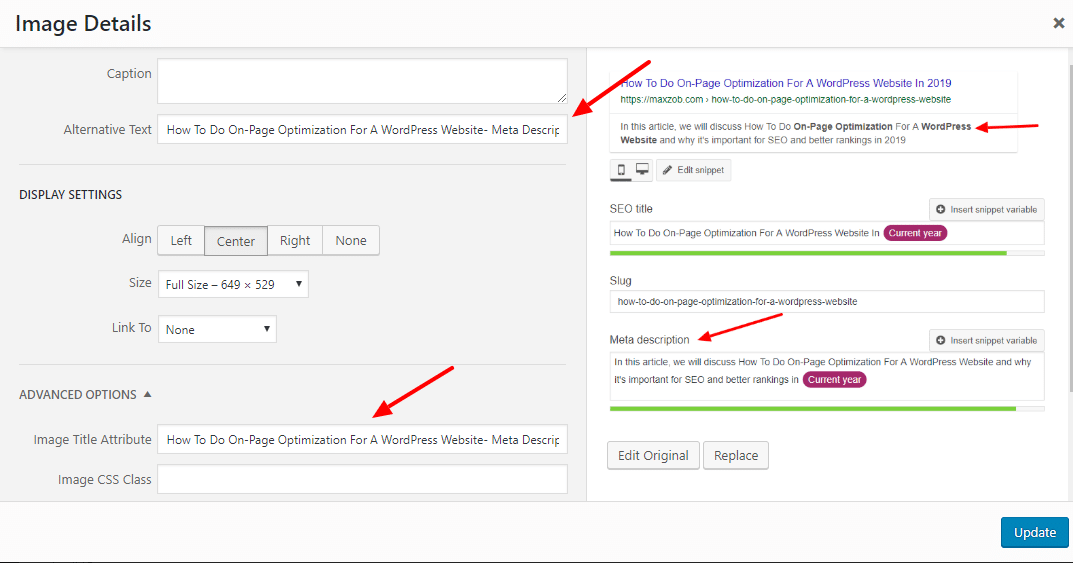 The downside of the images is that, if search crawlers don't understand, or get it wrong, it's possible you could rank for unintended keywords or miss out ranking altogether. Thus, it is important to place an ALT Tag which basically describes what your images are all about.
8. Interlinking
Then you have something called internal links. Internal links are basically links within your own website. Backlinks which come from other website is a part of off-page SEO but internal links is a part of on-page SEO. To rank your content better, you need links. Google finds your posts and pages best when they're linked to somewhere on your website pages or articles. Internal links connect your content and give Google an idea of the structure of your article.

Suppose, if you have 5 articles about SEO or let's say in my blog I have five articles about Facebook than I have to link all these articles within each other in such a way that the users find the other articles relevant and useful when they are reading one article.
9. Content length
The last thing to consider is the content length. We have discussed 10 major factors in on-page SEO, and content length plays an important role as well. According to research by the backlinko, long-form content performed better than the short-form content, the ideal content that ranked on the first page of Google are mostly around 1890 words.
Therefore, we need to take care of content length while writing an article as well. These are all the factors on  How To Do On-Page SEO For A WordPress Website
Quick Links,
Conclusion:
In this article, we have learned some basics about How To Do On-Page SEO For A WordPress Website, we will dive deep into every factor of on-page SEO and learn more about it in the next articles in this module. Thank you for reading this article. If you have questions regarding the same, ask me in the comments section below.