Successful online marketing is built on a solid landing page. Your PPC advertising may be flawlessly tuned, and your offer may be top-notch, but without a strong landing page, your business will undoubtedly suffer. Your landing page's design must be perfect.
Because an effective landing page captures visitors' attention and persuades them to make a conversion. With these straightforward landing page recommendations, you may learn how to construct a successful landing page.
Organized Design
The efficiency of your landing page and how well it promotes conversions will be significantly influenced by the appearance, feel, and overall structure of your page design. Your landing page's main objective should be to make it as simple as possible for visitors to convert.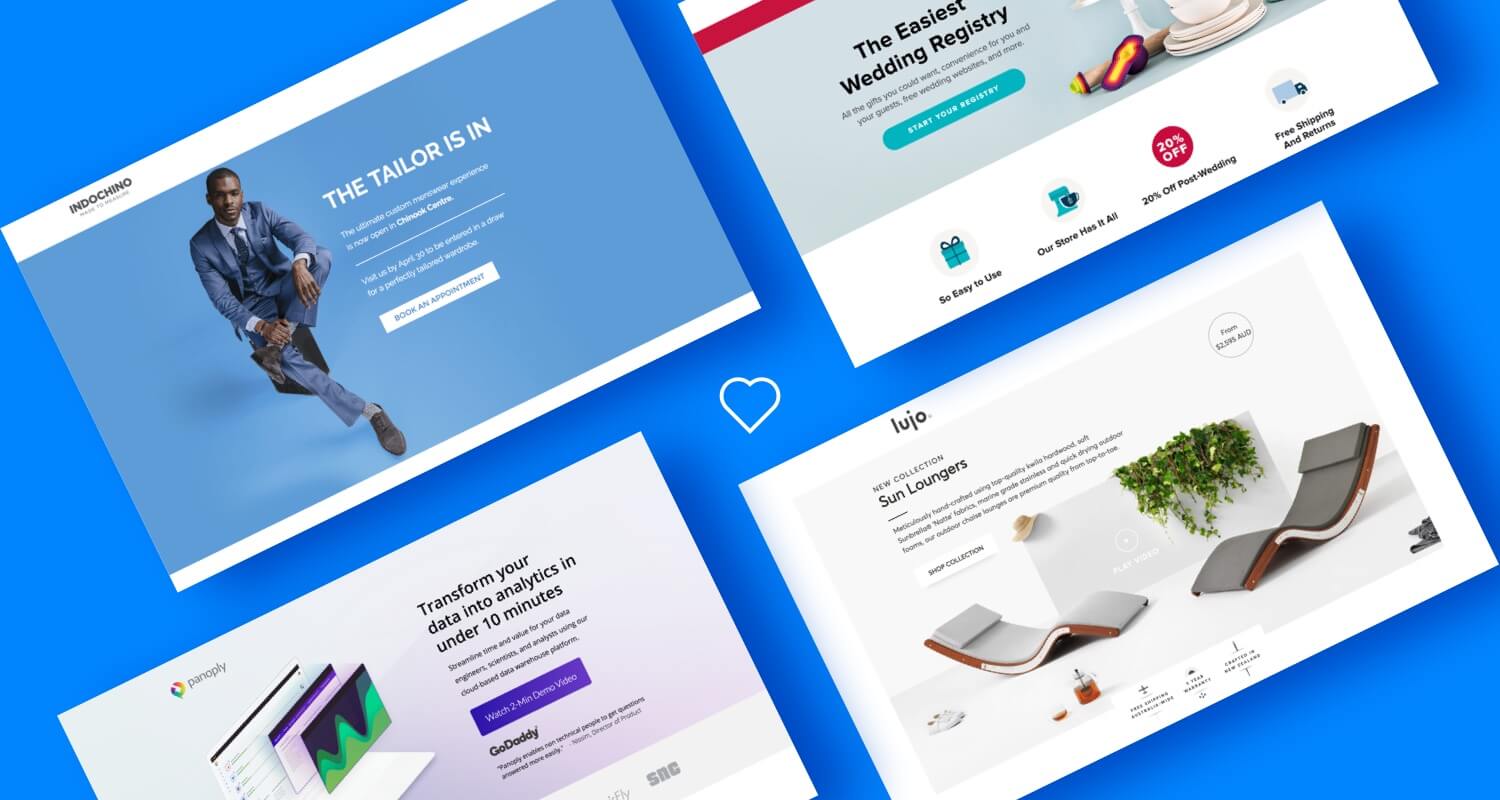 It is crucial that all of your page's elements contribute to this goal, whether it be through form submission, purchase, newsletter signup, or ebook download. The use of color and attention-grabbing imagery are key components of a successful landing page design.
Make sure that your button and landing page has a strong contrast. Colors like red and green are said to increase landing page conversions.
To ensure a good landing page, you should test a variety of button characteristics. For example, you might test button size, color, and placement to find the layout that works best.
See our collection of the top landing page examples to get an idea of what a tidy and well-organized design resembles.
Straightforward
Keep your page clutter-free, with clear, natural navigation, and remove any unnecessary distractions (such as pop-ups). A successful landing page offers only the information required to persuade visitors to convert.
Keep it simple and only provide the information necessary to move visitors down the funnel because too much information can overwhelm website visitors. Where feasible, smart landing page text includes bullet points to describe details so that the information you present is quickly scannable.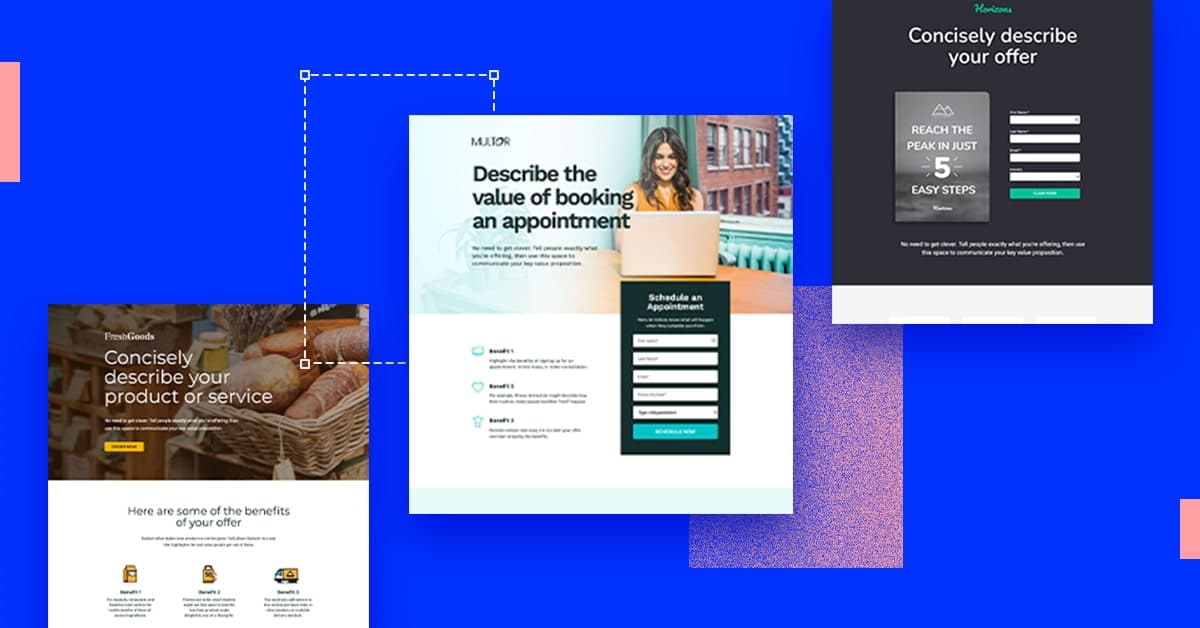 Consider what essential information should be displayed above the fold in the visitors' direct line of sight and what can be placed below the fold. Don't be scared to include more detailed descriptions of where they will be covertly buried because most visitors are aware that they can scroll down for more information.
Using the area below the fold is one excellent method to achieve a nice landing page design, which keeps a clear and appealing aesthetic impression while still giving visitors the information they might want in a non-intrusive way.
Using video landing pages is an additional option to provide more details without distracting site visitors with text. Think about using language to emphasize your offer's essential elements and utilizing it.
Highlights Offer
A good landing page ought to comprise a compelling offer and be able to succinctly and clearly articulate why the offer is worthwhile. A significant chance to highlight the value of your product is offered by the headline and subheadings on your landing page.
The title of the most successful landing pages states the offer clearly, while the subheadings provide further details or the value proposition. for instance: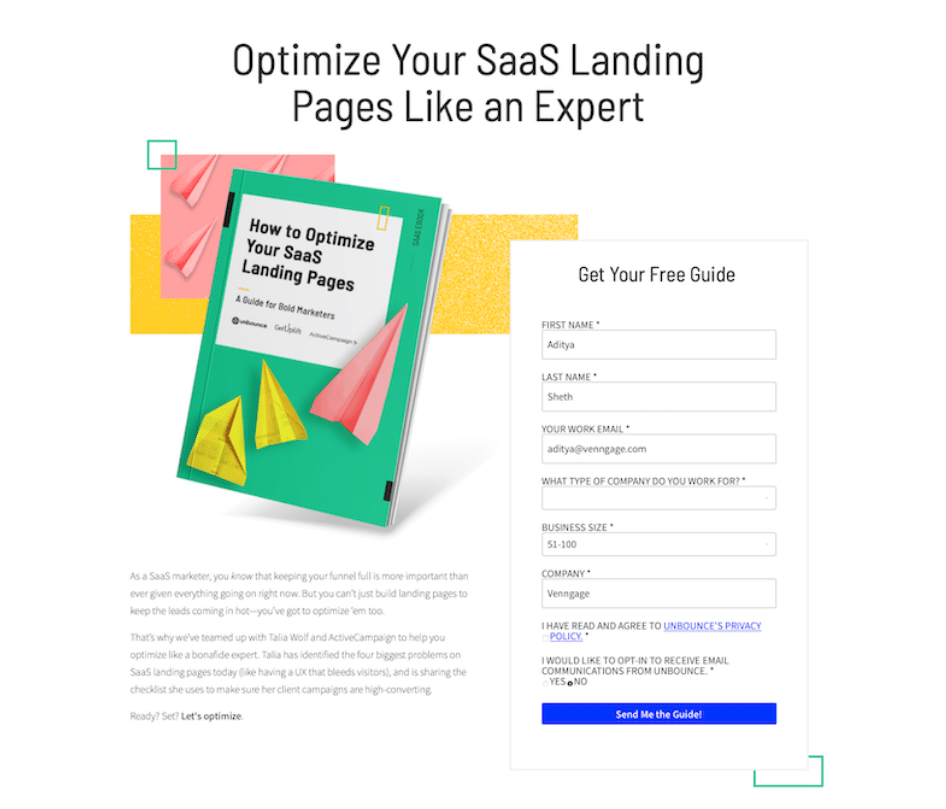 "Free Ebook about Twitter Marketing"
Get more trustworthy Twitter followers quickly!
On some landing pages, the value proposition is emphasized in the main headline, and the description of the software or offer is covered in the subheading. Remember that you only have around 8 seconds to persuade users that your offer is worthwhile, thus it is imperative that your offer and profit organizations be convincing.
Trust Signals
Effective landing pages make heavy use of trust signals, which can let visitors know that the brand and offer are reliable. Trust indicators can come in many different shapes and sizes, but testimonials are traditional trust indicator that uses word-of-mouth to comfort visitors with recommendations from previous clients or customers.
Moreover, "Like" counters that promote a more subdued type of endorsement by way of "Likes" and "+1s" from various social media websites might be used to do this.
Trust badges are just another effective strategy that landing sites that function employ. Trust badges are typically used to describe the emblems of reputable businesses you have worked with in the past, specific endorsements and awards you have received, associations and coalitions you are a part of, etc.
They act as testimonials of your competence and dependability. Even unofficial buttons from stock graphic websites, which are, in all honesty, irrelevant, provide a level of credibility to your service.
Landing Page Should Be Mobile-friendly
Due to the fact that roughly 30% of all web activity now occurs on mobile devices, it is crucial that your landing page be simple to navigate on these devices. Having a mobile-friendly website has been proven to even quadruple your conversion rates.
For mobile devices, your landing page should be extremely clickable, quick to load, and easy to navigate. See our article on building mobile-friendly websites to find out more about preparing your landing page for mobile use.
You can Design a Membership Landing Page to Enhance Traffic
A landing page's main objective is to persuade visitors to take action. A landing page's function on a membership site is to persuade visitors to sign up for your service. And if you don't want to invest in designing the landing page by yourself you can go for a membership landing page.
So, don't waste time, use membership builders to boost traffic and revenue. Because a landing page with a high conversion rate can be the answer for your company.
A landing page provides unique features and is distinct from your website. The information on the page is simply intended to persuade people to join up, hence it may not contain a header, footer, or sidebar.
Visitors do not go to the landing page to read your about page or to view your most recent blog posts. Everything that appears on the page has been carefully planned to direct visitors to a single goal—conversion.
Conclusion
Keep an eye on analytics to observe how well your landing page is doing. To better identify what design and content your audience prefers, try split-testing your landing pages.
You'll have an optimal landing page when you take the time to study the data and modify your display properly. A landing page that is both visually beautiful and functional can increase subscriptions and drive traffic. Why not try it out?
Do you have any concerns about including a landing page for members on your membership website? Please share your thoughts in the comments section.