Using a text summarizer can help you save a lot of time. But how to use it to write an accurate summary?
A text summarizer is a vital tool in any writing setting. From academic purposes to SEO-related goals, a well-written summary is something every writer needs at one point or another. And since 60% of content marketers rely on one piece of content every day, their importance is higher than ever.
But, questions are common, such as:
How do you go about writing accurate text summaries?
Which key elements can help you identify an accurate text summary?
Where can you use them?
We'll find the answer to these questions and how you can use a text summarizer to write an accurate summary. So, let's get started:
What Is A Text Summary?
A text summary is the shortened version of the actual text, describing only the key points in the content. These summaries are written by experts or students to churn out the critical points made throughout their text.
Most commonly, these summaries are written to provide a glimpse into the actual content. In other words, they're a secondary attachment to the primary content, such as:
Academic papers
Research papers
Dissertations
SEO blogs and articles
Social media posts
Job resumes
Therefore, whenever there's a summary present with any text, it either means that the writer wishes to provide a glimpse into their text or they wish to help you understand it better. In most academic cases, the summaries are given so that the best content can be picked.
Thus, the summary's quality needs to be on par with the actual text. Mainly because summary writing for students is a factor in earning better grades. So, the focus of the summary needs to be on the main points of the actual text.
Where Can You Use Text Summaries?
Text summaries have a vast implication in the world of writing. You can use them on various written texts if you're a student. And, if you're a professional or marketing writer, you can also employ them for diverse goals.
So, to understand it better, let's separate the two scenarios:
For Students
Students can employ summaries in many cases. In fact, some assignments in academia require students to present summaries of their work. This includes:
Summarizing an essay
Providing a concise brief of a dissertation
Giving a glimpse into their research
Any attachment with the actual content gives the reader a better understanding. Besides, a research paper summary usually accompanies a writer's note. This allows the reader to grasp the idea behind said topic picked by the writer and the purpose of their research.
For SEO/Professional Writers
Professionals and SEO writers have the most to gain from summaries. It allows them to encapsulate their content, such as blogs, articles, or website copies. Then, the possibilities of using the said summaries are endless, such as:
Send emails using these summaries with a link to the original article
Use these summaries in metadata, such as meta descriptions, synopsis, etc.
Employ them in social media posting, then attach the full article alongside it
Send them through messages or social media posts to give your readers a brief idea
As mentioned before, the possibilities are endless. And in SEO, a summary can play a vital role in helping a website or blog rank higher in SERP.
What Are The Traits Of Accurate Text Summaries?
The traits of an accurate summary aren't hard to discern. You can sometimes analyze it by comparing the summary and the actual content. However, when you're writing it yourself, these things can be hard to miss.
So, if you're going to write a text summary, you have to make sure it has all the key attributes of an accurate summary, such as:
Capture keywords
Thoroughly condensing the idea
Providing key points of research
Adjoining goals and sub-goals
For that last part, it means that your summary will focus on the subject and its subheadings – if any. Therefore, make sure your summary has all these key factors in it.
Recommended Tool For Accurate Summaries
There are many tools, but nothing comes close to Paraphraser.IO's Summarizing Tool. Based on the most advanced AI technology, this summarizer knows just which of your text to condense. Therefore, it formulates great summaries.

Besides that, it offers a substantial 1000-word limit, which is more than enough for most summary types.
3-Step Guide On Using A Text Summarizer To Write Accurate Summaries
The first step in writing a summary is to pick the objective. When you know the purpose for which you're writing the summary, it becomes all the easier. Therefore, once you do that, follow this 3-step guide to use a text summarizer to write an accurate text summary:
1. Upload or Copy & Paste Your Content
The first step is to upload your content. You can choose to upload your text through this option:

Or you can simply copy the text you wish to summarize and paste it here:

Either way, your text will be ready by the time you've put it here. We suggest using the upload method, so you can upload the text with its proper headings and subheadings if there are any. If not, then go ahead and copy then paste your text.
But, one more thing, make sure you pick the right language from the menu: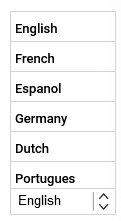 This will ensure your language is in the language according to the primary text.
2. Summarize The Text
Once your content is uploaded, here's what you'll see next: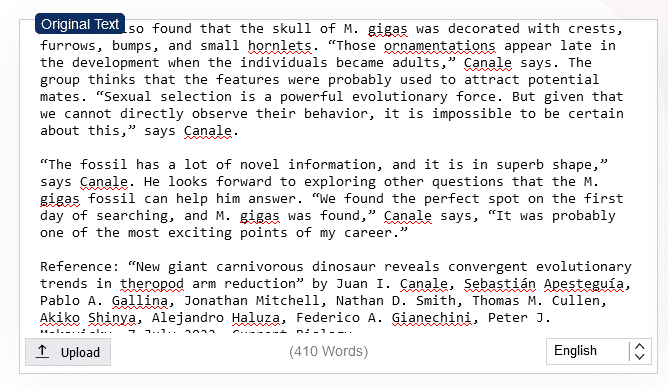 This means your content is ready to be summarized. However, to ensure smooth summarizing, follow these steps:
Captcha Check
Summarize Text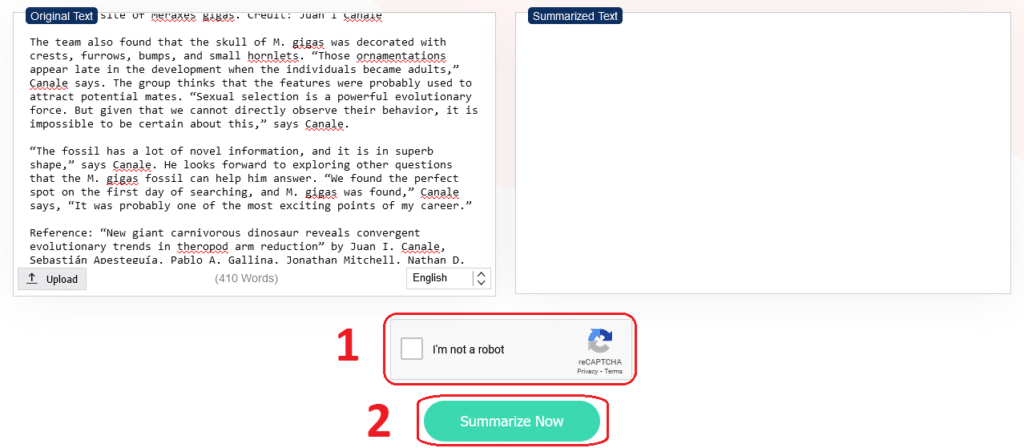 Once you click the summarize button, you'll see the progress bar like this: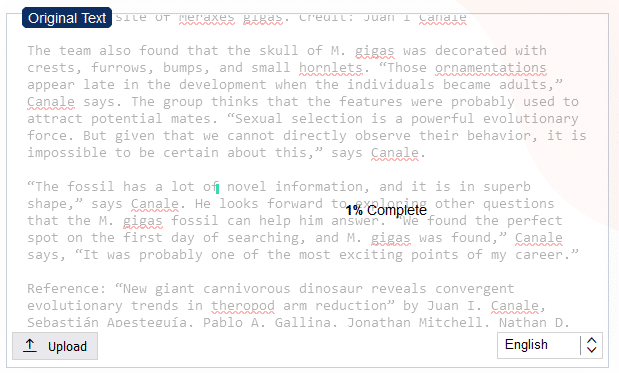 However, with a capable tool like the one we're using from Paraphaser.io, you'll barely see this before the tool summarizes your text. Once done, you'll see this: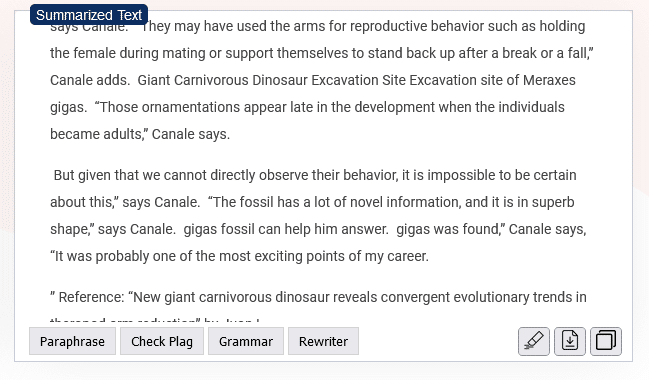 An accurate and outstanding summary of your text. It's also less than half in length, so you can guess it's around 33% of the original text.
3. Copy and Edit
The final step is to copy and edit the text. Granted, you may not need to do this at all. However, this is more of a cautionary step than a necessary one. This will ensure your summary isn't missing out on any keywords.
As capable as AI is, it's still a work in progress. However, you can try to summarize the shortened text to condense your summary even further. Therefore, ensure you copy and edit your text before passing it along.
Conclusion
These are the three major steps of writing an all-encapsulating and accurate summary. So, follow the steps we mentioned, and use the tool we suggested to write something that thoroughly captures the soul of your content.