Resumes are the cornerstone of the hiring process. In fact, a good resume will get you to the next phase and secure a job interview. Meanwhile, a bad resume will lose the recruiter's interest despite your qualifications and years of experience.
Many are concerned about their resumes and strive to create the best one to be the winning horse in light of this fierce competition, the so-called "labor market."
In this article, we put together the most important ideas and tips about creating a powerful resume quickly and efficiently. Even if you believe your resume is impressive enough to get you hired anytime, it is worth checking to confirm it can level up to the competition.
Introduction to Resumes
Sometimes people include too much irrelevant information in their resumes, and that's wrong. A recent statistic showed that recruiters have no more than 6 seconds to feel impressed by a resume before dropping it and moving to the next one. 
All you have to communicate with the HR specialist is 6 seconds. Therefore, your resume should detail your personal information and practical expertise, giving a quick idea of what you do and how good you are.
Avoid stuffing and adding information about your academic education because that's for the curriculum vitae, not the resume.
Personal Information
Although it might seem too obvious, many falsely add irrelevant information causing them to lose the chance of a job interview. For example, adding your name, family name, birth date, marital status, nationality, and contact information is fine.
On the other hand, it's a big mistake to add personal details about needing a job to support your kids or paying the bills. Remember that begging resumes backfires and doesn't pay off at all.
When adding your contact information, check them twice and ensure you got them correctly. Many lost great job opportunities because they forgot to add all possible contact channels. For example, when adding your phone number, add the country code to ensure a foreign company can reach out easily.
If you don't know where to position different details on your resume, you can easily use a free resume maker and get it done online in minutes.
Objective
Your resume objective is two or three sentences maximum, highlighting your top skills and experiences as well as the job opportunity you're looking for. Your resume's objective is among the first things an HR specialist will look at, so ensure it summarizes all the information you'll list professionally and coherently.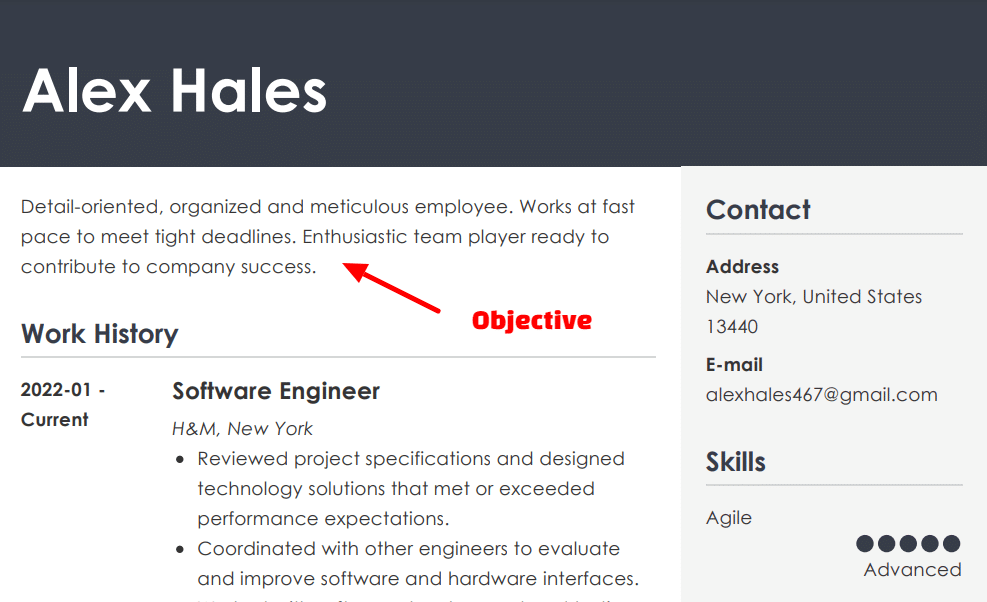 A great objective would be something like "an enthusiastic English teacher with 10+ years of experience seeking a career where I can apply my dedication and modern teaching techniques to the advantage of students."
Education
The education section falls next in importance after the work experience. So, it's better to be well-organized, neat, and inviting. Ensure you include your college degree, your average, and a short sentence about your achievements in the university.

Any courses or training you've attended will be a plus. Remember that an employer will not be interested in your high school's or primary school's names, so avoid adding irrelevant information just to fill out your resume.
Work Experience
Work experience has a great influence on the interview chance. A good experience in the position you're applying for will help your resume stand out among other applicants' resumes.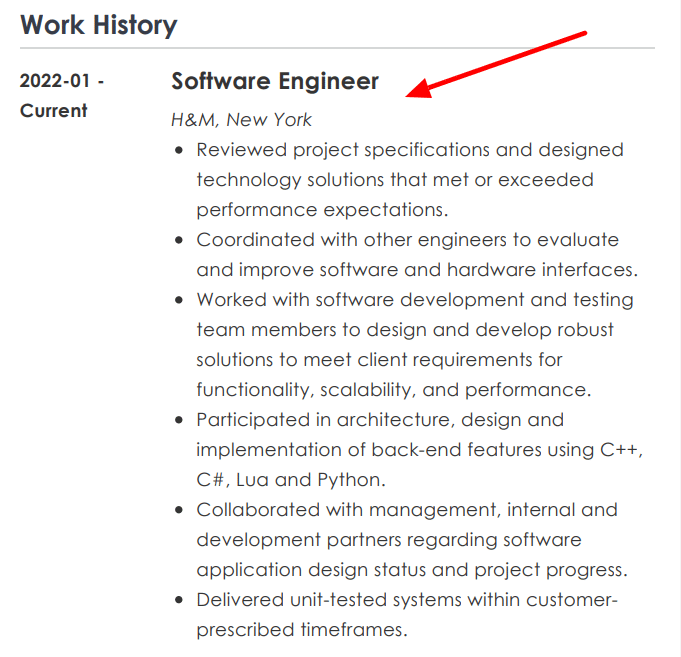 List the relevant work experiences in chronological order from the earliest to the latest. Elaborate on your tasks, responsibilities, and achievements using three bullet points maximum under each job listing.
An employer would also appreciate a reference they can reach out to and confirm the information listed in detail. Remember that including a reference's number or email is not professional, nor will it bring you any good unless the references are notified in advance.
Languages
Languages are always a great plus to your resume and a chance booster. Keep it simple when it comes to listing; use only the language's name and proficiency level. If you're unsure about your language level, take a test online, as you have to be concise and straightforward.
Skills
The skills section is the one that should always be changed to fit the job you're applying for. For example, if it's a customer service rule, you have to list skills like stress tolerance, dealing with different personalities, working under pressure, etc.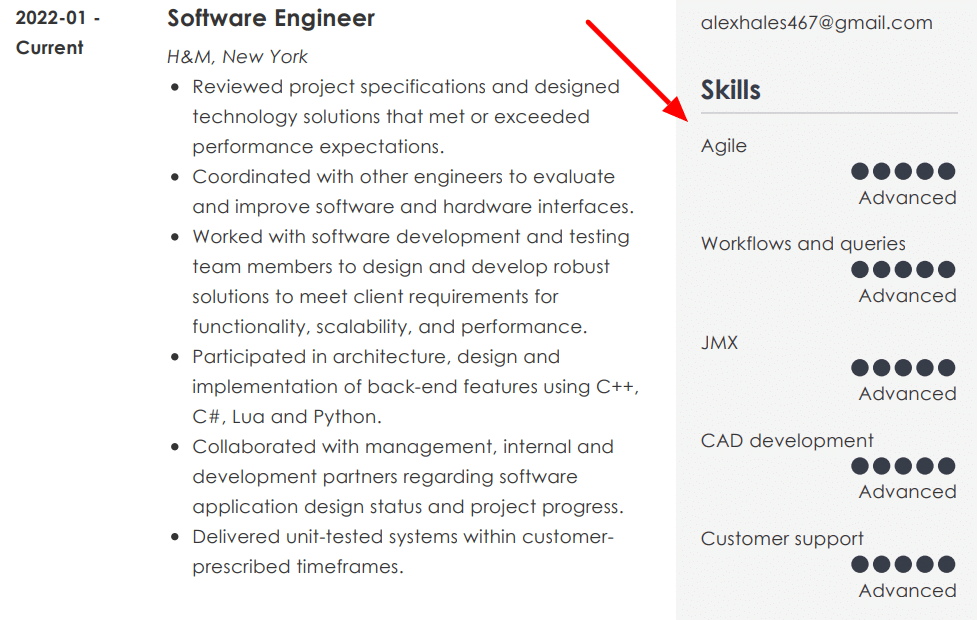 This is why it's always a good idea to check out what skills are required for the job you wish to get. Let's say that you want to apply for a job in the healthcare industry. In that case, you should look at personal support worker resume samples to get inspired.
However, if it's a teaching job, skills, including flexibility, creative thinking, and time management, must be included. To put together a good skills section, read about the skills required for the job you're applying for and fill in accordingly with slight changes.
The Bottom Line
Your resume is the first way to communicate with the hiring manager. It's the thing that will determine whether you will be given a chance or overlooked. Take the time to design a professional resume that speaks the best about you as a great employee.